Best websites to e-file income tax returns

Filling Income Tax Return is compulsory for individuals and business before prescribed date as set by Department of Income Tax, Government of India. E-File your taxes hassle free, now no need to wait in long queues. Here are top websites to E-File Income Tax Returns (ITR)


Filling Income Return (ITR) is compulsory exercise to everyone. In case if a person fails to file ITR within the prescribed date, interest is imposed on any tax due and an extra amount of Rs. 5000 is collected as penalty. Couple years ago filling ITR was cumbersome process. But now Internet made the task easier. The government allows you to pay taxes online and also you can e-file ITR. Here are top websites for e-filling Income Tax Returns


HamaraTax

HamaraTax is a relatively new service but they have built one of the most reliable and stable implementation of electronic filing of tax returns in India. They have a free service that suits most of the tax payees. If you have complex scenarios like rental income, capital gains, housing loans, you will need to go for one of the paid plans. Their prices for paid plans are relatively cheap. Their silver plan costs just Rs 150 and Gold plan costs Rs 299. The Gold plan covers all complex scenarios. Once you start the return filing processing, you will be guided step by step and your refund status will be displayed at the top in real-time. As you enter more and more deductions, the refund status will be updated in the page, giving you more and more confidence.

With HamaraTax, you don't need to pay the fees in advance. You can start the process and make the payment at the end only if your ITR includes the scenarios outside the scope of free e-filing. Take a look at the official website for more information.

Learn more about https://www.hamaratax.com.

H&R Block

The H&R Block India provides customize application solution to e-file Income Tax Returns as per clients requirements. For individuals e-Filling is free. The website software auto read the Form 16 which saves loads of time too. If you want to go for Assisted Online E-Filling of Form 16, buy premium services starting from Rs. 299 for easy application, Rs 499 for tough application and Rs 999 for sophisticated application if too many complexities are involved. A 14% service tax is applicable when you chose for premium services. This website also offers In Person Tax e-Filing, NRI Tax e-Filing, US Tax Filing In India, Tax Consultation & Scrutiny and Other Tax Services.

Find more at https://www.hrblock.in/

VitteTax

The VitteTax is a product of Vittena. Individuals can E-File Income Tax Returns in two ways using VitteTax:

1. Detailed Filling: In this mode, the software shall display simple questions on your computer screen. You can answer those questions as you know and file the ITR
2. Quick Filling: In this mode of e-filling ITR you only upload ITR Form 16 and provide bank details for refund. The VitteTax team takes care of your needs here in onwards.
For a nominal price of Rs 280, you can use VitteTax for unlimited revised filling throughout the year. The planning tools help you in preparing to pay for taxes in accordance with income and expenditures. Its customers are a Salaried individual, Pensioner, Self-employed, NRIs, and Persons seeking foreign employment.

Find more at http://vittetax.com/

ClearTax

The ClearTax is simple to use the site for filling Income Tax Returns (ITR) in India. You can prepare and file your taxes online for free. However, expert services made available for a price. You can choose for expert services from three plans: Salary & Other Income (Fee: Rs. 599/-); House Property (Fee: Rs. 800/-) and Capital Gains & Losses (Fee: Rs. 1800). Also, Bulk e-filling of Income Tax Returns is available. The women, senior citizens and persons of defense forces can e-file for free.

Find more at https://cleartax.in/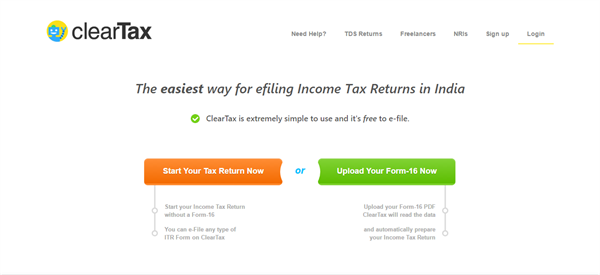 Taxsmile

Taxsmile is a cool website to file your Income Tax Returns for free. However for a small amount of Rs 500/- you can buy premium services. Whether you are an individual, NRI or Corporate, the Taxsmile is a smart Tax Filling tools for everyone. The tax calculator allows you to calculate taxes instantly. The website also has tips and tools section to help you in saving money from taxes.

Find more at https://www.taxsmile.com

TaxSpanner

Free Income Tax Returns (ITR) filling is not available on this website. Individuals need to pay Rs 249/- for self-filling and Rs 449/- for assisted filling. File and Save Tax comes for Rs 999/- and File and Plan Tax CA Assisted cost Rs 2499/- If you receive income from overseas pay Rs 3500/-

Tax Optimizer is a dedicated facility offered by TaxSpanner, CA is provided for Rs. 4999/- Customer support is available through different means, viz; chat, phone, email and social media.

Find more at https://www.taxspanner.com/

myITreturn

E-Filing Income Tax Return is easy using the myITreurn portal. Also, you can download myITReturn App and file taxes on the go from pocket devices like a mobile or tablet. The free plan is available and recommended for individuals who have simple to do e-filling. While if you have difficulty chose for premium plan which starts from Rs. 299/-

Find more at https://myitreturn.com

Income Tax India e-Filling

The Income Tax India e-Filling is a dedicated portal of Government of India for filling online Income Tax Returns (ITR). The use of the website is free for all taxpayers and dedicated customer support is available 24*7 in the month of March. For any queries related Income Tax and ITR you can contact the department through following phone numbers:

Refund /Refund re-issue Rectification Notification & Processing: 1800 425 2229 / +91 80 2254 6500 / 1800 103 4455
Income tax /PAN/TAN General Queries: 1800 180 1961
e-Filing of returns AND e-Filing Login: 1800 4250 0025 / +91 80 2650 0025
PAN / TAN and PAN / TAN updation: +91 20 2721 8080
Form 26AS and Form 16: 1800 103 0344

Find more at the official website http://incometaxindiaefiling.gov.in/

The documents required for e-filling Income Tax Returns (ITR)
A copy of last year's tax return
Bank Statement
TDS certificates
Savings certificates/Deductions
Interest statement showing interest paid to you throughout the year.
Balance Sheet, P&L Account Statement and other Audit Reports wherever applicable.
Who can do free e-filling of tax returns?

The facility is for everyone but recommended to people whose main source of income is salary/pension and amounts to below Rs 50000; have no tax payable or refundable and have made investments in life insurance etc. For complex ITR Filling it's advisable to choose for Premium Services like Assisted Tax Filling software or CA etc.