Top Five Backup apps for Android

Data backup plays an important role in any system. Be it your PC, laptop or smartphone - backup comes to your rescue when something goes wrong with your system. With growing usage of smartphones for many of our daily tasks, what sort of data backup you use on it assumes a greater importance. We will list out the top five backup apps for smartphones here in this article.


Most of us who are using multiple devices tend to overlook the need for a data backup strategy for our smartphones. We normally do perform data backups on our desktops and laptops as if it were a ritual. But fail to understand that it is equally important to backup your data on a smartphone as well - until we lose it. Rather than repenting later, it is a wiser idea to get a good data backup app for your smartphone.
There are indeed some operating system based or manufacturer based backup solutions. For instance, Google lets you sync and backup your contacts, calendar entries and app data through the Android settings. Samsung smartphones can be backed up using Kies. Apart from these basic and device based backup systems, it is advisable to opt for a third party backup service that is robust enough. Here is our top pick of five best backup apps.


#1. Titanium Backup
This should be the most widely used data backup app. If your smartphone is rooted, you need not look anywhere else. It has a strong user base of around 20 million. That in itself should speak of its immense popularity.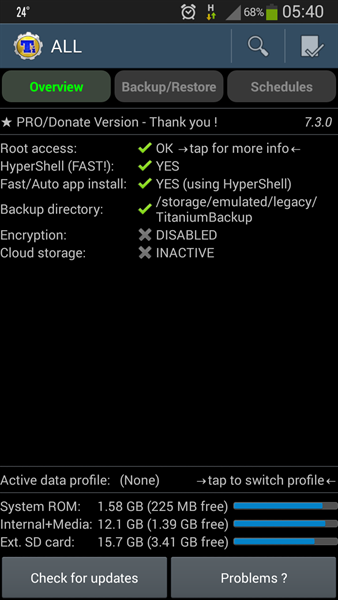 The app can backup everything that you have on your Android. Be it apps and their data, contacts, SMSs and calendar entries - you can backup practically anything. Titanium Backup allows you restore the backed up data anytime. Best part with Titanium Backup is its ability to save game data. So, you can continue from where you left in a game even when you are forced to reinstall the game for any reason. No need to start from first level. A good relief for those gamers who change their phone quite often.

Titanium Backup allows you to schedule backups. You can set the app to perform a full backup, say - once every week. Configure it once and forget. The app will perform all the tasks assigned to it automatically. You an also set batch actions which will speed up the backup ( and restore processes). Titanium Backup does not need you to close any apps or stop working with your phone when taking backup. You can continue working with your phone as you would normally do while the app keeps performing it's tasks in the background. The Pro version comes with additional benefits like backups to cloud and restore from it. The app also has the features like bloatware removal and app hibernation.


#2. Helium App Sync and Backup
While Titanium Backup is the best for backup requirements, it needs your phone to be rooted. What about those who are not rooted, or not comfortable with rooting? That's where Helium App Sync and Backup becomes a necessity. The Helium Backup comes in two options - Free and Premium. The Premium erosion costs you Rs. 270. The app is a Clockwork Mod offering.




The app lets you backup apps, data, contacts, SMS/MMS and other data. But yes - there is a catch here. You will need to install a Desktop app that works with the mobile app. If you are rooted, you can use the app as it is- as you would use any other app. You can store the backup on your SD card or on cloud. The Helium App Sync and Backup can also sync data from other Android devices you have.

One of the best features of the app is the ability to schedule backups. But, this works only with the premium version. The Premium version also allows you to upload the back up to cloud.


#3. G Cloud Backup
The above two Backup clients let you backup and restore everything on your phone. If you are not one of those who want a full backup of everything on your phone, then G Cloud Backup could be your choice. It is an app for backing up photos, videos, music files, contacts and call logs.




On signing up with the service, G Cloud Backup provides you with 1 GB of space. Once that is done, configure the app with what you want to backup. That's it! The app will do the rest of the task. Backups of what you have chosen will continue to happen automatically. If you feel your G Cloud storage is getting filled up, you can choose to go Premium.

The app can backup your data On schedule. You can automate the backup as you wish. The photos are arranged in time line which makes identifying or remembering your photos quite easy.


#4. My Backup
This is one of the finest backup services available for Android. The My Backup is functional both on rooted and uprooted devices. But the app gets much better with root access though.




The app is capable of performing basic backup and restore services. But it excels with its ability to backup app data like the game scores and settings. My Backup is capable of scheduled backups as well as the has ability to backup the data on the cloud. You can avail the premium features on trial basis for 30 days. The Premium version of the app costs you Rs. 463.


#5. Super Backup
Though the app is named Super Backup, it does not offer much in comparison to the ones featured above. The app is capable of backing up your data to your Gmail.



You can use the app to backup apps, contacts, calendar entries and SMS/Call logs. Automatic upload to cloud is not available. You will need to manually upload the backup to cloud, SD card or PC. If you want to use the app to backup apps and their settings, you need to be rooted.

It offers you all of its services for free. However, Super Backup also has a premium version. The Premium version costs Rs. 70. But, apart from removing ads, it is completely similar to the free version.


In conclusion
Well, that was our top five pick. That does not mean there is any dearth of such apps. We have listed the popular among a plethora of apps available on Play Store. You may choose any other backup app that may appeal to you. But, here is an humble suggestion to you - do not ever stay away from backing up your data. It will save you from the getting scared and cursing yourself when something untoward happens with your phone that forces you to reset your device. Backup all that important data before it is too late.