Top 5 Microsoft apps for Android

Microsoft has always been a pioneer in providing some really productive apps. So far we had been seeing it develop apps for Windows alone. Not anymore, Microsoft has now been developing apps for competing platforms as well. With the number of apps for Android developed by Microsoft increasing, we have made an attempt at picking up some lesser known Android apps developed by Microsoft.


Microsoft has been coming up with lot many apps for Android and iOS these days. Interestingly enough,some of these apps are not even available on WindowsPhone. There are some unique apps that sound great from productivity and usability point of view. Let us shed light on some lesser known Microsoft apps in this article.
Please note that we are not including the popular and widely known apps like Office Mobile or Outlook which remain the best as desktop applications.


Who is Microsoft Garage?
Microsoft Garage is the source from which these new age mobile apps are being developed. It is a new initiative from Microsoft to gain entry into the competing platforms app space. The initiative does not work as separate entity, but as a community - on the same lines as the XDA decelopers in an official way.
Microsoft Garage is a project by Microsoft to develop apps with a difference. It is indeed a community of interns, employees and product teams from Microsoft. All these essential partners share their ideas on different new apps and devise ways to bring those ideas into real projects.

The community has so far been responsible for launching several promising apps for Android. A few such releases include Send, Guardian and Next Lock Screen. Now, here we go with our top five pick.


#1. Parchi - an app for Notes
This is an app with an effective Indian connection to it. Well, beginning with the name - Parchi (पर्ची ) in Hindi means a chit, or note on a piece of paper. Parchi is a note taking app. It has been developed by Microsoft Garage and is available for download via Play Store. Please note that the app is available only in some select regions and fortunately India is one of them.




The Parchi app lets you take notes in a quick and simple way. It is indeed an intuitive app. As Google states,
" ...think of paper - pencil,.... last page of every notebook, you get the idea".


The app from Microsoft will let you take notes from the lock screen and that's one of the best features with the app. It offers you other necessary features like tagging, search options and sharing your notes. It supports text, list and images along with the ability to search notes using hash tags. You can share notes over WhatsApp, Email and SMS.

If you are interested, head on to Google Play Store and download the app. It is compatible with devices with Android Jellybean 4.2 and above.


#2. Journeys and Notes - The social traveller
This is a unique app that acts like a social network for frequent travellers. The app from Microsoft once again surprises you by tackling a unusual avenue. Journeys and Notes, as the name indicates, is an app that lets you take notes as you travel. And once you sign in to the network, you keep getting the experiences by other users.




Sign up for the service, and enter the trip details you plan to undertake. Note that the place is not important. You will sign in to the trip. The app will identify the route you are taking and you will keep getting notes shared by other users before you. Meanwhile you can take notes based on the experiences you may have along the route.




That's actually a great way to travel which otherwise could be boring. You will get to know better restaurants and places of interest en route. On a lighter side, you may come across a hilarious encounter someone might have come across along the route.

If you are regular traveller and want to spice up the experience of your trip, this could be a good option. The app is available for download on Play Store.


#3. Mimicker Alarm - A best way to get up in the morning
Mimicker Alarm is a unique alarm app that will make you wake up at any cost. It is not another alarm app that tries to wake you up and goes silent when you snooze, or stop it. It won't let you sleep once it's time to wake up.




The app will ask you to perform specific actions when it is time to wake up. There are several actions that Microsoft will ask you to perform. These actions are called "mimics". Hence the name Mimicker. These mimics range from repeating a tongue twister, shooting a photo of an object with specific color or shooting a selfie with a specific emotion. In a nutshell, the app will do anything to get you out of your slumber.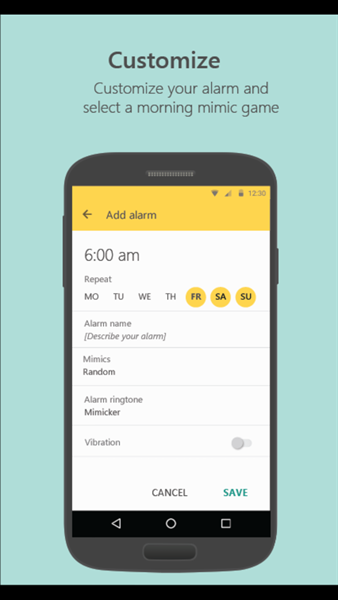 The Mimicker Alarm is built by Microsoft Garage under its Project Oxford. The Project Oxford is a platform for artificial intelligence. The app uses different APIs to support the mimics. Emotion API is used for selfie mimic, Computer Vision API to for color analysis and Speech API for Tongue twister mimic. The data sent to the servers is not used for any other purpose than analysing the mimics.


#4. Wordament - a new game for word lovers
It is a challenging word game from Microsoft. So far an exclusive for WindowsPhone, the game has now come on Android.




Nothing can be as interesting, and fulfilling than playing a word game. The game play is simple. You have to make as many words as possible from 16 tiles with one letter each on them. There are incentives for forming longest word, or words with specific challenges.




There are some rounds with combined letters like " AN" or " QU". If you get such a tile or round, that would indeed be a bonus. It would definitely be a challenge to from a word with those combined letters. You get to challenge the world gamers out there and your achievements are compared to the ones on the leader board.

The best part with the game is you can connect with XBox live. This lets you earn more achievements. In addition, you can measure up your performance against that of your friends on XBox live. It is indeed a great game - simple, yet charming. If you are a hot admirer of word games, then Wordament is definitely the one for you.


#5. Arrow Launcher - First attempt by Microsoft?
Well, it appears as if Microsoft wants to dabble in all sorts of apps for competing platforms. That's called innovative and diversified strategy. Arrow Launcher is a lighter launcher that ails at improving your Android experience.




The launcher identifies your usage preferences and arranges your apps based on preferences. It can also keeps track of the contacts you tend to call frequently and thus highlights them. The Arrow Launcher allows you to add notes and reminders to the contacts. In fact, the launcher gives a new look to your lo know screen.




The launcher comes with many innovative and thoughtful features. It has an integrated reminders section. There is a Recent tab that that lets you check your recent activities. The recent tab can help you check your recent downloads, app installations and recent images/videos.

The Arrow Launcher almost resembles Aviate launcher from Yahoo. In terms of looks and features, there are many similarities, but there are differences too. It is one if the lightest launchers you can lay your hands on. The app is light on resources and that should be the best characteristic for a launcher app. Once installed on your phone, the launcher will divide your screen into three parts  is Apps, People and Notes and Reminders. However, you cannot add more pages as of now.


Anything else from Microsoft?
Well, Microsoft has had a good share of productivity apps on Android. Office Suite, Outlook and such apps are something you will definitely use, but we are concentrating on the apps that are not popular, yet promising. There are a couple of location centric apps from Microsoft which are worth mentioning. Citizen Next is one such app which lets you report civic issues such as drainage blocks. But this app has usability only for Hyderabad as of now.

Connections - contact notes is an app that lets you add notes to your calls. The app will show up the note when the contact calls you again. That way,it will help you remember the things you wanted to discuss with the caller. The app works quite smoothly.


Parting words
Well, that was just part of a large number of Microsoft apps available for Android. As we said before, we have not included any popular and indispensable apps from the developer. Our emphasis has been on the best, yet unknown apps. It has been an attempt to let our readers make aware of a few good innovative ideas that Microsoft has been pouring into its Microsoft Garage project. We would look forward to your take on these special apps and their usability.