Top five mobile apps for professional productivity

Though most of us depend on desktops and laptops for the work related tasks, yet smartphones have been making inroads into our professional life as well. It has been becoming more important to keep us connected to our work. Smartphones have been quite practical in this direction. We will check out a few apps that help you in your professional life in this article.


Staying connected to your work has become a universal way of one's professional life these days. What else could be better than a smartphone to do that? In fact, we have been using a multitude of devices. In such a scenario, it is much important to have a few such apps that can work across platforms and devices. That's where the productivity apps for smartphones come to the fore. Here we go with our top five list of apps that help improve productivity.


#1. Google Drive
The Google Drive is free and that is what makes it one of the best apps. Google Drive is the online cloud storage app. It comes with a 15 GB free storage space. The space is shared between your Gmail account and Google photos along with other Google services.



The app has a simple and user friendly interface. It lets you easily upload your documents and other files to the online cloud storage. It is much simpler to download them back to your PC, or laptop. Put in simple words, Google Drive lets you enjoy a seamless integration of your work related files across multiple devices.

The app in itself is much productive with its close integration with Google Docs. Moreover, it can list your recent files first. It also lists the latest activities that were done with the concerned file. The Google Drive is very effective in searching for the documents from the cloud. It has support for a multitude of file types.


#2. Evernote
A ubiquitous app quite a few years ago. It seems to have lost its uniqueness of late. Nevertheless, Evernote is the best productivity app by any standard. It has a strong user base of around 100 million and that in itself speaks enough about its usability. The best part with the app is its capability to sync across large number of devices.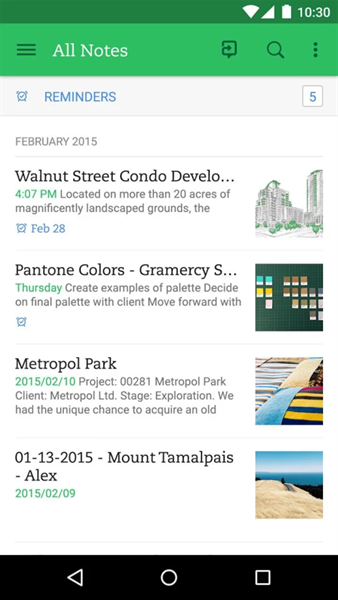 The app has the best in class search criteria. Along with the regular search method which searches for your files by file name, it can also "read between the lines". What I mean by that phrase is Evernote can search for text from within your notes and documents. It has the capability to organise all your articles, documents and images.

Originally meant to be an app to make notes, Evernote has evolved into a full fledged service beyond that perspective. It now has a feature to discuss your work with your colleagues or team members from within the app. It has a wider acceptability among the top companies with its ability to share notes between team members and capability to create agenda.

Apart from all that stuff, you can also use the app to record your expenses and revenues, thereby aiding in finance management. You may also use it to your travel experiences. In short, Evernote is a multifaceted app that helps you do a huge list of productive tasks.


#3. Google Keep
The nifty little app - and a simple one at that. That would be the best description for the app from Google that keeps your notes secure - the Google Keep. Just make a note of anything you want you to keep track of and Google Keep will store it forever for you.




No need to type in your notes every time. Take a snap of something you need to remember. Or still better speak about it and it gets saved. The app can save all of those formats. The notes you created can be shared among your friends or colleagues.

As has been the common case with most of the Google products, you can access your notes on the Web portal as well. Just log in to http://keep.google.com and you are good to go once you sign in with your Google account. The service can also be accessed using the Chrome extension. You may search for the extension in the chrome Web store.

Google Keep uses color cards to make it easier to identify the tasks easily. Great app indeed and one of the most productive at that.


#4. Office Mobile
We have plenty of apps that support creating, editing and working with Microsoft Office files. But, if you are the one of those who can't do without the genuine Microsoft ecosystem, the Office Mobile app from Microsoft is your best pick. The app lets you access your office files on the move. But, remember the app provides you a cloud based access to your office files.




The Office Mobile app can access all your office files saved to One Drive(the cloud storage service from Microsoft), One Drive for Business or Sharepoint. The app lets you view the Word, Excel and PowerPoint files on your phone in the traditional Microsoft Office look. The Office Mobile app allows you view and edit the files on your device. Another feature I liked with the app is its Read-Resume option that resumes the reading from the point where you left it.


#5. LastPass
Gone are the days when we had a single email ID at the most and needed to remember just a single password. Not such a case anymore. We have a huge number of accounts across a large number of services. It is a real annoyance to remember all those passwords. That's exactly where the app LastPass comes to your rescue.




Remembering different passwords can be a quite troublesome task. One option is using the same password for all your needs. Frankly speaking, it isn't advisable. LastPass can store all your passwords. Don't worry- it saves your passwords in a secure vault. You now need to remember a single password for your LastPass account and that's it. Rest of your passwords are taken care of by the app.

LastPass uses 256 bit encryption. It decrypts your passwords only on the local machine. Your digital existence across all those services you are subscribed to are safe. Make sure you keep your LastPass password more secure and a bit complicated. It should not a big deal to remember a single password, right?


Parting Thoughts
That was a little list of my personal favourites when it comes to productivity related apps. The list need not necessarily be considered strictly in that particular order. The Google Play Store has a large number apps that help you be productive. Some of the apps are extraordinary while few of them are quite run of the mill kind. You can add your own list of favourite apps and let me know of your views on the best apps that help you be productive.