Review of Shipmatica, a shop and ship company to get overseas purchases shipped to India

Are you looking for a shop & ship service to buy an item from USA or Canada and get it shipped to your home country without worries? Shipmatica helps you shop from any online shops in USA and Canada and get it delivered at your home, no matter which country you live in.


Amazon.com was my favourite shopping site when I was living in USA. Shopping was easy, convenient and a smooth experience. One of the main concerns of online shopping is, there is a chance that the item you purchased may not be exactly what you expected. In most cases, you may be making the buying decision just by looking at the photos or videos and sometimes you may get surprised when you receive the product in hand. Amazon and most other shopping websites in USA were very helpful in such cases. In most cases, you could return an item if it doesn't meet your expectations or if it is not exactly what you wanted.

However, after I moved to India, online shopping wasn't an easy experience at all. I have horrible experience of getting wrong item, missing deliveries, delayed delivery and so on. Also, eCommerce is still growing in India and many products are still not available for purchase online in our online shops.

Another concern is the price. Many electronic products are over priced in Indian eCommerce sites compared to the shops in USA and Canada. Here is one of case. I recently purchased a Nikon Coolpix P610 camera from Amazon India. I wanted to buy some extra batteries. The cost for an extra battery was around Rs 2,000/-. For that price, I could buy a pack of 3 batteries along with charger and a camera cleaning kit, if I choose to buy from USA.

I usually purchase many gadgets from Amazon.com, get it delivered to some of my friends in USA and they will bring it to India when they come next time. I checked with a few friends and could not find anyone coming in the near future. Then I started looking for shop & ship services which offer the international shipping services for the items we purchase online from USA.


Shipmatica shop & ship services

It was great timing. Shipmatica approached me to review their services and share my experience. I registered with them on the same day and ordered the Vivitar EN-EL23 Dual Battery Pack with charger to the custom US address provided by them. Amazon delivered the pack in 2 days and then I used their shop and ship service to deliver the item to my doorstep in India. It was a hassle free experience.



My shipment received from USA through Shipmatica

Let me share the whole process of shopping and shipping through Shipmatica.


How Shipmatica works?

When you create an account with Shipmatica, they create a customer US (or, Canada) address for you. Basically, the address for all of their customers will be the same but the address will have a unique Suite# which is what uniquely identify each customer. The shipping address generated for was like this:

Tony John
11717 NE Marx St., Suite# 95ATWDH
Portland, Oregon, ZIP 97220

Every customer will have a unique Suite#. When the parcel arrive at the address of Shipmatica, they will identify the customer based on this Suite# and then update your shipping status accordingly.

Here is the process explained step by step:

Step 1: Register with Shipmatica and get your custom address. It is a quick and easy process. You just have to choose your email id and password.

Step 2: Login to Shipmatica and submit some KYC documents for international shipping and customs. You need to submit identity proof documents like drivers license, passport etc. Also, a photo is required. After submitting the documents and photo, sign a form electronically to confirm you are providing accurate data.

Step 3: Provide your credit card details for making the payments. They will charge a very small amount to validate the credit card. Wait for a day or two to get that amount reflected in your statements and then update that in your Shipmatica dashboard to verify your credit card.

Step 4: Purchase your item online. When you make the purchase, use the shipping address provided by Shipmatica. Also, use the phone number provided by them so that the delivery guys can communicate with them if needed.

Step 5: You will get notification once the product is delivered to Shipmatica.

Step 6: Choose your international shipping method and additional services like insurance, expedited delivery etc and request the shipment.

Step 6: Relax and wait for the shipment to arrive in India.

My package took about 15 days to arrive in India since I chose the cheapest option of shipping through USPS and Indian postal service. But the product was delivered safe without any issues at customs or anywhere else.

Shipmatica guys were nice to add a few extra goodies to my package, which include a pen, a plastic bag, a thank you card and a candy!



Some goodies added by Shipmatica to my package

You can read more on their process here: How Shipmatica works


How to request shipping from Shipmatica to your address

Requesting the shipment after it arrived in Shipmatica was a bit of confusing when I tried it for the first time. So let me share the steps here for those who are in the same situation.

Go to the "Parcels" page.




Click on your parcel line item in the Parcels page and you will be taken to the details page. You will see more details of your parcels including additional photos, dimensions of package, weight, status etc. Here you can give additional instructions for shipping, customs declaration etc.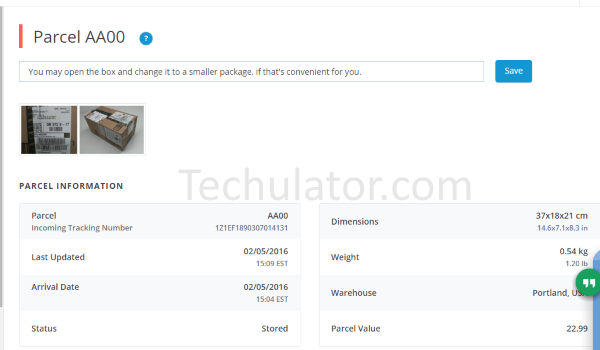 In the bottom of the screen, you will see 2 options:

1. Local pickup
2. Ship parcel

In case you want to arrange a local pickup in USA or Canada, you can go for the first option. I wanted to get it shipped to my home in India and so I clicked "Ship parcel".

In the next screen, I had to select the shipping address.


Add-on services offered by Shipmatica

Additional services offered include:

1. Consolidate multiple parcels into one (premium feature)
2. Separate into multiple parcels (premium feature)
3. Remove invoice from parcel
4. Fill customs declaration
5. Take pictures of the package
6. Take pictures of the content
7. Take photo of the invoice


Some concerns

Even though the overall shipping experience was smooth and easy, I would like to mention a couple of issues I faced:

1. The support chat window pops up in every screen in the bottom right corner. Even though this comes as a convenient method to get support easily, I felt it a bit irritating once I got familiar with the service. I no longer needed this chat support and like to have a way to get this disabled.

2. Their user interface could be a bit more intuitive to make it easier to navigate and identify the next step. Sometimes you have to make a couple of clicks to reach where you want to go.


Overall review of Shipmatica

My overall experience with Shipmatica was very comfortable and I received my shipment on time without any damage or other issues. I'm happy with their service and would recommend this to anyone looking for shop & ship services from USA.

Visit https://shipmatica.com and explore their services.