Best 6 Translation Extensions for Google Chrome

There are many websites with native language content. When you come across such regional sites, it becomes harder to get around. In such scenario, translation extensions can be really useful. In this article, we are going to discuss some of the translation extensions for Chrome.


Google Chrome offers translation service within the browser. However often the browser supported features are limiting. And you can't make use of those features for your custom translation needs. Also Chrome is limited to using Google translate API which also limits it's power to have more accurate translation. In such case extensions that allow you to choose in between Bing & Google translation service can be more useful. Let's take a look at some of the options you have on browser for language translation.

Before we discuss Extensions for translation, take a look at the existing feature offered by Chromium developers.


Google Chrome Language Settings
The browser itself allows you to translate the text and reduces your need to use any external add-ons. However the feature offered by the browser is limiting in many aspects. If you still choose to use the feature, follow the steps below.

1. Open Chrome browser.
2. Navigate to the non-English webpage.
3. Find the translate button at the top of the toolbar.
4. Click the translate button.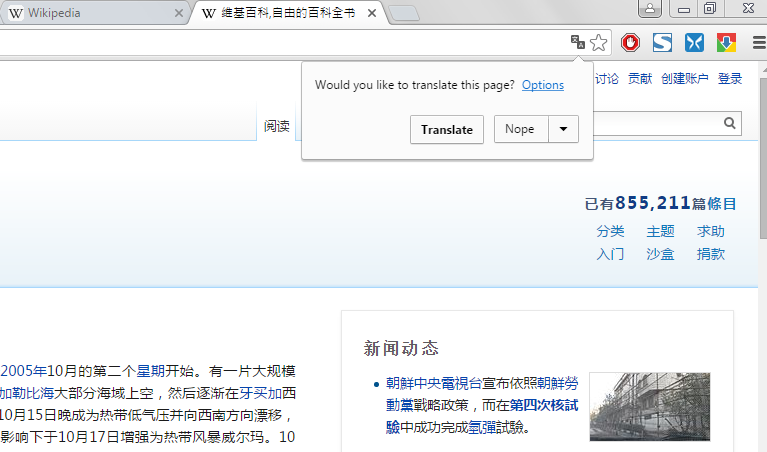 The page will be reloaded after specific time interval with translated text. You may find this method doesn't allow you control over which text you want translated. It also has limits on verifying accuracy. The current language settings doesn't support dictionary lookup option as well. So for such features you have to use extensions that allows you translation & transliteration.


Auto Translate Text
This extension is makes use of Google translate API. The translation has slight delay depending on the amount of time it takes to convert text. You have to create key combination in order translate text.




By default you get CTRL+ selected text as a key combination for translation. You can also translate an entire page too. There is a different key combination to do that. You can also convert English text into native language supported by Google Translate API. However the native translation is not that accurate and you may find that native language to English translation is more accurate.

Rating: 3 out of 5


Right Click and Translate
Another extension that allows translation of selected text. It doesn't interfere in your browsing experience with pop-ups. All you have to do is right click on selected text and choose "Translate Selection".




Default conversion language is English, however you can switch that too different native language of your choice. You can also set the key combination if you don't want to use the mouse options.

Rating : 3.5 out of 5


Bubble Translate
This extension allows you to do the inline translation. If you choose to do real time translation of the content using Google Translate. It has feature of themes to highlight the translated content. However that feature is hardly of any use. Very few users are going to use that feature to print the translated content. You can do the full website translation using the key combination. You can set multiple translation options for the different languages selected. You can also get the translation in a pop-up, which is handy feature if you're blogger or writer. If you want simple tool for translation then this is the one you should use.

Rating : 4 out of 5


Dynamic Language Tools
This offers single access to multiple i18n tools from Google. You can use i18n keyboard from Google and use it for typing in native language. It has translation and transliteration option embedded into it. You can use the dictionary for the selected word as well.




It doesn't create popup for this option. Though it can do the full web page translation, it doesn't offer much control over on page translation. It only gives you quick access to tools that lets you do it. In such case you'd find other tools doing way better than this extension. It has few glitches while letting you type using Google keyboard on forms and WordPress post editor. I'd say you should native desktop application for using features of Google Keyboard.

Rating : 3 out of 5


Bing Translate to English
Very few extensions out there makes use of Bing translator. As Yahoo! Babelfish is now merged into Bing translator, you have more accuracy with this translator. However due to API not being flexible like Google translate, it's not popular enough among extension developers. This extension adds the translate option into your right click context menu. So when you select some specific text and hit that option, it goes to new page to display the translation. You can also use it for the full page translation. However the option given are very limited compared to other translation services.

Rating: 3.5 out of 5


Conclusion
There are many other extensions that allow you to translate from within the browser. However most of them makes use of Google translate API and pretty much give the same result. Depending on how regular you use translation features, you can make use of any of the above listed extensions.