A detailed review of FL Studio 12 - an incredible DAW

FL Studio is a DAW (Digital Audio Workstation) developed by Image-Line. The latest version of FL Studio has a plethora of new and interesting features that can help you create any type of music within no time. Read on to know more about the features of FL Studio 12 and also the pros and cons of the same.


Introduction
FL Studio is developed by a Belgium company 'Image-Line'. It is a DAW (Digital Audio Workstation); a graphical environment for creating and producing high quality audio. FL Studio was earlier called Fruity Loops. This program comes with three different editions: Fruity Edition, Producer Edition and Signature Bundle. You can choose the version appropriate for you. One of the great features added to the latest version of this software is touch support. A live performance mode has been added to the program which can be operated easily with touch support.
One thing that FL Studio offers which rarely anyone does is once you buy any version of the FL Studio, you can get all the future updates of the software for free. This is really amazing.
So, enough of the introduction. Let's get right into the amazing features of this program.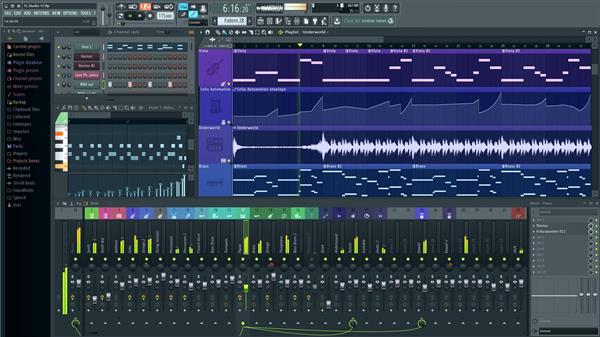 Features
The following are the features of FL Studio 12.
Playlist
Playlist is an area where you can arrange all the patterns that you have created. Playlist is basically the final song. There are multiple tracks in playlist where you can set icons and color to each track uniquely to make task more organized. You can also apply automation effects on the playlist. Audio files can be dragged right on to the playlist from your explorer and it will be added to one of the tracks in the playlist. You can also zoom in and out of the playlist so that everything in the song can be in the exact location. There is also an option of snapping the patterns to the measures which helps to keep your track quantized.

Piano Roll
Piano Roll is a pretty amazing functionality of the software in which you can edit every note in the music. When you record your music with a MIDI keyboard, it gets recorded in such a form where you can manipulate each note. With piano roll you can even create a music from scratch.
Some of the basic features available in piano roll are:
Riff Machine: It is a very useful tool to create music based on existing samples available. You can also make changes to the music you made like arpeggio.
Quantize: It is tool to set your music to match the exact tempo of your project.
Other Tools: There are other tools like strum, chop, portamento, slide, etc.

VST Plugins
FL Studio has the capability of adding VST Plugins from different musician developers out there. VST Plugins are basically virtual instruments or effects. They help in integrating the musical works done by popular musicians and programmers right into your creation. Some of the famous plugins are Morphine, Sawer, Harmless, Maximus, etc.

Mixer
FL Studio has a mixer with a lots of functionalities built right into it. You can map different channels to different mixer tracks. Sidechain is a technique where you can route effects of one mixer track to other. You can also use VST Plugins download from the internet in the mixer. An equilizer is available by default for all the mixer tracks.
There is also the capability of saving a mixer track state so that you can use it in other projects as well.

Virtual Effects
Some of the virtual effects that come bundled in the software are as follows:
GrossBeat It is an effect where you can manipulate time, pitch and volume to create interesting effects.
Hardcore It is a virtual guitar processor which consists of various effects such as delay, distortion, overdrive, reverb, chorus, flanger and more.
Pitcher It is a real-time pitch correction tool. It can also be used to generate vocal harmonies with respect to the note played on the midi keyboard.
Vocodex An advanced vocoder.

Synthesizers
FL Studio comes with plenty of synthesizers out of the box. Some of them are as follows:
Morphine: It is an additive synthesizer which contains a lot of amazing sounding presets. You can also change the different properties and create your own sound.
Groove Machine: It is a virtual drum machine.
Poizone: It is a subtractive synthesizer.
Sakura: It is a synthesizer for emulating string sounds.
FL Slayer: It is an electric guitar simulator. You can add high quality amp and effects to different types of guitars virtually.
Boo Bass: It is a bass guitar simulator.


Pros and cons
Pros
Excellent graphics
Less CPU usage
Free upgrade for lifetime
Cons
Recording live can be hard to learn
The bottom line
In my opinion, FL Studio 12 is one of the great DAWs for beginners as well as professionals. The multi-touch support for FL Studio 12 has indeed improved the software and taken it to a whole new level. One of the coolest part about this software is its stunning and interesting graphics which creates the mood for being more creative. Help is provided with the software offline which you can use even when you are not online. FL Studio is not a heavy software like most others in this domain. This makes it possible for even a normal person to install it and get started with their journey of music. So, what are you waiting for? Check out the official website of Image-Line and try it out.