ShopInSync review- A new app for E-commerce comparison

Online shopping in India has recently taken off to a great height. However, with a plethora of e-commerce service providers and a lot many app-only deals, it turns out to be a nightmare to zero in on a good deal for your purchases. If you don't want to miss out on a good deal, you need to rely on price comparison tools. ShopInSync is an excellent step in that direction. Let us delve into a few more details into this new Indian startup.


With a multitude of online stores booming, it is practically impossible to check out on all the deals available across multiple platforms for a single product. There are times when these stores work out an exaggerated MRP and then offer calculated deals which eventually make you pay more than the actual price of the product/item. It goes without saying that price comparison tools help you out in having a quick check on different deals across different platforms rather quickly so that you can hop on to a great deal. ShopInSync is one such latest entrant in the field of price comparison tools and the best part is - it's treading a different path.


What is ShopInSync?
ShopInSync is India's first platform that caters to a wide range of products across different e-commerce sites. Launched by ShopInSync Inc, the app lets you discover deals across almost all leading E-retailers. It offers you an easy to use price comparison tool and it also lets you communicate and share product details with your friends and family via the integrated messaging app. In fact, it is a price comparison tool in essence but adds a little more functionality by being innovative.


How does ShopInSync work?
You just need to register using your mobile number. Once registered, you will receive an OTP to verify your registration. That's it - it does not ask you a whole lot of questions.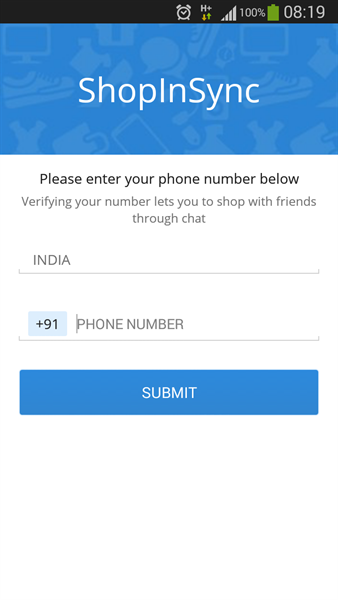 ShopInSync brings together the prices of products across the different e-shopping portals at one place and then pairs it with its own messaging platform. The messaging, or chat platform more or less resembles WhatsApp. The chat allows you to share the products you wish to buy to your friends and family so that you can have a discussion before actually buying the item. They have currently tied up with three major e-commerce sites Flipkart, SnapDeal and Amazon. The founders of the app and the service have stated that more tie-ups will come soon. Talks are on with Gadgets360.

Browsing deals will point you to the lowest price and also the price of the item on other e-col through the categories. Tapping through the categories will let you see deals from Flipkart, SnapDeal and Amazon.



So, once you finalise on the product and the store, you can tap on Buy button and ShopInSync loads the seller app or website (as the case may be) so that you can complete the transaction.

More reading: e-commerce development companies in Kerala


How is the performance?
Well, launching it brings up a neat looking UI. It is quite clutter free. But, still - it needs some polishing. Categories are not that easy to find out. You need to go through multiple layers of menus to reach what you are looking out for. The categories too are little confusing. That's because some products appear out of place in the categories in which they reside.
Another drawback is the need to move out of ShopInSync to complete the transaction is a bit annoying. It would have been better to have the steps completed within app.

The ShopInSync app serves as a one-stop solution for all your buying needs. It does provide a good platform for discussions by means of a chat option( more on that later) which helps you decide on the right product.

ShopInSync is completely free to use. While it helps you out with purchases across multiple e-commerce providers, it does not charge you for the service. It earns from affiliate fees.


Chat - the unique feature of the app
Well, this is what makes ShopInSync stand out of the crowd of price comparison apps. You will find a Chat button just next to a product. You can start a new chat from your contacts. You can also add a product to an existing chat as well. If your contact has no ShopInSync installed, you can send the product link via WhatsApp, email or any other messaging app. It also supports regular SMS.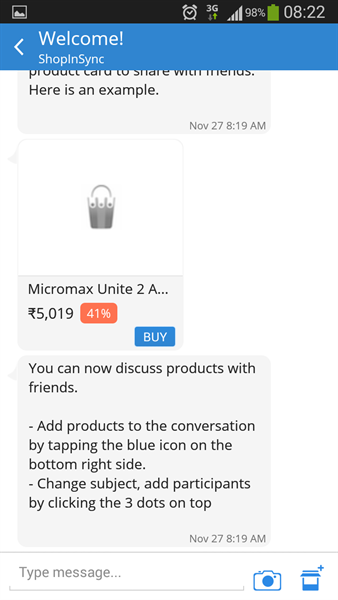 Wondering what makes this chat option that specific and important? Well, that's because reviews found on the e-retailers are neither reliable nor do they provide any information on the product. Of course, you can surf through the reviews on professional review sites. But, as has always been the case with most of us - we all tend to have discussions with our friends and family. That's exactly where this app comes handy.


Final Say
Does this sound useful? I must say, the answer will vary. For the occasional online shopper, the app may not make any sense. If you are into the habit of buying products online just for you or your immediate family - then price comparison may prove helpful leaving the chat option useless. However, if you regularly buy items and gifts for your friends or near and dear ones- this one would be a great app for you. You can have a complete discussion with the person concerned before hitting that Buy button. It will take some time to understand how many of us would be interested in using the app.