Top 5 smart apps for file transfer

Smartphones have become our constant partners these days. Right from messaging to taking photographs, they have become universal companions. With so much data surely you would want to share this content with your friends and peers and for that you need a good app for data transfer. Here we go with the list of top five such smart file transfer apps.


Most of us use WhatsApp to send files among the contacts and network. It, however has a limit on the number and type of files you can share. Bluetooth has been an alternative method used, but it tends to be quite slower. We want our files to be transferred faster, and also want the process to be much smoother and seamless. Shortlisted here are the top apps that are quick enough to transfer your files between devices.


SHAREit
It is considered to be one of the best file transfer apps currently in vogue. Developed by Lenovo, it lets you send files, documents, videos, images, music and contacts. You can install it on your Android, iOS and Windows Phone platforms.


Being a cross platform app, you can use the app to transfer your files across different operating systems. SHAREit can transfer your files easily in a faster, convenient and easier manner - thus eliminating the need for cables or network connectivity. Another interesting feature with this file transmission service is Grid Sharing. It means you can share your files across five devices at a time.


You can download SHAREit from http://shareit.Lenovo.com/download.html. You can also download it from your Google Play Store.


AirDroid
AirDroid is what makes your multi screen experience a breeze. It lets you manage your phone seamlessly from your computer. Be it Windows, Mac or Web - you can manage and access your Android smartphone across all of them. It does have a feature packed file manager to transfer apps and files between your phone and computer free of cost.


You can view the app notifications from your phone, send SMS, transfer files and manage your phone on your computer. Some of the best features of the app are the ability to view and edit contacts, playing and managing music and transfer files between your computer and smartphone.


To send the files to your phone, just drag and drop them to into any of your optional folders on your phone in the AirDroid client on your PC. AirDroid will beam it to your phone when it gets access to WiFi or data network. This however, needs a premium account on AirDroid. Likewise, it allows you to install apps on your phone by dragging the apk files to your AidDroid client and following it up with the subsequent actions on your device. It is free to access on your local network, is chargeable for remote access.

Get more info on http://www.airdroid.com/en.


Xender
This is yet another cross platform file transfer app just like SHAREit. It allows transfer even the extremely larger files in a jiffy without cables or data/WiFi connectivity. Previously known as Flash Transfer, Xender works on the principle of Wireless in-app transmission protocol.
The app has support for all sorts of files including, but not limited to videos, images, music, contacts and documents. It can transfer files between five Android (or iOS) devices simultaneously without the need for establishing the connection over and again.


It is more like AirDroid in more ways than one. You can transfer the files from your PC to the smartphone by dragging and dropping them. It has the similar full fledged file manager on your desktop.
One of the unique features while transferring images is Slide which means you can slide a picture from one screen to another. It also allows you transfer apps from one device to the other. You just need to select the app and then click on Send on the Xender app on your phone. That's it - the receiver will a get a notification to install the app. However, both sender and receiver need to have Xender installed.
The app has support for multiple languages and it automatically detects your region based in the device language. Get Xender from http://www.xender.com.


SuperBeam
Don't have data connection? No issues - SuperBeam is here. It employs WiFi Direct technology to transfer files between devices. You can share smaller or even larger files across devices in a convenient faster way wirelessly. The file transfer works quite easily.


Just launch the SuperBeam app on both the devices, and then scan the QR code on the screen. You can also pair it with the aid of NFC if both the concerned devices are NFC enabled. The app is available for download for Android and iOS. Android allows you to send all sorts of files like images, music, documents, apps and contacts. However, iOS - being a restricted environment - supports transfer only of images and videos between iPhone and iPad.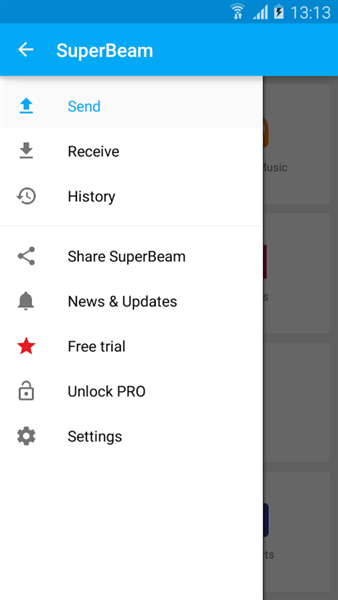 The app transfers files using WiFi if both devices are on same WiFi network. Otherwise, the WiFi Direct Technolgy is used for the transfer. SuperBeam is available both in free and premium variants. You need to subscribe to the paid version to be able to use the desktop app. The desktop app is supported on Windows, Mac and Linux.
Visit http://superbe.am for more information.


Infinit
It initially started off as a desktop utility which was used to share files via cloud. The firm now has apps for Android and iOS. The app can be used to share files between different devices.


You need to create an account for using their services. Well, the account is free - once you do it, you can choose your images and videos to share them with your friends. The files can be sent to Infinit app on the recipient's smartphone. You can also send it to the recipient's email address. The app supports sending the files to multiple recipients simultaneously.
The app can also be used to transfer file types other than images and videos. You need to select them via your file manager and can share them via share menu using the Infinit app. As is evident with the restrictive nature of iOS, it only allows sharing videos and images only on iOS.
Infinit offers you a timeline which lists out all the items you have sent and received. It also comes up with notifications to indicate when your recipients download the files. You have no restriction on the size of files that can be shared. The free account, however, lets you use upto 1 GB of cloud storage. The premium plan costs $10 per month and comes with a 100 GB of storage space. The premium account also lets you set password to your links along with the option to set expiration date to your links.


Parting Thoughts
Though every attempt has been made to pick the best apps above, it cannot be stated that this is the ultimate list of best file transmission services. There are many more that have been making headlines. Some competing tools include C-Share, Pushbullet and WeTransfer. The major points considered in arriving at the above toppers is the speed of the transfer and unique features provided via the app. On my personal front, my favourite remains to be SHAREit and AirDroid for the obvious reasons. However, there may be a few better alternatives to the above listed apps. Readers are welcome to bring them to my notice so that I can add them up in the future listing.