How to Play Game Boy Advance (GBA) Games on Android Smartphone

Do you want to play Game Boy Advance or GBA games on your Android Smartphone? Then, read this guide to know about the procedure of playing GBA games on Android using emulators.


Game Boy Advance is a handheld gaming console, manufactured and released by Nintendo in 2001. Since its release, it has sold more than 81 million units worldwide. Due to its huge popularity, dozens of emulators have been made by various programmers to play GBA games on different platforms like PC, laptops, tablets and smartphones etc. But the procedure to configure these emulators is little bit difficult for non-tech savvy users. Therefore, in this article, we have mentioned 2 different methods to play GBA games on Android OS.


Method 1 - Using My Boy!

My Boy! is the most rated GBA emulator for Android and Windows Phone. It is available in both, paid and free (ad-supported) version. The paid version of the emulator costs US $4.99 at PlayStore.

Free Version : https://play.google.com/store/apps/details?id=com.fastemulator.gbafree
Paid Version : https://play.google.com/store/apps/details?id=com.fastemulator.gba


Tutorial

1. First of all, download/buy and install the My Boy! app from any of the above links.

2. Now, download the GBA BIOS file (13 KB) and save it in your smartphone.

3. Then, open the My Boy! Emulator and you will see the main menu. There, on the top right corner of the screen, you will see the settings (spanner) icon, click on it.



4. Now, click on the "Advanced" settings option (2nd from last).



5. In the new screen, enable the first option; "Use BIOS" . Then, click on the second option; "BIOS file" and select the directory, where you have downloaded the GBA BIOS file (in the 2nd step).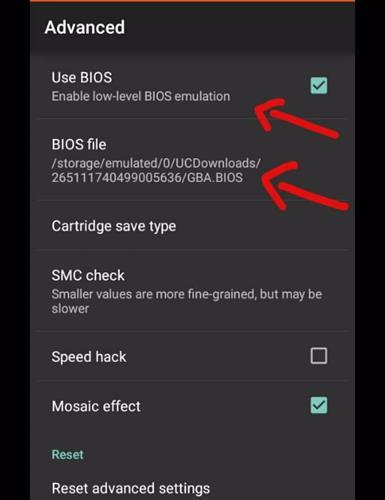 6. Now, return back to the settings menu and click on the "Video" option.



7. There, click on the "Screen Orientation" (3rd option), and choose "Landscape" for better viewing angle. Don't enable the "Stretch to fit screen" option, as it will downgrade the graphic quality of the games.



8. That's it. Now, you are done configuring the My Boy! Emulator. Its time to play some games on it. So for this, you need to have some GBA ROMs (Game Files). All GBA games end with .gba extension and almost all of them are under 10 MB in size. Therefore, finding and downloading them from web is not a big deal. Or, you can just dump the game ROM from an original Cartridge of the game.

9. Once you have obtained the ROM files, put them in a new folder.

10. Now, go ahead and open the My Boy! Emulator, and load the games from that folder, you have created in the above step.


Method 2 - Using GBA.emu

1. Firstly, download GBA.emu from PlayStore via following link.
Link : https://play.google.com/store/apps/details?id=com.vapps.GbaEmu.free2

2. Then, install and open it on your smartphone.

3. Now, click on "Options" and then on "Video" button. Here, change the orientation to "Landscape" .



4. Reboot the app and click on "Load Game" button. Goto the directory of GBA ROMs and click on a GBA Game ROM to start the game.



While, the second method seems more easier, but still, it is recommended only in a condition when the first method doesn't work. Since, the GBA.emu app doesn't use the BIOS file of Game Boy Advance, it is not fully compatible with all Game Boy Advance games. For example; you can encounter sound or graphic problem in some games. Therefore, My Boy! Emulator is recommended more even though the procedure is a bit longer. It can emulate all GBA Games without any error.