Google Photos - Centralised photo service from Google

Google has finally come out with a standalone photo storage service. Announced at Google I/O 2015, the app has been set free from Google +. It has a big list of added goodies that were in demand for long. It offers unlimited photo storage with compression. How does it perform in comparison to a few established names in the photo storage and sharing space? We will try to analyse the service in a finer detail In this article.


A spin off from Google+ photos service, the new standalone photo organisation service from Google is available both as a Web service and also as a mobile app. The revamped service offers you unlimited storage with size restrictions. It also comes with some additional features to let you edit your images.
Let us get into a little more details with this promising service. We will also make a comparison with the alternatives we have.


What is Google Photos?
Google Photos is a standalone digital photo library. It offers you a free, unlimited storage of your photos. The best part with this service is that it comes free with your Google account. The whole process of backing up your photos is well automated. Whenever you snap an image on your phone, or add an image to to the specified folder on your computer - it gets backed up without the need to do anything on your part.



This, however, is not the first time that Google has come up with the service. We have had photos service as part of Google+. The service has now been revamped as a standalone straightforward service designed as a spin-off from Google+. It is available as a mobile app for iOS and Android, plus as a Web client. This enables you to access, organise, share and edit your photo collection across multiple devices and platforms anytime anywhere.

Also Read: Review of JustCloud - free cloud storage


What has changed from Google+ based service?
The basic interface remains similar to what we have come to experience with previous version. Only respite is you do not need to sign in or subscribe to the Google+. There is a total tie-in with Google ecosystem and Android devices. But it does not hinder you from smoother experience with the functioning of the service as this amalgamation is meant to be more of a convenience for smartphone users.

It offers a free photo storage along with tools for editing your photos with custom effects and ability to create GIFs. It stores and organises your photos to the cloud automatically.


How does it work?
If you have a Google account, you are good to go. You can start using Google photos right away. On your PC, go to photos.google.com and sign in with your Google account. That's it! You will be able to see all your photos. Whenever you add a new image to the specific folder on your PC, it gets backed up to your Google photos account.

On a mobile device, just download the Google Photos app from Google Play Store. If you have Google+ installed on your phone, the recent update to Google+ should have installed the photos app based on it. On opening it, you will get an update prompt. Accepting this prompt will install the new standalone version of the application. Once you sign in with your Google account, your photos will be up and before you. If you have a large number of images stored on your device, it may take a while to get all of them synchronised. This will be the first time affair though, after which it would only be the new images to get synchronised.

The app is also available on iOS. You can download it from Apple store.

You have two options to back up your photos - High quality and Original resolution. If you opt for High Quality option, you get unlimited free storage. But it has a catch there - your images should not have a resolution of more than 16 MP. Videos can be of a maximum 1080p resolution. If your photos are more than 16 MP and videos are more than 1080p, they will be compressed to the requisite size. If you wish to save your files in the original size, you can opt for Original Resolution plan. However, please note that these files will count towards your Google storage limits. As we are aware, Google allots 15 GB of space for all Google services included - Google Drive, Gmail and now, Google Photos. So, if you run out of the storage space, you may need to purchase additional storage. For most of the smartphone users though, a High Quality plan should suffice as most of the smartphones take pictures at less than 16 MP resolution. If you are a professional photographer and use DSLRs, you will be forced to upgrade to Original Resolution plan.


Stories, Collections and Albums
Here is a unique feature you can get on the Google photos service. It makes use of some metadata structure to organise your images into themed Collections. The Stories feature creates albums based on specific holidays, location or an event. Google does this with the help of data information from digital cameras, geotags and date from smartphones and some behind the scenes intelligence to arrange the images on a time line. The stories are saved under collections. The Stories have a title, a cover photo and a time line. You can edit the title and cover photo which is initially auto generated by Google.

Intuitively enough, Google Photos includes maps for the locations you visited along with pins for the points of interest.


Editing options
Google Photos comes with editing functionality within the service. You can use simple auto enhancement options with respect to color, brightness and contrast. There are further editing tools for experts too. You can manually adjust light, pop, color saturation and vignette. The Auto Awesome is a feature that can automatically enhance the image quality. It aids in creating collages, GIFs and Panoramas. You can select two or more images and tap the plus sign to check your Auto Awesome options. It allows you to create a GIF image by stitching all the selected images. YI u may also create a Movie - a slide show of select images.set.to the music picked by you.

You also have access to different editing options for individual photos. The editing tool also has options for applying various filters and effects. There is no way you can change the metadata of an image though. However, it is an early stage and it would be interesting to note what may come in future updates.


Mobile Apps
The Google Photos service has well established mobile apps for Android and iOS.   The original Photos app that shipped with an Android device ( or which got installed as part of the Google+ updates) has undergone little changes to improve usability. One such thoughtfully added feature is the Pinch to Zoom. There is no need to mark photos individually for selection. You can now select a photo and drag along to select a range of them.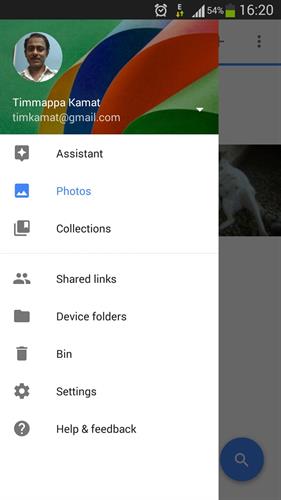 Though the service has a Web presence, the mobile apps are more stable. For now, it would be practical to use the apps than the website until the Web service gets necessary improvements.


Photo Assistant
Assistant is a brand new tool added to the service. It helps you organise your photos more with ease. It works on the same lines as Google Now by displaying different cards. It lists out the projects created by the service for you. The Assistant lists out all photo backups.




The Photo Assistant works more like a dashboard to display all your projects. It comes with a search tool so that you can search for a photo by typing in a keyword.


Looking for other alternatives?
Well, apart from the size limitation - I do not find any issues with the Google Photos. It is smarter and easy to operate. But professional photographers may find it a bit annoying as they shoot high resolution images. One more limitation with the service is it does not save RAW images.

Apple Photos may be a good alternative. It has some great editing options in comparison to Google. However, even it suffers with some shortcomings that make photographers to shy away from it.

Dropbox lets you backup and share a good deal of photos. You can save RAW files on it as long as you are ready to pay the subscription fees. Dropbox Pro service offers 1 TB storage which should be enough for a good deal of photos.

Then there is Flickr which offers you 1 TB of free storage. It is basically meant for basic photo backup and social interaction tool. It does accept RAW images, but converts them to JPEG. You can set and control your own privacy settings.

Other possible options include SmugMug and Adobe Lightroom which could serve as an alternative to Google Photos. It depends on what you are comfortable with and what kind of tools you use.


Wrap Up
Google Photos is absolutely a delight for a photo storage tool. More so on a mobile phone. It has better interface than on Flickr. Auto Awesome is one of the best features that beat the competitors. The size limitation should not be an issue with regular and casual photographers especially those shooting on smartphones. Web client needs a lot of work to be done and hopefully Google will soon come up with updates. Till then, you can give it a try and share your views below.