How to customize the appearance of Microsoft Edge to your taste

Microsoft Edge brings a new browser experience for users with the New Tab page, which is integrated with Cortana personal assistant for greater personalization. Find out how to customize what you see every time you launch your browser.


Along with features like a new reading view, Cortana (a personal assistant) integration, better F12 developer tools and annotating capability, the Windows 10 new browser Microsoft Edge also brings in a New Tab page. Those who have used (and hated) the limited tabs feature on Internet Explorer will find the tabs on Edge a seamless experience.



Since Cortana is integrated into Edge along with Windows 10, its powerful features are used to personalize the New Tab page according to the user's preferences. The page comes with a search box, which lets you search on Bing by default. You also have the option to Favorite (or bookmark) pages to add to your reading list for quick access. In addition, if you bookmark a website which has a Windows Store app, you can get it quickly and easily from your browser. Edge will also recommend sites and apps for you, and let you customize the feeds on the page.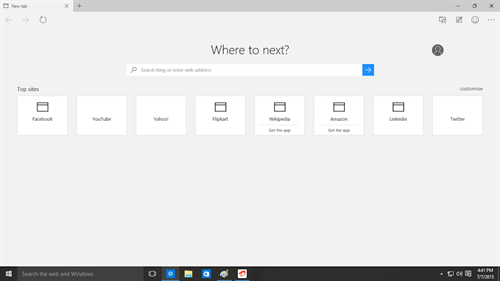 Also Read: Microsoft Edge: A Better Alternative?

Here is a look at how you can customize your New Tabs page.


How to personalize the New Tab Page on Microsoft Edge
Step 1: Go to the Settings menu

Each time you open a New Tab, you can either have the browser show you a blank page, top sites, or top sites along with suggested content. As an alternative, you can also choose to have the browser start with a particular web page or your previous tabs.

To customize what the page shows, go to the More Actions menu (the ellipse icon) at the top right corner of your browser. Hitting it will open up a menu, from where you can select the Settings option.

Step 2: Choose what you see when you open your browser

Under the Settings menu, you will find several options for your New Tab page. Here you can toggle the Favorites bar on or off (on the current Edge preview the favorites bar does not function correctly). Below that you will find the option to Start With:

New tab page
My previous tabs
A web page

If you check the last option, you can choose between MSN, Bing or a custom URL to start on.

Step 3: Customize your New Tab

If you want to start with a New Tab page, check New Tab Page in the step above, then scroll down the Settings menu to the "Open New Tabs With" option.

Here you will find three options:

Top sites and suggested content
Top sites
A blank page

If you choose either of the first two options (and Cortana is supported in your location), Cortana will kick in when you open your browser. Your New Tab page will then have a search bar, suggested content and top sites. You can further customize the content of your feeds that also shows up on the page by selecting the Customize option that you will see on the page the next time you open your browser.




Step 4: Customize your New Tab content

Under the Customize menu, you will be able to select the region for language and content that you want displayed and choose your favorite topics to display in your news feed. Save your customization and you're done.


You can now relaunch your browser and enjoy your personalized Edge browser.