Review, features and specifications of Microsoft Lumia 640 XL

Are you looking for a good-looking Windows smartphone that provides bigger screen and decent performance? If so, here is the detailed review about the new Microsoft Lumia 640 XL, which is priced at Rs.15,799. Read this article to find out its features, specifications, pros and cons.


Since Microsoft has acquired Nokia, Lumia smartphones have been making an effort to transform themselves as Microsoft Phones, dropping the Nokia label they have used all along. The company has been pushing in their Windows device in the smartphone market dominated by Google's Android and Apple's iOS device, to increase their presence in the market. Not to mention, in order to stand a chance in markets like India and China, smartphones has to be affordable, but still provides good hardware, display, and premium look. Keeping that in mind, now the company has rolled out a mid range segment Windows phone, Microsoft Lumia 640 XL, which is priced at Rs.15,799. The device features a massive 5.7-inch HD Display and is powered by Qualcomm Snapdragon 400 Quad Core processor coupled with 1GB of RAM and 8GB in-built storage. Let's find out how it performs in real world test.


Look and Feel

Microsoft Lumia 640 XL is a solidly built device, which comes with a slew of color options to pick from, including white matt, white gloss, black, orange and cyan. It appears sturdy yet seems leaner and more stylish than other budget-friendly Lumia devices. Measuring 157.9 x 81.5 x 9mm and weighing at 171g, the device is noticeably bigger than an average smartphone. The front of the handset boasts a huge 5.7-inch IPS LCD HD display, and a 5MP front facing camera along with usual array of sensors. Since the company opted for on screen navigational buttons you won't find any capacitive touch buttons down below the display. The power key and volume rocker stick out a bit on the right edge and are placed at a comfortable height for easy handling. The microUSB/charging port sits on the bottom edge while the 3.5mm headphone jack is placed on the top.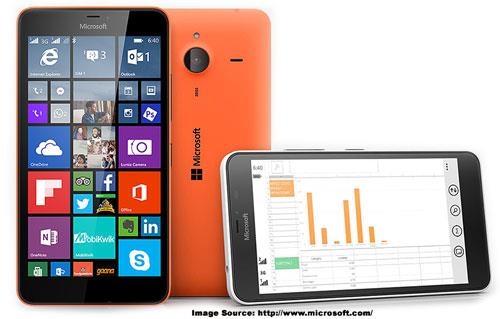 Coming to the back, there is a 13MP camera module and LED flashlight is positioned on the top middle, and as with recent Lumia devices, here also you can see a Microsoft logo on the middle. Right beside the rear camera you will also find a Speaker grille. The removable back panel is made up of quality plastic features a matte finish that provides a good grip while holding it on a single hand. The panel has got rounded corners but the edges are pretty much utterly flat except for the little elevated bump where the 3.5mm headphone jack sits. Also you will find the back a tad curved close to the edges, increasing the grip of the device. Underneath the back cover you will find a massive user-replaceable 3,000mAh battery, microSIM card slot and a microSD card slot to expand the storage memory. Overall, Lumia 640 XL is an excellent build and comfortable to hold, though you would find it difficult to hold if you have small hands.

The device sports an enormous 5.7-inch IPS display with a resolution of 1280x720 translates to 258ppi pixel density, which is pretty low considering the screen size, regardless of this, the display managed to deliver sharper image and text than many other 5-inch displays that provide same resolution. Colors looked vivid, sunlight legibility is also pretty decent. Images and icons looked great with deeper black. Since the display has no problems when it comes to the viewing angles, you would not notice colors fading away when viewing at various angles. Here the company used a new technology called ClearBlack, which is designed to enable screen to display deeper blacks even under the bright lighting condition. This technology functions by lowering the level of ambient light the display bounces using twin filters that polarize inbound light and prevent it from jumping back into the your area of vision. The display's touch response is also pretty decent, and hopefully it would not let you down on any circumstances. The entire display panel is protected using Corning Gorilla Glass 3, and it's nice to see on a mid-range device. Considering all things, this is a good display and you would be hard pressed to find any issues with the viewing experience.


Camera

The device features a 13MP auto focus camera with ZEISS Optics lens and LED flash to help you out in low-light conditions. Shots taken in good lighting conditions came out well with decent amount of details, good contrast levels and color balance. Surprisingly, the camera delivered better shots in low-light scenarios by bringing in fair details though, images looked very grainy, even with the help of flashlight. However, it's really appreciable that the company managed to bring in a camera that does a pretty decent job when it comes to handling light and keeping image quality in all circumstances. There was a noticeable delay in the shutter speed, but it's okay and won't make you wait long to see the output. The default camera app offers a lot of customization options to adjust various stuffs, including brightness, white balance, ISO, etc. With the help of these options you could take some nice shots in difficult situations, such as low or blended light scenarios. Sadly, it doesn't feature optical image stabilization. The rear camera can also shoot 1080p shake-free videos at 30fps, with good audio quality. It is also great at quickly shifting the focus as the user pans around while taking videos.


The 5MP wide-angle front facing auto focus camera, which supports aperture of f/2.4, is perfect for high quality Selfies. It can take Selfies that show decent details and natural colors, even in low-light conditions. There are some filters available in the camera app, which let you make the Selfies livelier. Thanks to the wide-angle lens, now one can take wide-angle Selfies, fitting in more individuals into the camera frame without compromising the photograph.


Software, Performance and Battery Life

Microsoft Lumia 640 XL operates on Windows 8.1 with Lumia Denim update. Again, the user interface is very much identical to what we seen in earlier Windows Smartphones. Here you get a lot of enhanced features along with the new voice assistant feature, Cortana, which works fairly well though, it is not better than Google Now. The software comes preloaded with a slew of Lumia-branded apps and some other third-party apps, including Lumia Camera, Lumia Creative Studio, Lumia Storyteller, Lumia Beamer, Facebook, WeChat, Mobiwik, and so forth. Of course, the device will be updated to Windows 10, and certainly it would have the potential to bring in most of the goodies you are expecting. Since Windows 10 is currently in Technical preview, you would have to wait a little longer to enjoy the taste of it.

The device is powered by 1.2GHz Snapdragon 400 SoC coupled with Adreno 305 GPU and 1GB of RAM. It has 8GB of built-in storage memory, less than half of which would be available for users to store files. In case you need more storage, you can make use of microSD card slot, which can take up to 128GB card. When it comes to connectivity, you get usual features such as 2G, 3G, Bluetooth v4.0, Wi-Fi, NFC, DLNA, A-GPS, GLONASS, etc. Navigating between menu window and apps is not an issue on this device, and it's more than quick enough for basic tasks like web browsing, messaging, making calls and editing documents. It can multitask, and you wouldn't notice any sign of lag, even when you working with more than 10 apps at a time. When it comes to gaming, the device offers average performance. Even though there isn't any significant frame rate problem, the graphics quality certainly not that great. Call quality is decent and earpiece is loud enough to hear.

It comes packed with an enormous removable Li-Ion 3,000mAh unit, which is good enough to last a day from a single charge as outlined by the company spokesman. Sorry, I didn't get enough time to evaluate the backup time of the battery, but I'm sure it'll last at least a day and half with the moderate usage considering the Windows OS is not a battery sucker like Android. There is a handful feature that will help you view the battery consumption by each app and lets you close if any of the apps taking up more juice.


Verdict

Microsoft Lumia 640 XL is certainly one of best mid-range device I recently seen. It features an excellent build, big display, decent camera that shows good performance even in low-light, impressive battery life and decent performance, in fact the device performs well in every department. The big disappointment about this device is the pricing. Sadly, the device will have to compete with Android smartphones from both local players and online players, provide much better specs and an ecosystem with a sea of apps at nearly half the price of it. Considering the present situation, the smartphone market is flooded with full of budget smartphones that offers the usability and performance of flagship devices, I don't think Lumia 640 XL stand a chance.

Read Windows 10 Preview for Nokia Lumia 630: Drawbacks and New Features