Review, features and specifications of the Sony Xperia E4

Are you looking for a budget Android smartphone from Sony? If so, here is the detailed review of new Sony Xperia E4, which comes with a massive 5-inch display. Read this article to find out its features, specifications, pros and cons.


Sony has been known for producing quality smartphones, but last two year smartphone sales, especially in Asian countries, proved that just only quality and brand name won't be good enough to win the battle. People need premium quality devices, which is good looking, but still provides good internals, vibrant display and good battery life, thankfully, now a lot of offering available from various manufacturers at affordable price. It looks like most of the buyers don't even care about the brand name, and of course who cares while one can get budget device that offers the quality and usability of flagship devices from tech giants like Sony, Samsung and LG. It's no secret Sony isn't doing so well in the mobile space right now. In order to get back the lost space in the increasingly competitive smartphone market, Sony has launched a new budget device called Xperia E4, which offers a large 5-inch display and, according to the company, the battery that will give juice for two days on a single charge. Lets find out the device is good enough to compete with budget devices from other manufacturers.


Look and Feel

Sony Xperia E4 is available in Black and white colors. It would be better to see some funky color options like we find in Microsoft Lumia line of phones. Considering the build and design, there is nothing special in Xperia E4. Measuring 137 x 75 x 10.5 mm and weighing at 144 grams, of course, it's not the slimmest smartphone around, but it is comfortable to hold, thanks to the sturdy bulbous back shell. The device appears very chunky with bulbous back that doesn't wrap around its edges leaving the device's sides partly nude.

The front of the device is dominated by massive 5-inch screen. Just above the display there is a Sony brand name, earpiece, sensors, and 2MP front facing Selfie camera that sits at the left with a small silver bezel around it. The volume rocker is positioned just beneath the power button, which is placed halfway down the right side of the device. The placement of power button is okay, but placing the volume rocker underneath the power button appears to be inconvenient. Micro-USB port sits on the left, while 3.5mm headphone jack is conveniently positioned on the top edge of the device. Coming to the back, you can see the camera module with a LED flashlight placed on top and the speaker grill is located down below on the shell. The back cover can be swapped off easily to reveal the microSD card slot and SIM card slot.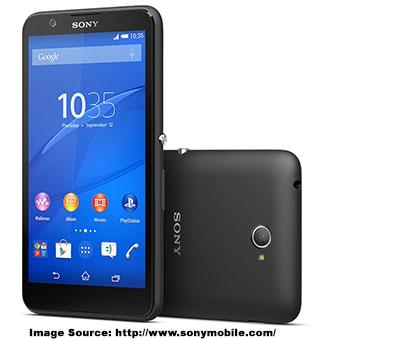 The device boasts IPS capacitive touchscreen that provides 960x540-pixel resolution translates to a pixel density of 220ppi, which appears to be low, even for a budget handset, considering the pixel density offering by many devices in the same price segment. The screen is plenty enough to watch images and videos, but you could see lifeless colors and pixilation even after adjusting the brightness level. Touch screen is fully functioning and very responsive, nothing to complain about it. The screen itself is very reflective, and you would be hard pressed to see anything under the light, especially at bright sunny day. Viewing angles also not that great, I could see colors fading away significantly while tilting the handset to extreme angles. To protect against common scratches, the company used a scratch resistant glass, but there is no mentioning that it is a Corning Gorilla. Overall, at least for me, the display is not visually impressive and good enough for everyday use.


Camera

Xperia E4 sports a 5MP camera on the front and 2MP Selfie camera on the front. The device doesn't offer a dedicated camera shutter button, though you can set volume rocker to be one. The back camera can take some good close-up shots in good-lighting condition, and all images came out well with decent color, exposure and the contrast. However, long shots were not that impressive, even with HDR on, gone out of focus and came out with comparatively less details.


Low-light shots were also not that great, even with the flash light, all appeared a tad noisy - can't complain about it, even most flagship devices fail to capture decent low-light shots. At times, the default camera app appeared to be slower to load and focus. The rear camera can also record Full HD 1080p video, which is not that impressive but certainly better than you would be expecting from it. It is also worth remembering while shooting video you can pause the recording and continue the same one later. The camera app offers a long line of shooting modes to help you out, including HDR, panorama, burst and beauty shot, and more you can download from the app itself. The company promises that the camera app will be kept up-to-date with the newest add-ons as they rolled out. The 2MP camera is ideal for video calls and taking some decent Selfies. It can also record videos at 720p, appears to be Xperia E4 is the first device that gets 720p HD support for a 2MP camera in Xperia lineup.


Software, Performance and Battery Life

The device runs on Sony's its own eye-catching UI on top of Android Kitkat v4.4.4, which isn't quite the latest iteration of Android OS, that's v5.0 Lollipop. Of course, the device will be updated to Lollipop, but as we're yet to see the update show up on flagship devices, you would have to wait for a while. Talking about user interface, it's still stylish and very polished as ever. Here you will be welcomed with some pre-loaded Xperia apps such as Sony Select, Playstation, Track ID, Walkman, Movies, Walkman, Album, etc. The worst thing you see there will be the slew of pre-installed bloat-wares, which could slow the operating system. Unfortunately, all those bloat-wares can't be uninstalled unless you root the device. Another interesting feature available here 'Simple Home', which turns the app icons relatively bigger and turns the UI bolder and arguably more convenient to play with.

The device is powered by 1.3GHz MediaTek MT6582 quad-core processor coupled with ARM Mali-400 MP2 GPU and 1GB of RAM. Here you get 8GB internal storage, from that you will get approx. 4GB for other storage purpose. If you need more storage, then you can expand it via microSD card slot, which supports up to 32GB. In terms of connectivity, as usual, you get 2G, 3G, Bluetooth, Wi-Fi, among others, but no 4G LTE. Coming to the performance, the user interface navigation is particularly slow, may be it is because of all those bloat-wares comes pre-installed with the device. Sometimes even the apps took longer to open. It can multi-task, but it won't be a good idea to run too much apps at a time. Gaming performance was decent when playing casual games like subway surfer, Temple run, and so forth, but I did find some hiccups while playing graphic intensive games. Call quality and signal reception is decent. Audio quality is pretty decent and loud enough to hear. The company does also bring in some of their add-ons that would improve the audio experience, including features such as XLoud, Clear Audio and 3D Surround. By default, these settings may be turned off, therefore make sure all turned on within the settings to bring out the best.

Finally, when it comes to the battery, the device is packed with non-removable 2,300mAh battery. Surprisingly, the battery used here is pretty decent and doesn't deplete too fast. Sony claims that it is good enough to power up the device for whole two days on a single charge, and according to tests, it actually does by keeping the device on stamina mode. It's a good thing since most devices in this segment can't get one full day out of a single full charge.


Verdict

Apart from the good battery life, there is nothing especially good in this device. This device may have stood a chance two years back, but it can't now. The mobile space is already taken over by manufacturers like Xiaomi, Micromax, Gionee and Huaewi by offering smartphones features premium look, top-of-the-range internals and vibrant display at affordable price. For this smartphone, even as a budget device, the company given the price tag of Rs.11,719. At the same price, there are a lot of better smartphones that come with competitive specs than this one. So I wouldn't like to recommend this one for you. If you need better one that is priced under Rs. 13, 000, consider take a look at Yu Yureka, Xiaomi Mi 4i, Lenova A6000 and Huawei Honor 4X.