Aoao Video to Picture software review

Read the review of Aoao Video to Picture Converter and know how it performed in our review. Whether you are looking to generate static JPG images or if you have to make animated GIFs, this software claims to do all. See its features and go through our complete review to know more about it.


Video to Picture is a small and useful tool from Aoao to get frames from your video as images. Priced a little high, this software can be a useful tool for professionals in the field of banner making, advertising or any other task where you might need to get a beautiful shot from a video to use it for personal or professional purpose.


Working with Video to Picture Converter from Aoao

The setup is just 12 MB at size and can be downloaded from the official site. You can choose to download the free version at first to try out the effectiveness of the software or you can just go through our review for that :)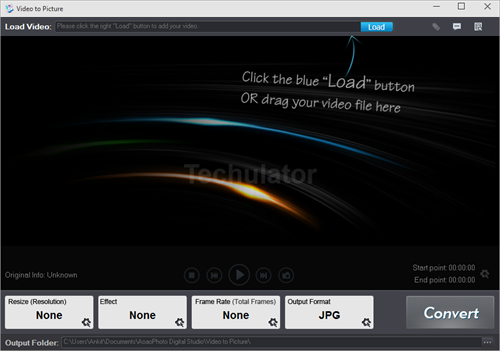 Once the installation is done there are just a few easy steps to get the task done:

Load video
Drag your video to the home screen or use the "Load" button present on the top to navigate to the video. You can load almost any type of video format you have with you like AVI, MPEG, WMV, DVD (VOB), DVR-MS RM and MKV and so on.


Set video clip
Choose the portion of the video clip for which you want to make the images for. This would show up as the Start Point and End Point on the screen. You can even select the whole video if you would like to do that. You can also choose the add some effects in the video.


Choose frame rate, image resolution and image type
Once you have selected the portion of the video you want to convert into images, now is the time to decide how many frames you want out of the video, the resolution of the images you want it to be and the image type. Here you have the option to make a animated GIF of your video too. Other supported image types are PG, BMP, GIF, TGA, TIF, PCX, PNG and ICO.

Get pictures
Now just press the convert button and the software will start generating the images in the folder you select. It takes very less time to generate hundreds of images. Of course the overall time would depend on the total number of images you have decided to generate but there is no compromise of the quality here.

And if you have this software installed, you can also skip having any video player on your system because you can also play any format type videos in it.


Wrap up

All in all, the process is very simple and you can easily generate professional quality static images or animated GIF pictures. This is a highly recommended software if generating images from videos is your need, especially GIF animations. The price for the paid version might seem a little high to some but professionals would actually praise the work this software does at a price of around $20.

Read Freemake Video Converter review, features, pros and cons