HTC Desire 816G Review, Price and Specifications

Check out the best and the most unbiased HTC Desire 816G review with its price and specifications. You can find a detailed review covering every pros and cons.


HTC desire 816G looks very promising and premium but is it the same from inside? Let's find this in our review. HTC desire 816G is a 5.5 inch Phablet which is loaded with several surprises, both positive and negative ones. Upon using this device for more than 2 weeks, I came up with the most fair review of this device. As far my review goes, I have highlighted most of its pros and cons along with my personal suggestions.


Display & Camera

HTC Desire 816G comes with a 5.5 inches HD display which supports resolutions of up to 1280 X 720 pixels. The screen is big enough for watching HD videos, reading eBooks, playing video games and of course greatly enhances the browsing experience. Despite being an expensive device with a price tag currently reaching to Rs. 16k, it does not comes with any Gorilla glass protection. This is a huge drawback and if accidentally the screen is broken somehow then you have to spend thousands to get the new one. Regarding the camera, HTC Desire 816G comes embedded with 13 MP front camera accompanied by LED flash and is well enough for crispy shots. The shots which I took in daylight were far better than my expectations. So, in order to check it further, I took myself to some low light shots and to be frank, they were not that bad either. So, overall I am happy with its rear camera. HTC Desire 816G also comes with 5 MP front camera, which is good enough for crispy selfies and a good video chatting experience. But will this expensive device perform equally well in terms of hardware checks? Let's find this in our review further.


Hardware & Performance

HTC Desire 816G runs on Android v4.4.2 Kitkat. It is fitted with a 1.3 GHz Quad core processor which runs on Mediatek MT6582 chipset. This chipset is paired up with 1 GB RAM to deliver some good performance in HD movies and games. To test these hardware specs, I planned to run some trending graphic exhaustive games, and for that purpose I installed Dead Trigger 2 and Asphalt 8. Dead Trigger 2 ran like a piece of cake on this device but however I faced some minor lags in Asphalt 8. This will not ruin your gaming experience at all, unless you plan to use some screen recording software along with these games. Overall I found the hardware performance much similar to its earlier counter part - HTC Desire 816, which is around Rs 4k more expensive than this one. So, considering its price range and of course taking build quality in mind, I must say this device is a fancy pick over several other similar ones including the HTC Desire 816.


Storage & Battery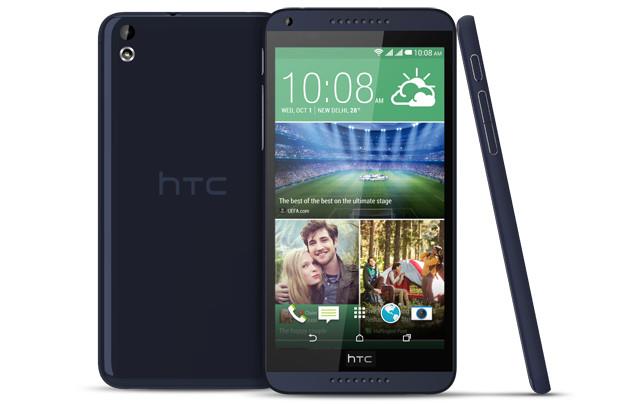 HTC Desire 816G comes with 8 GB of internal storage, out of which just 4 GB is usable. This is yet another drawback and you will not be able to make a gaming collection on your device. Considering the price, the internal storage should have been 16 GB to well suit the user's needs. However, apart from games (which use internal storage for storing some files) users can use 32 GB microSD card to expand the overall storage. Regarding the battery, it is fueled by a 2600 mAh battery which can easily last for 7 hours when used extensively with HD movies and hardcore gaming.


Sensors & Connectivity

HTC Desire 816G supports Wi-Fi 802.11 bands and comes loaded with Bluetooth v4.0 for a blazing fast data transfers. It supports 3.5 mm audio jack for head phone connectivity. And has 3G support for both the GSM SIMs. However, HTC Desire 816G is embedded with just 4 sensors - Magnetometer, Proximity, Accelerometer and Ambient Light. In my view, some more sensors like Gyroscope or Temperature sensors should have been considered in the list for an overall premium experience.


My Verdict

I tried my level best to bring you an unbiased HTC Desire 816G review. Upon using this device for about 2 weeks, I was able to find some of its loose ends. This device would have gained much respect if the developers would have glued Gorilla glass protection along with 1 GB more RAM. However, I have no objection for its build-in quality and the camera features. In fact I was amazed to see the level of details which the low light shots were able to pick. So, overall I will rate this device a 6.5 out of 10 as a fair rating. I would recommend this product to a HTC fanboy but not to one looking for the value for money.

Read HTC Desire 526G+ Dual SIM With Octa-Core SoC Launched In India