5 Most under-rated Games Of 2014

2014 was a year of great games. While there were some games that got the success and limelight the deserved, some gems went under the radar of a lot of people. I have mentioned some of those games in this article.


Introduction

2014 was a year of the giant leap in gaming with games like GTA V that taught us the new meaning of what it's like to play an open-world game. Some games like Advanced Warfare broke records as they sold millions. Then there were games that never got the attention they deserved. Why it happened? Well, mainly due to lack of marketing and appreciation for those games. Nevertheless, it's never too late for you to catch up on these games if you haven't played them or even heard about them. Here are some of the most under appreciated games of 2014 -


The Evil Within

The first thing that comes to your mind when you hear the name of this game that it must be some sort of first person shooter where you go Rambo style on all the demonic entities and cleanse the world. It's pretty different from that though. I think they made a huge mistake in naming the game and marketing it. The way it was marketed, it seemed like a first person shooter to many people, which obviously didn't sit well with most of the hardcore fans of horror genre. After all, it was supposed to be a horror game.

If you didn't play it, now is your chance to get your hands on it as it's selling on Steam for very cheap. Get a copy before the price swells up again. You will not regret it as it's one of the spookiest games I have ever played. The monster chases; the hiding for cover when an enemy is nearby; and the dread of being butchered by them, I still remember most of it vividly.


Watch Dogs

Watch Dogs is an open-world game published and developed by the French studio called Ubsioft. I think it's one of those rare games that is good, but still is underappreciated and even loathed in some case. The main reason behind it is the fact that it released to a lot of hype that they were unable to match up to. People were expecting a lot of things from this game that it didn't turn out to be. And we all know what happens when things don't coincide with our opinions – we riot!

Resultantly, Watch Dogs failed to meet the expectations in terms of number of copies sold. It barely managed to sell a few million copies, which not to mention, is not enough for a game of Watch Dog's size.

The most unfair thing that happened to this game was people started comparing it with GTA V, a gigantic open-world game that has just released an year earlier. We wanted this game to be another GTA V, which certainly wasn't the case. That's what happens when you expect too much from a game. Go in with not much expectation and you'll come out happy. Get comfy and enjoy a brilliant underrated masterpiece.


Sunset Overdrive

Sunset Overdrive is a PS4 exclusive open world game developed by Isonomic Studio, the same studio who developed Resistance series PS3. Everything from hopping to one place to another, to blasting burly monsters off with your guns, is hella fun. If you pick this game, there is little to no doubt that you will really enjoy this masterpiece. The only problem is, there are not a lot of places you can buy this game from. The reason is, they have surprisingly been quite about the launch of this amazing game.

It has not been marketed with same enthusiasm as some of the other PS4 exclusives, and the irony is, it has performed better than those overhyped games. I guess, Sony couldn't see it coming. They thought that it's going to be just another game with low production values, but the developer studio managed to make something really amazing out of a really low budget allocated by Sony. This goes on to show you how uneducated can uninformed can those suited up men in top floors be. They get to make all the decisions, and most of the time, things go awry. Due to the low number of copies sold, there is a little chance that a sequel will ever see the light of the day, but hey you can still hope for the best and contribute to it by buying a copy.


Lords Of The Fallen

I can't believe it when people who haven't even played Lords of The Fallen claim that this game is just a blatant copy of Dark Souls series. I means seriously? Those people and publication accusing this game of copying another game should be prosecuted. I am pretty sure there will be some sort of legal action taken against the as tension between these two parties are heating up.

I feel like I have derailed the topic though. The crux of the matter is this – it's an amazing game, with lots of huge monsters that are ready to tear you apart if you dare take your eyes off the screen for a moment. Yes, it's more forgiving that Dark Souls series, but it's not easier in any way. Granted, there are flaws in this game, but it's not like you are not prudent enough get around them.



Wolfenstein: The New Order

Wolfenstein: The New Order is a chaotic game from any angle you look at it. There is violence, gore and nudity, and there is a lot of tit in this game. So if those things gross you out, you should probably stay away from this game and skip to the next entry, because this game is certainly not your cup of tea. I strongly suspect that you are not going to like it if you love Call Of Duty series as this game needs you to be more focused and slow down your pace. Going Rambo style on your enemies means certain death There is no way around, but to stick to the gameplan and complete your task efficiently. It's all about the teamwork. Stray too far from your mates and you are going to end up dead in next couple of seconds.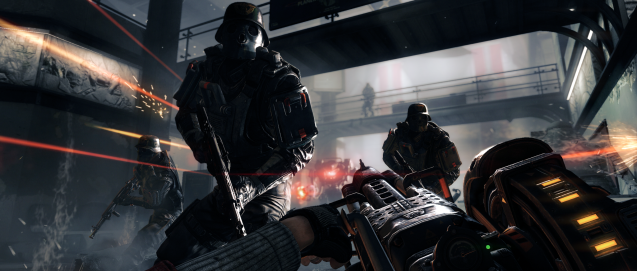 Conclusion

2014 might have proved to be a disappointment in terms of major AAA titles, but it was never really short of good indie tittles. Above games should be more than enough for you to play till games of 2015 finally start to launch.

Read Best PC games of 2014: PC games that you should try