Best RPGs of 2014 you should play

There used to be a time when first person shooters were quite a thing, but Role playing genre has exploded in past few years. 2014 was a good year for RPG lovers. Here are some of the best RPGs of 2014 you should play, if you haven't already.


Introduction

If 2014 was a year of open-world games, it was mainly because of Role playing games. Most of them were open-world affairs. 2014 was the year when we went well beyond the beaten path of RPG games. There were a few games like Dark Souls and The Lords of The Fallen that taught us the new meaning of difficult games, and there were tons of indie games as well.

Overall, it was a damn good year for RPG games. As you move on to see what 2015 has in store for you, here are a few RPGs from 2014 you must play –


Dark Souls 2

If you love the RPG genre, I am pretty sure you have heard of this franchise by now. It's impossible to not talk about this game when we mention great RPG games. If Dark Souls was great, Dark Souls 2 went a step further to assimilate all the good characteristics of the original while incorporating good elements from other RPG games at the same time.

Rumors were rife that they are going to tone down the difficulty in favor of allowing new players to get a taste of this game while let going the hardcore players, but thankfully it didn't happen. In fact, it was harder than the original game.




You are going to die, and that would happen a lot of times during the gameplay. If that annoys you, you should probably skip to the next entry on this list as this game is certainly going to infuriate you. It's not for those who want an easy win. You will have to earn that through the trial and error method. Yes, it's time consuming and harder than it probably should be, but is it fun? Hell yeah. So you should definitely get your hands on it.


South Park: The Stick of Truth

Most of the adaption from TV to games or vice-versa are never good. They turn out to be mediocre, if you leave some exceptions. What's wrong with them? Nothing. The only problem is, there are not good developers behind those games. They are just half-hearted attempts at milking the popularity of a game or movie. That's it. And that's the reason why those products don't hit it off well with gamers.
No matter how hard it is to find a good adaption, though, you will run across games like South Park that are exceptionally good for an adaption. From the first glance, you might be forgiven for thinking that it's just a cartoon TV show, but it's a game developed and published by Ubisoft Studios.




Not only it manages to recreate some of the classical TV moments of South Park series, it adds some of its own intriguing material, which makes for a really satirical gaming experience. Now, I don't know if you have watched the South Park TV series or not, but you are going to love it more if you have. So I would recommend you to watch some episode of South Park before venturing into this game.

Don't worry if you are not much of a TV fan. You are going to like it anyway even if you don't follow the TV show.


The Banner Saga

The Banner Saga was never going to be developed if it wasn't for Kickstarter, the crowd fuding platform. Just think what would have happened had this game never been made? Well, we would have been aloof from an unprecedented gaming experience.

It's not for everyone though. If you are looking for some frantic, quick-paced action, you are more than likely to come out disappointed by the time credits roll. That's how it really works.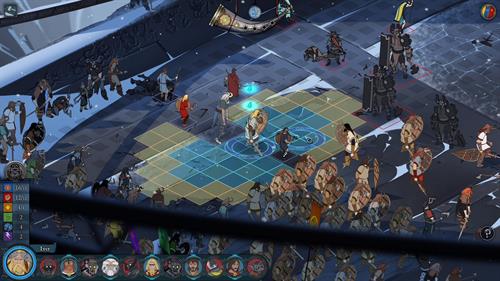 On the other hand, if you are into RPGs, you are going to love what the Banner Saga has to offer. Everything from lore to story to combat is freaking awesome. You just can't take your eyes off it.
There is a good news for you if you have already played it and are looking for some more action. The sequel is going to be out soon. They just need some more money right now, which they are getting through Kickstarter again.


Lords Of The Fallen

Lords of The Fallen – how original! The name certainly doesn't ring a bell when we hear it as it sounds so original. Unfortunately, that's where its uniqueness ends. There is nothing different about this game apart from the name. This shouldn't stop you from playing one of the best combat RPGs of this generation though.




Granted, they have made little to no effort to differentiate themselves from Dark Souls series, it's still an amazingly enjoyable journey throughout. If you were tired of dying a lot on Dark Souls series, you are going to be relieved to hear that you are going to die a lot lesser in this game. That's why I fell in love with The Lords Of The Fallen instantly when it didn't punish me for committing trivial mistakes.


Conclusion

There are tons of RPGS that came out in 2014. Most of the were good and probably deserve a mention here, but mentioning all of them alone would be so hectic that it will not be feasible to do so. Moreover, I haven't played those games, so recommending them is not professional in my opinion. On the other hand, I have tried and tested above games. You will love them.

Read Why The Witcher series is best RPG series in the world?