5 Best paid Android sports games in 2015

Check out the best paid sports games for Android which can be downloaded for free via Google PlayStore. I have provided paid Android Tennis games, snowboarding games, cycling games, hockey games and Moto stunt games.


Playing sports game on an Android device is always exciting and fun! But what if you pay for a game which does not stand a chance against your expectations? Don't worry, I have tested most of these sports games to provide you a fair list of the 5 best paid Android sports games.


Virtua Tennis Challenge

Virtua Tennis game have proved to be a great success on other platforms. And now this game is available for Android platform too. Gameplay is fun and easy as it is mainly based on touch gestures with no buttons. Swiping at different angles will allow you to play different shots such as slice shots, drop shots, top spins and lobs. Its 'Super Shot' provides uniqueness to the game. For playing this shot you have to first build enough concentration and then unleash this super shot which will simply make your opponents sweat. So swing the game in the way you want and compete with the world's best players. Also, Virtua Tennis Challenge game supports virtual pad, arcade and game pad input methods.

That's enough talk of its superb gameplay, now let's have a look at its features. Virtua Tennis Challenge game has total of 18 stadiums along with different courts like grass, hard, clay or indoor courts. You will never feel bored as this Android game will be challenging enough with its world's best 50 players. So, get ready to compete with them in singles or doubles challenges. Virtua Tennis Challenge Android game has different modes to play in like exhibition match, quick match mode, multiplayer, training mode and SPT world tour.


Snowboard Party

Snowboarders get ready to enjoy with Snowboard Party game as it offers unlimited fun. The gameplay is clear and easily understandable. The analog stick is situated on the bottom-left corner of the screen and towards the bottom-right corner there are different tricks buttons. But, if you find this setup of controls quite difficult for you then you can also customize controls to your need! You may choose the left or right handed control mode and analog stick or accelerometer option as per your need. Moreover, Snowboard Party is compatible with most of the game controllers. So, gear yourself up to do different tricks.

Snowboard Party Android game has total of 4 modes - freestyle, big air, halfpipe and multiplayer. In freestyle mode, you have to just show off your amazing skills and tricks either naturally or using man-made features like boxes, rails, logs, jumps, rocks etc. In big air mode, you have to perform different tricks in air while going down the slope at high speed. So this mode is all about to go big or go home. Another offline mode is halfpipe, in this, you have to perform different tricks while going down on the halfpipes. There are total of 50 unique tricks to perform on 15 courses located in the Alps, Rockies and Japan. Go beautiful with its customizing feature, you can choose from 11 snowboarders and customize their gear like selecting boards from different designs and sizes.


RED BULL X-FIGHTERS

This game is for the freestyle motocross game lovers who likes to perform different FMX tricks. Red Bull X-Fighters provides unique gaming experience with its super clear and HD graphics. The gameplay is also simple as it is based on gesture control system which allows you to put your amazing stunts in easy way. So, create your own style by combining FMX tricks in the game. In addition, you can also buy more tricks in Red Bull X-Fighters. So put your gaming skills at challenge by combining different tricks and proving that you have what it takes to ride with the best.

In this Android game you will be playing as Red Bull X-Fighter World Chamion - Dany Torres. Red Bull X-Fighters Android game has locked equipments like new bikes, driver suits, game modes and dozen of tricks to unlock during the gameplay. If you think that you are the best rider among your Facebook friends then send them in-game challenges to compete with them. Also, Red Bull X-Fighters game is packed with official music by Twin Atlantic (Red Bull Records) so as to keep your burning riding and stunts skills alive throughout the game.


NHL 2K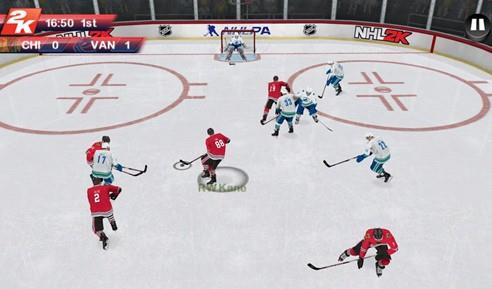 NHL 2K is another cool Android game to enjoy. This game has quite awesome and immersive graphics. With its intense graphics, feel every bit of the game. Its gameplay is somewhat challenging but don't worry, developers have got this covered with the game's controller support. This time, the game is back with new exciting features and game modes including my career mode, mini rink mode and multiplayer shootouts mode. So, get ready to compete with your rival teams to win the cup.

In my career mode, you have to control your player for earning skill points. Whereas mini rink mode features 3 on 3 fast-paced gameplay mode. And multiplayer shootout mode features turn-based penalty shootout using Google Play. In this mode, you can also compete with your friends.


Cycling 2013

Cycling 2013 provides you a cool cycling experience with its bunch of features. The graphics of the game are not excellent but good enough to enjoy the game. Its smooth and easy to control gameplay is another advantageous feature of this game because games like this are quite difficult in their gameplay aspects. But Cycling 2013 Android game has proved its gameplay to be easy enough for both amateurs and the most experienced gamers. While racing, you will be provided different environments like racing in the mountains or though urban areas.


Now, let's have a look at its features. Cycling 2013 has total of 3 game modes and lets you to race through 15 different stages including countryside, urban and mountain stages. Enjoy the game with its 10 Grand Tours which has total of 3, 5 or 7 stages. Also, this Android game is packed with 10 challenges in the cycling velodrome arena. Moreover, you can select your athlete from 6 different athletes with differing performance levels. For making it much more challenging and competitive for you, the game will provide you with 5 difficulty levels. So, gear yourself up to win grand tours and complete challenges