How to transfer bank accounts from one branch to another

Are you relocating and worried about opening a new bank account in your new destination? Well, Indian banks now allow account portability, allowing you to transfer your bank accounts from any branch to any other branch in the country.


I have lived in many places in India as part of my job and one of the challenges when I move each time was opening a new bank account in the new place. I had an account with HDFC Bank which has been issuing "at par" cheque books, which made it easy to cash them on any branch. However, many times I face limits on daily withdrawal and other service issues in a non-home branch. As a result, over a period of time, I opened multiple bank accounts in different cities.


Bank account portability

In the year 2012, Reserve Bank of India issued a directive to all banks to switch to a centralized customer identification system, which was the first step in moving to bank account portability. The new generation banks like HDFC and ICICI were already following this system, which allows them to access the customer information from any branch. I have a single customer Id for HDFC bank and any new account I open in any city are attached to this same customer id. The customer Id remains the same when I open a new account or close an existing account.

According to the new directives from RBI, all banks are now required to provide a centralized customer id system and should allow account portability. I talked to various banks in India and they have different methods to transfer the accounts from one branch to another.


General guidelines for bank account transfer from one city to another

Here are some general guidelines regarding account portability:

1. Different banks have different procedure. Check with your bank and ask for the specific procedure. I have provided the process of some of the banks I have interacted with.

2. If you have submitted valid and up to date KYC documents to your previous branch, no need to submit them again in the new branch.

3. When you transfer your bank account from one branch to another, your account number, customer id etc will remain the same.

4. You will be able to use your internet banking facility as usual and you can continue to see all previous transactions, payees etc from the previous branch.

5. Most banks will issue you a fresh cheque book with your new address printed on it.

6. If your address is changed, you will need to submit new address proof document.

7. If yours is a join account, both account holders must sign the application.

8. You may use this same procedure to convert an NRE account to a Savings account.

9. Some banks require that you must surrender your cheque books, pass book and debit card before you can transfer your account. However, most banks will allow you to keep the credit card since that is not really linked with your specific to the location of your savings account.


State Bank of India

State Bank of India doesn't have any specific forms for this purpose. All you have to do is, walk into the local branch in your new place and submit a transfer request written in white paper. I have attached a sample letter, which you can submit to your SBI branch.


State Bank of Travancore

State Bank of Travancore also doesn't have any specific forms for this. Just like the SBI, you can visit the branch where you want the account to be moved and submit a letter in white paper. See the attached sample letter.


HDFC Bank

HDFC Bank has a specific process and an application form for this. You can either download a form from their website or get one from the local branch. Fill the form, sign it and hand over it to the branch. They will transfer the account to the new branch within a few days.

Download application form from HDFC Bank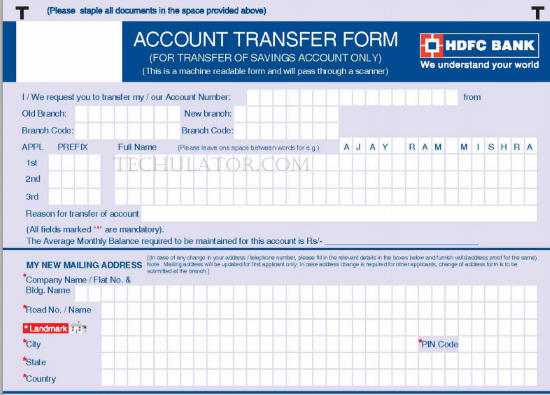 Axis Bank

According to the information published in the official website of Axis Bank, you need to fill a specific application form available in all the branches. They don't have the form available for download.

ICICI Bank

This bank too have their own specific application for account transfer. You need to surrender the cheque book, however, you can keep the debit card and instruct the bank to link to your account in the new location. The application form is available in all the branches.


Canara Bank

If you are a CBS branch customer, you can submit a letter to the new branch and continue to use the cheque book and debit card as usual. However, if you have an account in a non CBS branch, then you are required to fill in the appropriate application form available in the branch. You are also requested to surrender the Debit card, unused cheque leaves, if any.


United Bank of India

This bank requires submitting a request in plain paper. You can use the attached sample letter. You need to surrender the cheque book, ATM card and passbook to the bank. The new branch will issue new passbook, chequebook and ATM cards to you. Account transfer is done in realtime, electronically, provided no irregularities are found with the account and all KYC documents are up to date. Read more details here.


Bank of Maharashtra

According to the official website, Bank of Maharashtra requires you to submit a request letter to your home branch (old branch). You need to surrender your unused cheques to the home branch before the transfer can be initiated. You need to submit the proof of address and new phone numbers in your new location. Read more details here.

Download sample letter to request account transfer