AXIS introduces F44 four-in-one flexible camera

Individuals and companies looking for a quality solution for digital surveillance may consider AXIS F44 main unit. F44 and four miniature sensor units connected to the main unit will offer highly discreet video surveillance of four closely situated areas. It is suitable for retail and banking applications.


AXIS introduces F44 four-in-one flexible camera unit

Axis communications, a prominent player in network video devices, launched a new addition to their F-series called AXIS F44 main unit. F series devices consist of divided network camera setup where camera is split into sensor unit consisting of lens and image sensor with a pre-mounted cable up to 12 m in length along with the main unit which is of the camera. The main unit and sensors of different lens types are available so customers can choose the components required and change them as per surveillance need. Since the sensors are small, it can be installed out of view in narrow places offering highly discreet installation options. Main unit can be placed up to 12m away.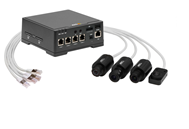 AXIS F44 connects up to four miniature sensor units, enabling cost-effective and highly discreet video surveillance of multiple areas.

AXIS F44 can monitor up to four different areas in a site with the main unit. Modular sensor units are small and hence can be relocated according to user needs even after installation. It is suitable for video surveillance in stores, ATMs, Buses etc.

Some of the features of the new AXIS F44 unit are:

Simultaneous streaming of four separate 1080p Full HD video at 12.5/15 frames per second or four 720p HD videos at full frame rate
Quad view - which consists of four separate views from connected sensor units
Two way audio, input and output ports for external devices for better alarm management
RS232 port for external data to the video
Two built-in full sized SD card slots for local storage of recordings
Power over Ethernet and facility to connect 8 to 28V DC power supply
Intelligent video capabilities including video motion detection
Active tampering alarm and downloadable applications through the AXIS Camera Application Platform.

Four compatible AXIS F sensor unit with two different cable lengths of 3m and 12m available:

AXIS F1005-E Sensor Unit with a standard lens and a 113° horizontal field of view for indoor, outdoor and mobile use. It has IP-66 rating.
AXIS F1015 Sensor Unit with a varifocal lens for a 53° to 108° horizontal field of view is suitable for indoor use.
AXIS F1025 Sensor Unit has a pinhole lens and a 92° horizontal field of view which is suitable for indoor use
AXIS F1035-E Sensor Unit has a fisheye lens for a 194° horizontal field of view suitable for indoor, outdoor and mobile use

AXIS F44 comes with AXIS Camera Companion video management software supported by AXIS camera station and AXIS Application Development Partner Program. It also has support for AXIS Video Hosting System and ONVIF for camera system integration. AXIS F44 costs around $549. 3-m cable versions of AXIS F1005-E, AXIS F1025 and AXIS F1035-E Sensor Units costs each $249. 3-m cable versions of AXIS F1015 costs $279.

Recently, AXIS achieved a feat when their F44 main unit and two connected F1005-E sensor units were sent up in a stratospheric balloon as part of a game called Stratocaching in Czech republic. AXIS F44 provided recorded HD videos of the ascent from ground to an altitude of 29.3Kms and the descent of the balloon recorded using the two sensors simultaneously.

Learn more about AXIS F44 main unit here: http://www.axis.com/products/cam_f44/index.htm

For more information about AXIS F1025 sensor unit: http://www.axis.com/products/cam_f1025/

For more information about AXIS F1035-E sensor unit: http://www.axis.com/products/cam_f1035e/