Hands on review- Gionee Marathon M3

Are you looking for a smartphone that is good in performance and provides a week or more battery life? Gionee Marathon M3 Android smartphone is a good choice with it's 5000mAh battery, good hardware and cheaper price tag gives a good value for money.


My Gionee Marathon M3

I was looking for a cheap, VFM Android phone with 4.4 KitKat or higher. My needs include internet browsing, few apps and games and more prominently, good battery life of around a week or more as I travel often. A reasonable build quality is also a must have for me. There are smartphones available in the market in the 7-8K range that fits this list but lags on hardware specs and build quality. Today, the minimum amount of RAM needed is 1GB or more for smooth performance of phones as apps size have started getting larger and there are many background programs that eats up memory. In fact, there are cheaper smartphones started available in India with 2GB RAM and higher with Mediatek chipset and 1.2Ghz or higher speed processors. Yet, my denouement after searching various smartphones available in the Indian market is Gionee Marathon M3 which is the successor of the currently selling Gionee M2 model, which is famous for battery life and build quality.

Marathon M3 comes with a flip cover which is sticked to the phone's back cover


Best deal for Marathon M3

After I made up my mind to go by the M3, I started looking for the best deals for the device. It is available in Amazon India for a price of Rs 12,399 but I decided to give a try in a local store in our town. They had the device in stock and offered me a small discount. I paid Rs 12,200 for the phone after a discount of Rs 300 by the shop manager and also they offered me a free SD card with the phone. So, that was a good deal compared to the Amazon price.


About the phone

M3 was launched by Gionee India at the beginning of this month (November 2014). It is powered by a Quad-core 1.3Ghz Cortex A7 processor, ARM Mali 450MP GPU and 1 GB of RAM. It has a 8GB ROM and supports micro SD cards up to 128GB. Stable Android 4.4.2 KitKat is pre-installed on the phone. The main feature of this phone is the 5000mAh capacity battery which will reduce the need for frequent recharging. The battery in this phone is not a user removable one. From my experience, the battery charge level showed 95% after three days of usage. I haven't checked the battery statistics but from my initial experience, it is sure that this battery will last for a week or more with average usage. The main USP of this smartphone is also its large battery backup.

Marathon M3 has a 5inch IPS LCD capacitive display with OGS (One Glass Technology) touchscreen. It supports HD resolution of 720p coupled with good daytime visibility even when facing the light. Android 4.4.2 KitKat available on this phone is customized by Gionee and looks different from the vanilla Android version seen in many phones like Google Nexus 5 etc. Gionee's customized Amigo UI is stacked atop of KitKat.


In the new phone, almost 2.6GB of space is occupied by bloatware installed by the manufacturer. Some of the apps like Whatsapp, Clean master etc may be interesting for amateur users who don't want to tinker with the settings. Menu scrolling is not smooth with the default setup. I liked the Amigo UI. But, it is a resource hog. Perhaps Gionee knows that their custom Amigo UI eats up a lot of memory? That may be why they've provided an animated "rocket button" in the notification bar. When pressed, it will try to stop unused applications and background processes to free up some memory.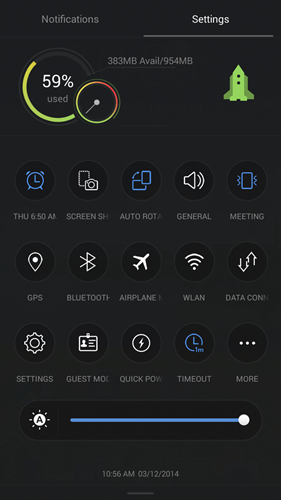 When pressed the Rocket icon, it will try to free the RAM by closing unused applications

I tried to remove unused apps from the settings and removed apps like Camcard etc. But, there are lots of apps that are inbuilt and removing them is not possible for normal users. Some of the apps like Google Play books, Phase Beam etc can be disabled in the settings. So, to remove unwanted apps and other junk items installed, you will need to root the phone. But, that is risky and not advisable for normal users as well as, will void the warranty of the phone. I've tried replacing Gionee launcher with some other launchers like KK launcher, Google Now launcher etc. From my experience, Nova launcher available in the Google play market seems to be the best one. After replacing with Nova launcher, the menu scrolling and transition become smoother. There is much more free memory available now.


Two interesting features of this phone are Smart gestures and Hot Knot. Smart gestures are in the Settings menu where it can be enabled. It supports few options such as Double click wake- Touching the screen two times will wake up, Pause Alarm- Flip the phone to pause alarm and Quick Operating- In sleep mode, by drawing different shapes will directly launch Contacts, Camera, Music, Messaging apps. Hot Knot is a feature in new Mediatek chipset based phones. You can transfer data by touching the screens of two Hot Knot enabled phones. A similar technology called NFC (Near Field Communications) is already available in Qualcomm chipset based phones. Apart from this, Marathon M3 supports full USB OTG which is great to have feature. You can actually charge another mobile phone using OTG.

Marathon M3 comes with an 8MP (Megapixel) camera on the back. LED flash is also available. In the front side, a secondary camera of 2MP is also provided. The camera has options like Face detection, Panorama, Geo-tagging, Touch focus and so many other options also available. I took some snaps with the main camera at the back. The quality is good enough in daylight. But, in the absence of good lighting, the pictures appear slightly grainy. The camera is average compared to the competing models in this segment of budget smartphones in the range of 10-12K. The secondary camera is just 2 megapixel only and it can be used while using Skype or other video chat programs. HD video recording is supported. But, from my experience the video recording needs adequate lighting as it seems videos looks slightly darkened.
There are other features like theme support, Colors option to change theme, wallpaper, and effects. There are System manager, File Explorer, and user feedback options. Gionee has OTA support for this model. A System update option is provided to update the firmware whenever updates are available.


Overall review of Marathon M3
I am using this phone for almost a week now. It has a good build quality and looks nice also. The two silver lining around the sides adds to the aesthetics. It is decent enough with a good configuration and will appeal especially to working professionals and those who travel frequently as the battery of this phone is a great boon for them. The problem though is, it is slightly heavy with the battery and one hand operation will not be comfortable for a long time. Gionee's attempt at their own UI called Amigo UI looks and feels OK; but, it slows down the phone due to the numerous bloatware pre-installed. Overall, this phone is a great buy at around Rs 12,000. The phone comes with a nice flip cover and two screen protectors and other accessories including charger, USB cable etc.