Review of CleanMyMac 2: The best cleanup utility available for Mac

CleanMyMac 2 is one of the popular cleanup utilities now available for Mac operating System. This is the review about its user interface, tools, efficiency and price. Read this detailed review to find out, is this software features all necessary tools that would help your Mac work much faster.


Of course, the maintenance of a Mac is much easier than a PC but it also needs some service. Over time, your Mac's hard disk space begins to get smaller and finding out right files to delete isn't always simple. We all know that a computer with less files and junks works faster. There are plenty of programs available that make it easier to keep a clean, well-organized and stable computer. If you are one of those people who always make use of computer for your business, of course you'll love CleanMyMac2.

CleanMyMac 2 is one of the simplest and secure way to clean up your Mac. This powerful maintenance system utility is made to optimize your Mac, to make it much faster and more convenient to work on.

Once you have installed this software, it will scan deep into your hard disk to get rid of all the junk you don't want, so that you can store more new videos and photos on your hard drive. The software features seven types of scans, most importantly each scan type is customizable. Unlike other similar applications, it will also let you know which system files you can dump. This software can also be used to manage the start up list, remove softwares and even help your computer connect to the Internet much faster. Actually, there are many free alternatives out there in the market, but they usually come in different interface and various functionalities. At the same time, many of these applications could be difficult to learn and do the job yourself, but with CleanMyMac2 you can do these jobs with ease.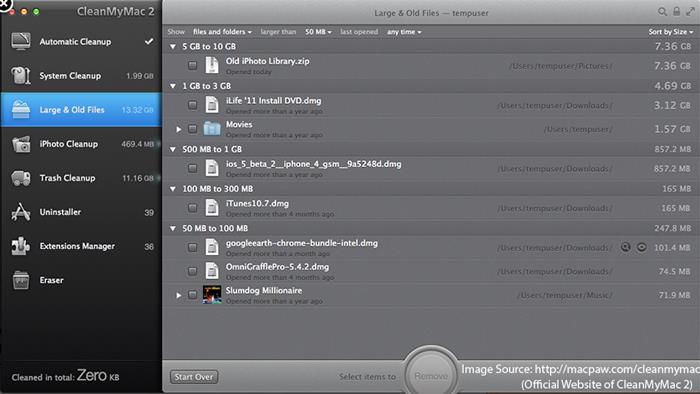 CleanMyMac 2 features a very well designed and good looking user interface, and it is not very different compared to its earlier version, but this one is a lot more polished. The cleaning tools packed with this application are organized in a nice way. The software also features plenty of new controls and options that in fact make cleaning up your Mac a fun task. The main user interface incorporates 8 main menu options, which are available on the left side pane and right side pane displays the current activity of every action you do with a more in-depth look.


Features of CleanMyMac 2
Automatic Cleanup

This feature scans and automatically throws away all useless elements from the System, Trash and iPhoto by using its intelligent algorithm, which is totally safe. For more granular control, you can even make use of these categories individually via menu interface. Another specialty of this application is it has the options to schedule cleaning and let it work in the background.


System Cleanup

It is one of the advanced module that helps to deal with 11 different types of junk, including log files, caches, archives, broken preferences, development junk, universal binaries, etc and cleaning up these junks can speed up your Mac.


Large & Old Files

The software features an intelligent finder that will scan deep through your entire hard drive and come up with large files that you haven't dealt with in a long time, so that you can delete unnecessary files from your system. This feature is especially very useful if you are one of those people who download a lot of movies or music files and then never take a look on them. Deleting those chunky unwanted files can typically free up majority disk space and make Mac work faster.


iPhoto Cleanup

This feature is very useful if you are a regular user of Aperture or iPhoto. Usually, when you use it, your Mac will automatically save a backup copy of images that you have edited. Of course, eventually it would consume most of your hard disk space. But, with this feature you can increase the hard disk space by wiping out all unnecessary backup copies of previously edited image files.


Trash Cleanup

This feature is pretty self-explanatory and it simply lets you wipe out entire system and external drive's trash folder. It also let you cleanup the iPhoto trash.


Uninstaller

This is another excellent feature available in this application, and it is very useful for every Mac user. Of course, as we know, un-installation of programs in Macs are much easier and less complicated than PC. But occasionally, Macs also leave some traces of applications during the uninstallation. But CleanMyMac 2 will find out every last component of that program you would like to uninstall and remove it permanently from your system. Here, all you have to do just drag and drop the application you want to uninstall, over the CleanMyMac uninstall window.


Extensions Manager

It is one of the handy tools that comes with this software. This tool lets you manage and delete browser extensions, application plugins, dashboard widgets and preference panes from one convenient window.


Eraser

The eraser module, which comes with this utility deletes your files and folders securely without leaving any traces behind. That means, even with the help of any third party recovery software nobody can recover it.


Conclusion

CleanMyMac 2 is a very useful maintenance utility if you're looking for an effective solution for cleaning your Mac. All features included in this software are to slim down and speed up your system, which can be helpful whether you're using latest flash based Mac models or older Macs. Of course, before you run any tools come with this application, you should backup your Mac. Currently, the application requires OS X 10.7+(Mac OS X Lion+) to run, and it demands approximately 40MB hard disk space.

Coming to its price, Macpaw offers this product with three different pricing plans. For single lifetime license, you have to pay $39.95. In case, if you need this product for business purposes, then better you consider two lifetime license for $59.95 or five lifetime licenses for $89.95. From its official website, you can even download a fully functional free trial version, in case you want to test it how powerful this software in speeding up and wiping out unnecessary junks.

Considering the fact that there are many similar software available that are so cheaper and even available for free, CleanMyMac 2 certainly worth it because of its user friendliness and efficiency.