How to connect Xiaomi Mi3 with an external USB drive

In this article, I will show you how easy it is to connect an external pen drive or a usb thumb drive to the Xiaomi Mi3 smartphone. An easy to follow video on how to connect your Mi3 to a pen drive included.


We recently got the Xiaomi Mi3 in our studio and videos on it are being regularly uploaded on Techulator's YouTube channel. As part of our review procedure, we tested if the Xiaomi Mi3 has OTG connectivity by default or there are a few tweaks to be made to enable OTG support.

Turns out, to be able to connect a USB pen drive to the Mi3, all you need to do is connect your pen drive to a OTG cable and connect it to the Mi3. Immediately upon the connection, you would be able to see a notification on the Mi3 stating a USB storage device has been successfully connected. Head onto the in built "Explorer" app on the Xiaomi Mi3 and select the USB storage option from the drop down menu selection. You would now be able to see all the content you have saved in your external USB drive.

You can access a host of files from the OTG pen drive on the Mi3. Photographs, movies, songs as well as documents can be accessed and edited directly from the full HD screen of the Xiaomi Mi3. In this video, we show you how easy it is to access and edit content on your external storage device like a USB thumb drive from your Xiaomi Mi3 smartphone.



Tip: Save a lot of Full HD movies on your pen drive, connect it to your Mi3 whenever you feel like watching them in full resolution on the beautiful 5-inch Full HD screen.

The transfer speeds that we were getting on this connection were super fast. A few 200-300MB files were transferred from the Mi3 to the Pen drive in under 60 seconds. Apart from the pen drive, we also tried to connect this smartphone with an external Keyboard/Mouse combo and were successfully able to use it on the Mi3.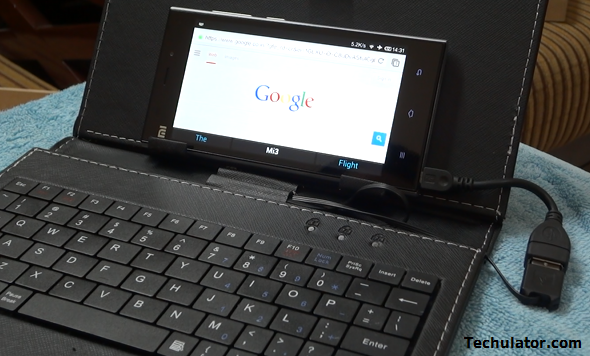 We are yet to test this feature with a higher capacity storage device and a USB controller for playing games on the smartphone. Please stay tuned to our YouTube channel for more such videos and subscribe to it for regular updates on the latest in the technology world.