Difference between WhatsApp and WhatsApp Plus

Do you know the difference between WhatsApp and WhatsApp Plus? This article tells you the added features you get with the latter. Also the procedure to install the new WhatsApp Plus is given here.


Talking of WhatsApp, you all will agree that it has become the most popular messaging app for Android. It was created by Spanish developer Rafalete in 2012. Most of us use it every day but are you aware that a modified version of the original WhatsApp is now available for users. This modified version, WhatsApp Plus (also known as WhatsApp Plus Holo) comes with several added features.

It is not known whether this new app is official or not as the company has not responded in this regard yet but these days, there is a lot of buzz around it. It is free and the user license is the same as WhatsApp. Installing it is simple but it requires removing the original application. So, here I will tell you how the new WhatsApp Plus differs from its original version. This should help you decide if it's worth deleting the original one.


Advantages of WhatsApp Plus over original WhatsApp

Visual themes

The modified version was basically created to change the look of WhatsApp. So, if you are bored of the one theme you get by default in the original app, you can now change the look by downloading visual themes directly from the built-in theme viewer & downloader in WhatsApp Plus for free. There are over 700 themes available and you can sort them by name, version or date. The new Plus themes not only change the background of the chat but also the bottom of the contact list, colors of the bar as well as of texts. This is clearly not the case with the original WhatsApp.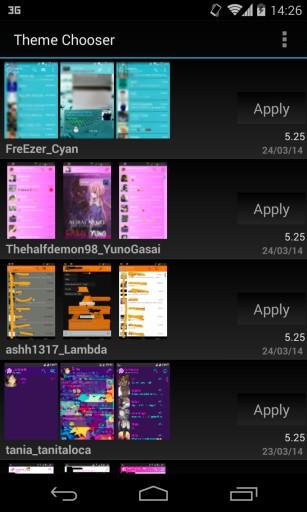 New emoticons

You get all new emoticons which include smileys from Google Hangouts. However, these will be visible to only those who have also installed WhatsApp Plus. If you send the emoticon to someone who hasn't installed the new version on his phone, all he will see is a question mark. See below for the entire range of new emoticons on offer.




Hide your status /last connection

The new app also includes an option to hide status. You can hide your online status in a single click and chat with someone in offline mode. You can also hide the last time of access but for this star feature, you will have to pay a monthly charge.




However, the official version of WhatsApp for Android has also added this feature recently.

Customize file sharing options

In the original application, higher quality images are reduced in low quality and size but now, with this modified version, you can change the size limit of sent files from 2 to maximum 50 MB. In the original version of this application, only 16 MB media sharing limit is set as default.

There are options that allow you to maintain the size as well as quality of images & videos when sharing. Thus, with the modified version, you can increase upload media limit to send large music files or videos without even losing clarity. This is definitely a very useful addition which you can't avail in the original WhatsApp version.




Send or forward multiple messages

You can now send or forward multiple messages at once, with the WhatsApp Plus. You can also attach your location and send voice messages unlike the case in the original version. You can now easily share large media files or text messages with a large group, all at once.

Customize appearance and settings

With WhatsApp Plus, you get six menus for editing appearance and settings. It allows you to customize the user interface with colors & widgets of your choice. You can also keep the interface transparent which also looks quite stylish. You can hide or add contact Photos to chats. What all you can't do with it! Customization options are something that the new version has no dearth of. These six menus allow you to change the following:
Header, colors & size of chat images


Header & size of contacts' images


Appearance & size of pop-up notifications


Disabling of functions such as voice notes & animations


Size & colors of widgets


Color of the launcher icon
For instance, where WhatsApp has a fixed green color for its launcher icon, WhatsApp Plus allows you to change it to 11 exciting colors: pink, red, green, cyan, orange, purple, yellow, black, white, gray & blue.


Verdict: Should you switch to the modified version

WhatsApp Plus is recommended for those who want to customize the look of WhatsApp. If you want more control over notifications and sending images/videos, it is a perfect alternative for the original messaging app.

Having said this, I would also like to add that it is not yet confirmed whether this new application is official. As WhatsApp is now acquired by Facebook, the official application is likely to get some big changes such as voice calls & greater security features which are not available in WhatsApp Plus. So, you can either go for customization or wait till the company makes any announcement.


How to switch

If you have made your mind and you want to switch to the awesome WhatsApp Plus, you can download the app for free from its official website. However, it needs some tricky steps to install it which I am sharing with you here.
First of all, make a back up of your chats on the original WhatsApp. You can make a backup by following the steps shown below.
Click on Menu ->Settings -> Chat Settings -> Backup Conversions


Now, Verify your number before you uninstall the original version. It asks you a number to restore your chat backup. Enter the number & restore it.


Uninstall WhatsApp. You need to uninstall the original app to install the new one. If you proceed by skipping this step, you will get the "Not installed" error later.


Download & install WhatsApp Plus from its official website. If you are using Clean Master android application, do uninstall it before installing the new messaging app.


Now, you can use WhatsApp Plus without any hassles.
I hope this article helped you differentiate between WhatsApp and WhatsApp Plus. If you have any queries about the differences or the procedure to download the new app, leave your comments in the box below and I will get back to you.

See: How to use WhatsApp on Web