Xiaomi Mi3 Price, Specifications and Features in India

Here are the specifications of the Indian variant of Xiaomi Mi3 smartphone. Also included are some photographs taken at the Indian launch event of Xiaomi devices along with pricing and delivery details.


Xiaomi Mi3 was recently launched in India at a launch event in Delhi. In association with Flipkart, delivery for this device will start from July 22nd 2014. Here are some of the key specifications of the Indian variant of the Mi3.




- 5 inch Full HD 1080p IPS display with a pixel per inch density of 441.
- Quad-core 2.3 GHz Qualcomm Snapdragon 800 AB processor with Adreno 330 GPU.
- 2GB of RAM
- 16GB of internal storage (approx. 12GB available)
- 13-Megapixel auto-focus rear camera with dual LED flash along with HDR functionality.
- 2-Megapixel front facing camera
- Supports high speed HSPA+3G connectivity upto 42 Mbps
- Lithium Ion battery capacity of 3050 mAh.
- Weighs 145 grams.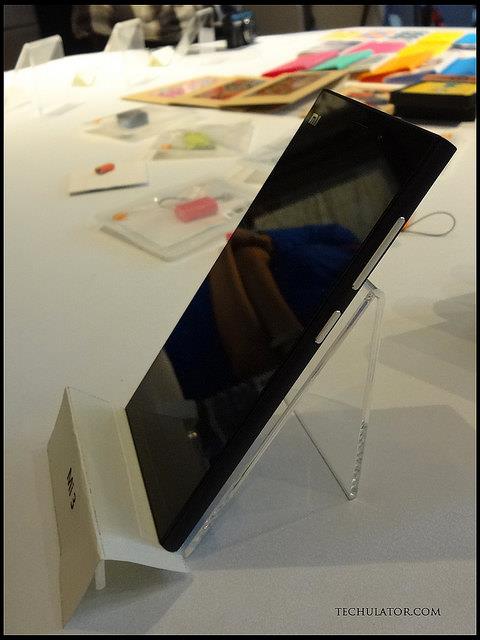 The Mi3 is priced aggressively at Rs.13,999 in India aiming to compete with the likes of Motorola Moto G in terms of price and the Nexus 5 in terms of hardware. The Indian variant will come with Google Play store installed unlike its Chinese counterpart. It runs on Android 4.4.2 with MIUI 5 (Xiaomi's UI) over it. MIUI is a great UI in my opinion and offers meticulous customizations for everyday actions for that geek inside you. I particularly liked features like wireless screencast, private messaging area, built in QR code reader in camera and capturing photographs by voice.




Xiaomi India representatives who were available at the launch event confirmed that their first priority for these devices will be updates to the latest version of Android. With hardware specifications like these and pricing as low as Rs.13,999 the Xiaomi Mi3 will certainly create a stir in the Indian smartphone market. If you love the Nexus 5 but don't have the budget to buy it and are planning to buy the Moto G instead, hold on for a few more days and get your hands on this beast. You would get a smartphone that's faster and smarter than the Nexus 5 at the price of a Moto G.

We've requested Xiaomi India to send us a review unit in order to share these great features and customizations with all our readers, so don't forget to subscribe and stay tuned to our YouTube channel for a video review of the same. Please feel free to comment below letting us know your feedback on this article and the product. We would love to hear from you.



Xiaomi Mi3:Unboxing and Hands On