Top 5 Nokia budget smartphones

Nokia is one of the most popular smartphone manufacturer in the world. Read this resource to know about the best budget smartphones from Nokia avilable in India. Read about their specifications, features and other details.


Nokia is one of the top smartphone manufacturers in the world. Nokia has mobiles and cellphones to suit every budget right from very low priced phones to high end smartphones. All Nokia products are durable, long lasting, have great features and specifications and are a value for money buy. In this post, we will tell you some of the top budget smartphones from Nokia. So without wasting much time, below is the list. However please note that the mobiles listed here are not listed in any particular order.


Nokia X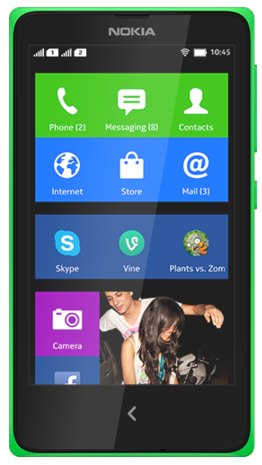 Nokia X is a dual SIM mobile phone from Nokia which supports GSM+GSM SIM. It has a 4-inch LCD capacitive touchscreen. It has a 3MP primary camera but no secondary camera. It runs on Nokia X Software Platform version 1 operating system. It has a fast 1GHz Qualcomm Snapdragon S4 Dual Core processor. It comes with good business features like Document Viewer, VOIP Support, Pushmail etc. One of the best advantage of this phone is that you can run Android Apps on this phone. The phone also has several important and useful preloaded apps. Its price starts from Rs.7729

Official URL: http://www.nokia.com/in-en/phones/phone/nokia-x/




This is a another trendy dual SIM mobile phone from Nokia. It has a 3 inch capacitive LCD touch screen. It has a 3.2MP primary camera. It runs on Nokia Asha operating system. This phone is Wi-Fi enabled and even has an FM Radio. This phone weighs around 90 grams which makes it easy for you to carry. You can also download and install WhatsApp on this phone. This phones also comes with preloaded apps like Facebook, Twitter, Nokia Chat, YouTube like most of the other Nokia phones. Its price starts from Rs.4740

Official URL: http://www.nokia.com/in-en/phones/phone/asha-501-dual-sim/




This is a another dual SIM mobile phone from Nokia. It has a 2.4-inch LCD transmissive screen. It has a 2MP primary camera. It runs on Nokia Series 40 operating system. It has physical QWERTY keypad, so it makes you type faster and easier. It has GPRS facility too. This phone weighs around 100gms which makes it easy for you to carry. You can also download and use WhatsApp on this phone. Its price starts from Rs.4714

Official URL: http://www.nokia.com/in-en/phones/phone/210-dual-sim/




This is one of the most popular phone from the Nokia Lumia series. It is a single SIM phone and has quite a lot business features. This phone has a 4 inch IPS capacitive LCD touch screen. This phone comes with inbuilt MS Office tools like Word, Excel and PowerPoint which makes editing the documents on the go just like breeze. It has a 5MP primary camera but doesn't have a secondary camera. It has 1GHz Qualcomm Snapdragon processor. It has 8GB internal memory and also has Wi-Fi facility. Its price starts from Rs.9400

Official URL: http://www.nokia.com/in-en/phones/phone/lumia-520/


Nokia Asha 502

Nokia Asha 502 is a another dual SIM mobile phone from Nokia and is similar to Nokia Asha 501 but with a bit more features. It has a 3-inch LCD transmissive screen. It has a 5MP primary camera with LED flash. This phone is Wi-Fi enabled and also has an FM Radio. You can also download and install apps like WhatsApp, LINE, WeChat on this phone. This phones also comes with some preloaded apps like Facebook, Twitter, Nokia Chat, YouTube like most of the other Nokia phones. Its price starts from Rs.5399

Official URL: http://www.nokia.com/global/products/phone/asha502-dual-sim/

These are some of the best Nokia budget phones which are priced between Rs.4000-Rs.9000. There are many other mobile phones from Nokia too in the same budget which are equally good and you can even think of buying them. You can buy any of these phones based on your choice and preference. All these phones are available at offline as well as almost all leading eCommerce portals like Flipkart, Amazon, Ebay, Snapdeal, Infibeam etc.

(Images Courtesy: Nokia Official Website)