Prestige Induction Cooker Pic 3.0 Review

This is a review article of the latest kitchen appliance Prestige induction Cook top Pic 3.0 model. In an attempt to let people know its amazing features, I have listed down the product details along with a brief description of how it works. Today the world is suffering from fuel shortage, where technology is trying its best to replace fuel with other energy resources. Induction cooker is a very energy efficient cooking appliance that saves on fuel and budget too.


Intro

Upgrade your kitchen into a mess free, safe and quick cooking platform with the latest Prestige Induction Cooker Pic 3.0. You save on gas, you save on time. What's more? You don't burn your vessels, you don't have to be constantly attending to the cooking process, and the cooker has all the safety measures in place. If you are thinking that it would fall heavy on your electric bill, you are absolutely wrong, it is a super power saving model, and you don't need to bother about the nominal figure that adds up to your regular bill budget. Rather you save that amount from booking a gas cylinder that is rising in price every now and then.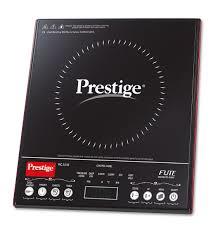 Amazing Features

Power Consumption: To start, this cooktop model needs a plug point that can discharge 2000 W of power. Ensure that the point has got proper earthing done.

Unique Features
The Prestige Induction cooktop Pic 3.0 model has got the latest technological support like, Automatic Start Option, Anti Magnetic Wall, Indian Menu Options, Dual Heat Sensors and Automatic Power Off Option.

Control Touch Panel
The Cooktop has a feather touch control Panel that works on different modes and menus. Like on the left side there is the Quick Fry, Pre-set, Cancel and Timer options and on the right side you have Up Down, Power Off and Menu.
You can cook your favourite dishes within few minutes without worrying of burning them out and deface your vessels by choosing the right mode of cooking. There are modes like hot pot, fry, porridge, soup, steam and heat milk. For instance if you are cooking something with water or liquid substance, then you have to choose the hot pot, and then you can use the up and down options to increase or decrease the temperature level along with the timer which can be set at the multiple of 5 minutes. The other modes are self- explanatory and thus don't need much guidelines.
The Quick Fry mode can really save your face when you are in a hurry. It will fry stuff in seconds and you get your tasty dishes ready on the table without any waiting time.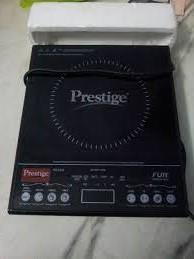 Safety measures
This cooktop has got all its safety measures that are made for common human errors. The cooktop gives a beeping sound if anything goes wrong, and after a minute it will automatically stop the power supply and save you from burning accidents. If you forget to put on any vessel on the cooktop and keep the switch on, the same procedure will follow and save the power from being wasted.
If any food particle get stuck at the bottom of the vessel and it is on the verge of burning, it will show some error message and stop the power automatically.

Super- Fast Functionality
Whether you have a big amount of food to be cooked or a small one, your work will be done in half the time you used to spend in gas. With the right choice of temperature, you can heat up your food in seconds and if you choose a prolonged one, you only have to remember to choose the correct timer. Boiling water is almost like a magic in this cooking appliance.

Child safe
The cooktop is completely child safe as nothing gets heated up apart from the cooking circle and even if the child touches any part of it there's no danger of him to get burnt. Even the utensils don't get heated on the sides except the bottom, so one rarely needs a holder for shifting the vessels.

Compatible Utensils
You need to use certain types of utensils for your Prestige Induction cooktop. But they aren't the difficult ones. You can carry on with your existing cookware like Stainless Steel Rice Cookers, Stainless Steel Pots, Cast Iron Frying Pots, Stainless Steel Water Jugs, Oil boiling Pots, Grilling Iron Plate, Cast Iron Pots, Colour Pots and any utensil that has a plain steel bottom without any curvature. Apart from these special induction based cookware are aso available in the market and in most of the times they come free with the cooktop if you are availing the special offers.

Pros
It saves gas, time and energy. It is safe and handy. The menu and control panel is simple yet advanced. It has got the smart technology that is made for reducing human error accidents and the design is as elegant as its performance. It keeps your kitchen neat and tidy.

Cons
The timer option needs some up gradation, it should work on normal timing modes like seconds, as the appliance really works in seconds.


Wrap Up

I have been using it personally last three years, though it went for minor repair works, it is working fine through the years and that is my primary cooking medium, as I have pushed off my gas stove aside for emergency power cuts.

Price: Rs.3080

Read How to buy the best air conditioner in India