How to build a social networking site - starter's guide

Want to know how to build a social networking site? Then you are at a right place to start with. I have provided all the free tools to set up the social networking site.


In the today's most advanced world, every tech enthusiast is trying to gain more and more knowledge in every aspect. And this is the reason why there is a heavy trend in Google search regarding the topic - how to build a social networking site. So this is the reason which prompted me to do a deep research on this topic. After a hard research I have come up with my list of free tools which can greatly help to create a social network. Yeah! now its possible to build a social networking site without even having any technical know-how on the subject and without spending a huge amount to those fancy web developers. All you have to do is just relax on your favourite chair while your system (host provider) installs the below mentioned scripts. I have arranged all the tools in decreasing order of their popularity, so choose one which best describes your needs. And yes, please like and share this article to show your love and support my services.


Best tools to set up an online social network

Dolphin: This tool is considered to be the best tool for creating a social networking website. This amazing tool has succeeded in attracting a large number of customers since its newer version launch in July 2013. With a high rating of 4.34 out of 5, Dolphin is the world's most advanced community software. But what exactly is Dolphin? And does it really provide some good features? Well, Dolphin is an open-source, independent, downloadable, scalable, customizable and full-featured free software which greatly helps the novice in building social networks, dating sites and web-communities. Regarding its features, Dolphin is packed with video chat, recorder, video player, forums, groups, events, video messenger, mailbox, desktop app, video sharing, photo sharing, iPhone app and an ever lasting list of fun stuffs.


So with this handy free tool, you can easily build your own social networking site without having any pre knowledge on the technical know-how. All you have to do is just sit and relax while your system installs this amazing tool which only takes 37.81 MB of your website's host space. So, what else are you waiting for? Just grab a free copy of it from its official website or from softaculous app and advance your business with Dolphin.
For demo and download, visit: http://www.boonex.com/dolphin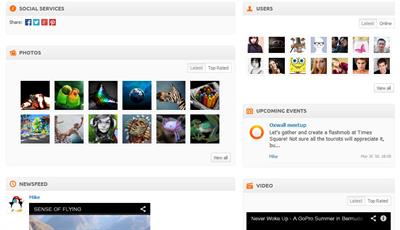 Oxwall: This one is another free tool to help you build social networking website. Oxwall provides all the basic as well as advanced features to help you build a high quality social network. This handy tool has perfectly managed to outshine itself from the competition as it has already attracted somewhere around 47,000 customers since its newer version launch in January 2014. With a high rating of 4.5 out of 5, Oxwall is unbelievably flexible and easy to use PHP/MySQL community software platform. Due to its vast range of features which it proudly offers its customers, this tool however requires a considerably huge host space. It requires at least 57 MB space for its easy installation and would be a big trouble for those who rely upon the laggy starter pack of their host provider.


Apart from cool features, Oxwall is used for a wide range of projects starting from family sites and custom social networks to collaboration tools and enterprise community solutions. So, if you are looking for a free tool which can provide you a huge list of features to perfectly build a social networking site then you should grab a copy of it.
For demo and download, visit: http://www.oxwall.org/




Jcow: This handy tool is perfect for those who have a very little host space and don't require any advanced features. Mostly users underestimate this powerful tol by just having a look at its required space. But you can't judge this tool by having a mere look at it. It's newer version which was launched somewhere around January of this Year has already managed to attract around 50,000 active users. Jcow provides all the basic features to greatly help you build a social networking site. There are certain rumors that some users even used this tool to create a exact clone of Facebook and Twitter. But of course those were the tech experts who already had all the technical knowledge regarding this software. Jcow is a flexible Social Networking software written in PHP and it requires just 3.6 MB of your website's host space. It can easily help you to build a social network for your interests and passions. Moreover, if you want to build a member community for your existing website then I strongly recommend you to have a look at this wonderful tool. And as already talked of the rumour, you can build a social networking site like facebook/myspace/twitter.
For demo and download, visit: http://www.jcow.net/




Elgg: This tool has a high rating of 4.3 out of 5 and has well managed to give a tough competition to its fellow rivals. Elgg does not require a huge space for its installation and can perfectly work with all the tech newbies. It only requires 10 MB free space for its complete installation and provides a handful of brilliant features to create social networking website. Elgg empowers individuals, groups and institutions to create their own fully-featured social environment. Elgg was first launched in 2004 and after several successful version launchs, it has created a huge community and name for itself. Elgg is an open source social engine which powers all kinds of social environments ranging from education and business to martial arts and rugby. If you are looking for a professional social intranet or want to run a site for your organisation, Elgg is a great choice for you.
For demo and download, visit: http://www.elgg.org/





Beatz: Well this tool is for those who want to create a music and video library on the web. Beatz helps you to start a music and video social network where all the music enthusiasts meet and share their knowledge about music and bands. So, if you love to hear rock and want to shock the web with your out of the box skills, then you should not loose even a second and grab it's free copy. Now, let me make you more familiar with this handy tool. First of all Beatz is an online social networking community script that allows you to start your own favourite artist band website. Beatz is an online community script for sharing, discussing and learning about new artists and your favorites.
For demo and download, visit: http://www.cogzidel.com/products/beatz




Etano: Etano can be used to start up a dating site, a social networking site, a classifieds site or any other type of site involving groups of people, companies, products. It is not much heavy and will run perfectly with your site. If you want to start multi businesses like social network plus classifieds and communities then this tool is a perfect choice to you.
For demo and download, visit: http://www.datemill.com/





PeoplePods:This tool is perfewct for those who not only want to start online social networks but also want to show case their writing talents like publishing some useful articles while at the same time enabling other users to share their knowledge. PeoplePods is a developer-friendly social software toolkit. PeoplePods lets you to build applications where people meet, talk, share, read, work, publish and explore. PeoplePods provides a flexible infrastructure within which members of a site can create, comment upon, and consume content of arbitrary types.
For demo and download, visit: http://peoplepods.net/

Well, these are some of the top social network building tools which have gained a lot of appreciation since their launch. However, it totally depends on you which service/services best meets your need. However, I recommend you to at least have a look at the demo of these tools which can easily be found on their official website. If you have any suggestions or queries then please comment below and I will be always there to help you with all my guts.

Read A Comprehensive Guide to Social Network Management Services