Best cloud storage backup tools for Windows 8 Lumia smartphones

Not happy with your OneDrive storage and are looking for some options in cloud storage for your Windows 8 mobile or laptop? Your search stops here because we bring you the best cloud storage apps that are there for the Windows 8 devices.


Windows Lumia series comes with 8 GB of internal memory (5 GB free) and 32 GB external expandable. That is a lot of memory for you to store anything you like. But then, there are some limitations of offline storage like corruption and theft, isn't it? Here is where Cloud Storage services come into picture. Here we look at the best cloud storage services that are available for Windows 8 mobiles phones as well as laptops or computers. But before we proceed, you should know one thing- Windows phone OS is designed in a way that only your picture gallery is available to apps. If any app tries to searches for files, they are shown the files present in your images gallery only. So, you cannot do backup of documents or any other file which is outside of the Photos folder. You will be able to access them though if you have stored something through some other device.


Box.com

Box.com needs no introduction in the world of online storage. Known for its first class cloud storage service, Box.com offers both personal and professional storage options. When we signed up for Box.com through our Lumia smartphone, we were given 10 GB of online storage for free. There is no automatic sync option here, you have to upload whatever files you want to manually.

With Box.com it becomes extremely easy to collaborate with your team mates on files you are working on. Generate links to share files publicly or through email. When you upgrade to the paid option you get password protected links, industry level encryption, advanced full-text search, granular level access to files and version management.

You can upgrade to Personal Pro or Business or Enterprise edition where you get 100GB, 1000GB and unlimited space respectively in addition to a lot more features.

Cons: It does not have automatic sync facility which is a big drawback with this service. Also, if you are looking for more space then the prices are comparatively higher to other services.


DataBaGG

Our introduction with DataBagg was not a smooth one. For some reason it does not accept just alphabetical name and shows error "Please enter alphabetic characters only in first name". I don't know why they need numerals in the name field! Anyhow, after putting some numbers in both 'First name' and 'Last name' I was able to signup for the service.

DataBaGG offers 5 GB of free cloud storage when you sign up. DataBagg too does not have automatic sync facility and you have to manually upload the files. By default there are two folders- Photo and Documents folder. A little design error we noticed here; the Photo folder has option to take an image live "take photo" or upload photos "upload photo" from the gallery which was right but the Document folder too had "take photo" and "upload photo" option. So a little furnishing is deifinitely needed in the app!

With DataBagg you upgrade your storage space to 100 GB, 250 GB and 500 GB by paying monthly or yearly charges which can be seen on their site. The charges are comparatively less than that of Box.com. You can also share individual files or folders with anybody you want to.

An extra feature you get in DataBagg is that you can even upload your Phone contacts to this service. You might not find this much useful considering that Windows itself keeps a backup of your messages and phone contacts on its servers but then it does so for your other multimedia files too.

Cons: Except for a few design issues and lack of auto sync we did not find any more issues.


HiDrive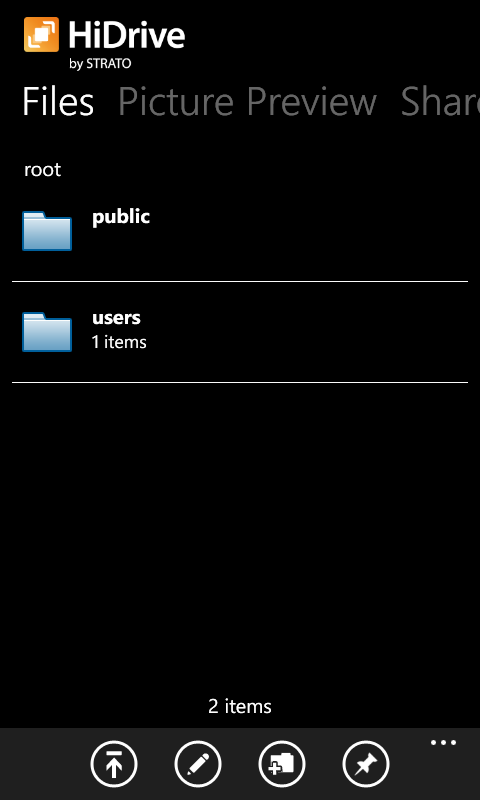 HiDrive is another service at offers you 5 GB of free storage. Its directory structure is similar to that of Android in the form of "root/users/techulator". It also does not offer automatic sync and you have to manually upload any file if you want to. HiDrive at the root level has two folders- Public folder and Users folders. Whatever you save in the Public folder is accessible to all and the Users folder will contain users equal to the number of users of your HiDrive subscription.

Cons: No design issues here but no automatic sync here either.


OneDrive

Even with OneDrive you cannot upload your documents or videos unless they are in the Photo gallery! This is definitely not what we expected. OneDrive comes with 7 GB of space for free and you can upgrade it if you want. We suggest this service because by default also; your images, contacts, videos and messages are synced to your OneDrive storage only. So, even if you do not install the app, your data is still synced online.

Cons: I expected it to be able to access files outside of the image category but I was disappointed. Don't make much sense to install it if you are already syncing your above mentioned data through the default settings.


Nero BackItUp

Nero BackItUp is a cloud storage utility powered by pogoplug. Easy to install at just a size of 2MB, it automatically scans for the photos on your device and as soon as you are signed in to your account at Nero BackItUp, the backup process automatically starts. There are settings which allow you to customize if you want to backup to happen only on Wifi and if you want the backup to happen in background or not. Also, as the backup will take its toll on the battery, you can activate the option which will stop the upload when the battery level reaches 30%.

However, if you download the app on your Windows 8 computer or open the site manually, you can upload other types of files too like multimedia and Office files. The mobile app allows you to view you non-photo files, it is just the uploading which you can't do with the mobile app.

The space offer with this app is 5GB. For more you have to select one of the subscription plans they offer on their site.

Cons: Unlike what this app promises that the app can do the backup in background also, we did not find it to be true. Once you are off the screen of the app, the upload stops immediately. It will restart when you come back to the utility screen.


Snapcrowd

Here is another service that offers 10 GB of online storage space for free but for a limited time only. We are not sure when they pull the plug but they do for the free service. You can upload any time of file on it from your computer but just like all other apps, only the image gallery is available here.

Cons: If you are looking for a long term free service to store your data then this is not for you.


Ozibox

We are mentioning this because they are a community cloud service rather than of some company. There claim to be Supercoders working for a free internet. The reason we are mentioning them even after being unsuccessful to sign-in on their app is because they are offering an amazing 100GB of cloud storage for free! So just in case you are able to sign-in on their app you have got yourself a treat!

We have reported the bug to them. Will update the post if we get any follow up.

Cons: Still under development. The website Pricing page shows "Under development".

That's a lot of apps to store you data online. If you are not satisfied with your OneDrive storage then we suggest you do take a look at any one of these services.

Read What to expect from Windows 10 on your smartphone