Download Cortana voice assistant app in Windows Phone- Review

Eager to download and install Cortana app in your Windows Phone. Read this article to install Cortana voice assistant app for Windows Phone. Just follow the simple steps to download and run Cortana app in your Windows Phone.


Cortana download - It is a voice assistant application for Windows Phone. It can respond to your questions and do the phone specific task. For example, user can speak to the phone to do commands like "Turn on the Wi-Fi". Once Cortana app installation gets over it can be launched by clicking on the search button. Let's get into downloading Cortana app in Windows Phone.

To download Cortana app, the phone must be updated to Windows 8.1. It cannot be done using the normal phone update. Microsoft not yet launched the official Windows 8.1. In this tutorial I guide you to install Windows 8.1 developer preview.


Updating Windows Phone 8 to 8.1

Note: Shifting to "developer mode" voids warranty of the phone

To update Windows 8.1, user need to register in Windows AppStudio. It is portal for Windows app developer. Follow the below steps for Windows 8.1 update.
1. Open http://appstudio.windowsphone.com website and sign in with your Microsoft Account to register as Windows Phone app developer.
2. In your Windows Phone, install 'Preview for Developer' app from the store. You can use this link to download:http://bit.ly/PPbZjk
3. After installation gets completed, open the app and enter Microsoft account credentials.
4. Then check the 'Enable Preview for Developers' check-box and touch on done.
5. Then open Settings -> Phone Update and check for updates. Your mobile will be updated to Windows 8.1 developer preview.




Note: Use Wi-Fi or 3G connection while updating. Updating using 2G connection takes long time.


Cortana app installation

If the update is done successfully then Cortana app will also be installed. However Cortana app will be installed only for U.S users. For other countries like India, China, Brazil ect. Cortana app can installed by a simple trick given below.

1. Open Settings -> Region.
2. In Country/Region, select United States and Regional format should be 'match phone language'.
3. Now, open Settings -> Language.
4. Touch on the plus icon to add language. Select English (United States) as the language. Cortana app will now appear in your Windows Phone.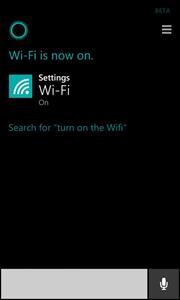 Read Cortana digital assistant features and functions