PDF Eraser software features and review

Have you been looking for PDF editing software? Want to know how to edit PDF files or how to remove images from PDF files? Please read further to know about various features of PDF eraser software. This article reviews PDF eraser software and explains ways to add or remove text and images from PDF files.


A Portable Document Format shortly known as PDF is widely used for sending the documents with better security. PDF file involves texts, fonts and graphical representations which help for sending messages depending on the needs. It is really a challenging one to make changes in PDF format files and many software products are available for this purpose to meet exact needs. At the same time, it is highly imperative to do a comprehensive research on all the available PDF editing software products and choose the best one amongst them. Nowadays, PDF eraser software is becoming a popular one as it helps for carrying out various types of PDF-based tasks easily. One can edit as well as copy and print PDF files with the support of this software.

PDFEraser.net has launched their new software product named PDF Eraser, an eraser tool that comes as a freeware which can erase or delete all the unnecessary information that you want to remove from your PDF documents. PDF Eraser is a Windows-based application, which helps the users delete all unwanted elements like images, texts, logos and every other kind of objects that make your PDF documents overly bulky.

Since this PDF erasing software works professionally for Windows users, deleting PDF documents information with PDF Eraser becomes easy. With this free Pdferaser software what all the users need to do is deleting the objects they which are unnecessary. The best part of it is that there is no requirement of modifying any of the information stored on the same PDF file. It does remove the unnecessary elements without making any change in the quality of your PDF documents.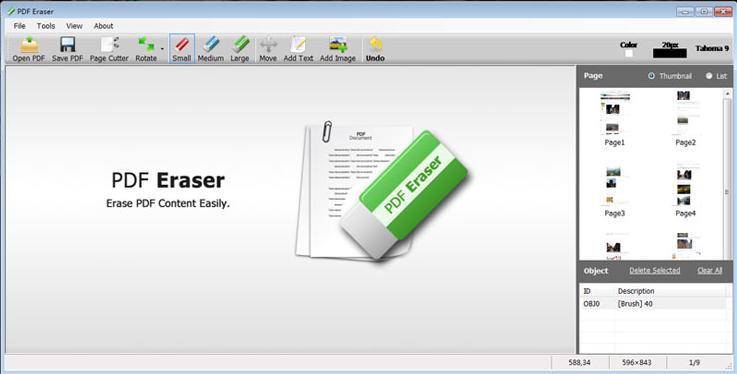 In some cases, there might be a need for removing entire pages from a set of PDF documents. Pdferaser software has made it easy for you as you can also delete those extra pages by using PDF Eraser. Moreover other than deleting PDF pages from the documents it also gives the option to add your own selected objects to the PDF documents, wherever and whenever you want. No matter how many times you delete or add information in the PDF documents you can be rest assured of its secured performance which is totally free of cost.


Features of PDF eraser

PDF Eraser as a professional tool does not only erase or remove unnecessary elements from a PDF file or page, but has got much more in its features to offer:


1. Addition and Deletion of Information in any PDF file

Adding and deleting unwanted information from PDF documents is the first and foremost feature of PDF Eraser, but in addition to it, you can customise your pdf pages by inserting or removing objects like images, tags, logos, testimonials and many more to get the desired output in your final PDF file according to your wish.


2. Rotate PDF pages

To bring your PDF files to the correct page orientation for better visibility and presentation, PDF Eraser has enabled the option to rotate PDF pages to the correct orientation.


3. PDF Page Cutter

Use the built-in PDF Page Cutter of the Pdferaser to delete or remove unwanted pages from a set of documents. PDF Eraser has a built-in PDF Page Cutter that allows users to delete all the unnecessary PDF pages at one go. When you have a load of scanned PDF documents, there can be a necessity to clean up your document and streamline it with only relevant information. In case of repetitions and other irrelevant occurrences, PDF Page cutter makes it all easy to get rid of them in simple steps of two clicks.


4. Customized Tool Size

You can simply load a small, medium or large sized eraser tool as per your requirement to remove the irrelevant parts of your PDF document. You can choose to erase an entire text block, images or only a part of them.


5. System compatibility

It is compatible for installation on various operating systems like Windows 2000, 2003, Vista as well as Windows 7 and Windows 8. It even supports Windows XP. You can download PDF eraser software at the link: PDF Eraser website URL

The above website for PDF Eraser software also contains useful tutorials to deal with following queries:
How to erase PDF images as well as PDF text?
How to add PDF images as well as PDF text to existing PDF file?
How to delete PDF pages from a PDF file?
PDF Eraser review

With PDF eraser software, users can erase security restrictions with advanced tools by meeting exact requirements. Moreover, it provides methods for unlocking a file to gain more benefits. Another advantage is that it helps to create new passwords after removing security restrictions from PDF files. In addition, tools in this software allow users to extract content and multimedia images from protected files. This is suitable for making watermarks and removing unwanted pages by addressing essential needs. The software has a very simpler user interface that helps in PDF file conversions. Furthermore, it is possible to reset the passwords in administrator with PDF eraser tools. Users can upload the files quickly for correcting texts according to their needs. Another advantage is that one can add new things in existing files with the support of advanced features.

PDF eraser software provides feasible ways for creating a new page without the need for Adobe Acrobat. Options for reducing PDF file sizes are available in this product that shows ways for minimizing complications to a wider extent. Methods for inserting vector graphics, image files and comments are given for users to improve the quality of content. Also, this product can be utilized for saving and maintaining files depending on the needs. It is a perfect choice for individuals as well as professionals serving office purposes like editing and importing all types of protected files without any problems.

Pros:
Pdf eraser erases PDF Images, logos, add texts to PDF, place images to PDF files, cut PDF Pages and Customize Eraser Size. It is a complete secured freeware application with a host of useful tools.

Cons:
Can be used wrongly with copyrighted documents

Visit http://www.pdferaser.net/ to learn more about PDF Eraser.

Read The Pros and Cons of Scribus: The Free Desktop Publisher