Interview of upcoming blogger, Harshil Barot of JustWebWorld

In this article we have interviewed Mr.Harshil Barot, a young and upcoming blogger from Ahmedabad, India. Read this interview to know his opinion, ideas and suggestions to succeed in blogging.


You are an upcoming blogger and an inspiration to many other new bloggers. Can you please tell us about yourself?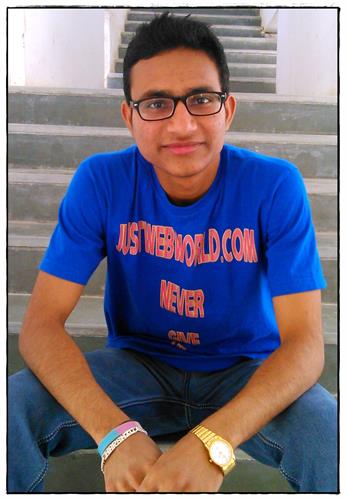 First of all I say to thanks to Shravan for giving me a good opportunity so I am here with you guys. I am Harshil Barot From Ahmedabad, India. I am a student and a part time blogger. I am a blogger, computer geek, internet marketer, designer and photographer. I am blogging at JustWebWorld.com. Just Web World is a popular trending technology blog which mainly covers topics related to computer tips and tricks, How to Blog, SEO, WordPress, Web designing tutorials, security and Technology news etc.

How did you come into blogging and how many years you have been blogging?
I love to share my knowledge and ideas which I know with other people. So my blog is for that. The blog gives me an opportunity to share my knowledge with millions of people.
I think the blog is a platform:

To express yourself
To share the experience you have
To learn from other people
To share the knowledge you have
I am a part time blogger from last 1.5 years.

Currently how many blogs and authority sites do you currently operate?
Now I have only 3 blogs but I will start blogging related to other topics in future. I am also planning to start my personal blog www.harshilbarot.com in future.
Below are some sites owned by me:
www.JustWebWorld.Com
www.JustWebWorld.Net
www.SoftWallpapers.Com

What are your other sources of income apart from revenue from your blogs/niche sites?
The blog is for the passion and money. I do not earn much but a decent amount from my blogs. The main earning source of my blog is Google AdSense, Yahoo Media Ads, Affiliate Marketing, direct advertising and Sponsored Posts/Reviews.

What is your daily schedule for managing your blog and online business?
There is no fix schedule for maintaining my blogs and for the online world because I am a student and I am studying. But I spend daily 4 to 5 hours on my blogs and for learning new things about blogging and SEO.

Many upcoming bloggers find it difficult to get their Adsense account approved. What would be your advice to them?
Getting Adsense account is very difficult. If you have a new blog then wait for 6 months, because as per the Adsense policy your blog must be at least 6 months old. For getting Adsense account you must know the Google AdSense policies for approval.
If you are a new blogger then start a blog on Blogger with blogspot domain and use a Adsense hosted account. So you can use Adsense on the Blogger blog.

How did blogging help you personally other than making money?
Blogging has many advantages. Blogging helps you to grow more. Some of the advantages of blogging are as below:
You will become a better writer and Better Thinker.
You will live a more intentional life.
You will make some money.
It will make your career better.
You will inspire others.
You will become more well-rounded in your mindset.
You will become more comfortable being known.
It will serve as a personal journal.
You will become more confident.
You will develop an eye for meaningful things.
It will lead to healthier life habits.
You will meet new people.
You will find a platform to recommend.
It's quite a rush with every positive comment.
It's free.

Which blogs and websites do you follow on a regular basis? Do you have any role models? If yes please specify.
I follow below 6 websites for learning more things about Technology, SEO and Business.
www.AllTechBuzz.Net
www.ShoutMeLoud.Com
www.QuickSprout.Com
www.Mashable.Com
www.BusinessInsider.Com
www.Labnol.Org
I proudly say that my real role model is always my mother and father. My dad is my hero. He is doing everything for me. As a Blogger my role models are Imran Uddin, Neil Patel, Harsh Agrawal, Pete Cashmore and Amit Agrawal and I follow their blogs regularly. I can't miss a single article of their blogs. I like to read their blogs.

Do you like to share your earnings/how much do you make from your blogs/which are your highest earning blogs? What are the sources of income?(List the monthly income in each site from each source, if ready to disclose)
As I have said before, I am not earning much now from my blogs but I will earn more in future for sure. Now I am making decent money from my JustWebWorld.Com. I earn through Google Adsense, Yahoo Media Ads, Affiliate marketing, Direct advertising and Sponsored posts/reviews.

What do you think about the future of blogging and SEO?
The future of blogging and SEO, I can say it only one word - It's awesome. Blogging will never die and SEO is forever.

What are your future plans?
My Future Plan is a make a network of blogs. I want to make a big brand of my blog "Just Web World". I also want to become a good designer, SEO expert, Internet marketer, photographer and an entrepreneur.

Any advice for our readers and aspiring bloggers?
If you want to be successful in blogging then you must follow the below points:

Keep on improving your skills and gain more expertise in your skills.


Doing SEO, build good backlinks from high pagerank websites and promote your blog as much as you can.


Take proper guidance or assistance from those people who are already successful with blogging and internet marketing.
I am a normal guy. I want to say just one thing, if you really want to become a successful person then help others, respect people, enjoy your success journey, learn new and new things, take actions and never give up.
I am really thankful to readers for reading my interview. Keep practising and keep learning new things. Keep calm and always be positive.

Harshil, thanks a lot again for giving us your valuable time for sharing your awesome experience with us. I hope this interview will help many newbie's to start their Blogging career. On behalf of all Techulator family I am wishing you all the best for your future blogging ventures. Have a nice day, Happy Blogging!

Read Interview with Imran Uddin - A popular blogger & SEO expert