Movavi Video Converter review and specifications

Read the review of the Movavi video converter software and know what are its features. Know what this software is capable of and see what good and bad we found in this software.


It is vital in the business world to present and conduct your business with professionalism and expertise. With all of the great technological devices at your disposal, it can be a bit overwhelming to know which tools are best for you.While making a choice for installing Video Converting Software, Movavi can be one of the good ones with all the standard features that one would be looking for in any video converting software. Its user friendly interface and customizing options made it worthy to purchase. If features wide format support, has fast conversion speed and the basic editing features which nowadays many software companies forget to add in their softwares.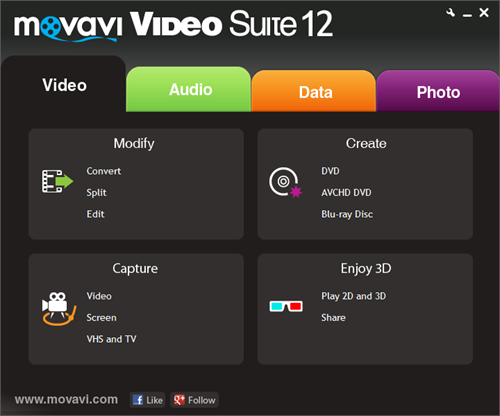 Input Format Support

Movavi has an impressive list of file formats that you can convert with Movavi Video Converter. In fact, whatever file format we have asked it to convert came out to be successfully converted without any issues. VOB, Xvid, DivX, WMV, MOV, MP4 are the most common formats that can be easily converted through Movavi, but even there are a number of uncommon formats that get import support from Movavi Video Converter.


Output Format Support

You can transform your images or videos to all these popular formats like BPM, JPEG, GIF and PNG files. The software of Movavi has got specific options enabled for all types of media players like iTunes and Windows Media Player. Because of this any video format can be taken for conversion and played on any player you have around you installed on your system. What more?, You can as well convert videos to all those formats that are specifically compatible with mobile devices like MP3 players, iPod and several others.

That's not all. You can convert your 2D video into 3D format, change your latest movies into the prints like those of old times and the best thing is the fast speed it does it with.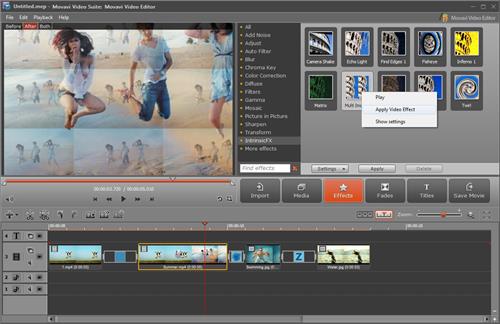 Video Editing Tools

Movavi allows you to convert your 2D contents to 3D. Now you can give your videos that old-look by turning it into sepia colours and can keep adding any number of transitory elements between the selected clips. Because of its smart application Movavi converts videos at a real high speed that can prove itself to be quite a good workhorse for professionals who need to convert videos on regular basis.

The Movavi toolbar contains a button that adds DVD files from personal, unencrypted DVDs. It will show you the exact location of your file and converts the entire file at one shot.

Its advanced settings adjust your file's audio and video codec. At the same time, you can manoeuvre a file's bitrate, frame and sample rate and lots more can be done with it. New users can get a very easy access to its utility options with which one can get familiar very soon.

Movavi video converter allows you to capture stills out of the videos which can be great to get some great family photos, isn't it?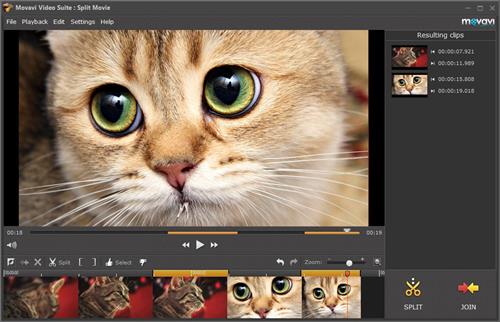 Burn your CDs and DVDs

When it comes to video converting, saving, and burning, Movavi Video Converter is the right choice for you. For high-end video converting and editing tasks, Movavi never stepped back in performance and has always been an useful device available at a reasonable price tag.

Intelligent
You know how they have a lots of VOB files in a DVD. Movavi helps you avoid that effort of locating the main video file by locating the main content on its own. It means you just need to put in your unencrypted DVD and it will automatically prompt you if you want to do any conversion.


System Requirements

Movavi works fine with most of the common set of systems like Microsoft Windows XP, INTEL Core 2 Duo CPU - T9550 @ 2.66 GHz. You need to have a 3 GB of RAM to ensure the video conversion running at its minimum speed.

Pros
Movavi Video Converter supports almost every file format one can think of and is quite user friendly. The developer has armed it with all the required help and support options that include tutorials and FAQs, user guide, email, live chat and so on. Whether you just have basic requirements and are a novice user or you are an advanced user who knows how to customize a video by altering its file's bitrate, frame rate, sample rate or something else, Movavi video converter is equipped for all.

Cons
The most unexpected drawback of Movavi is that it has not updated with any Customer support telephone number. Some users have complaints against its asking for payment even in trial versions, and sometimes it didn't respond well in time.

But overall Movavi Video Converter has kept the promise of standing up as an all-in-one conversion solution with many advantages.

Price: $30

Read WM Video Converter review and features