Amazon Fire TV detailed review and specifications

Here we review the next streaming box from Amazon- Fire TV. Check out the features of this box, know what makes it different from the other streaming box services in the market and what goes in its favor and against it.


After Google Chromecast launch in 2013, 2014 sees the launch of another TV streaming device, this time from the online retailer giant Amazon- the Fire TV. The previous entrants of this race were Apple TV and Roku 3.

It has not yet made its way to India or for that matter any country except U.S. but you can bet that it will make its way to India soon enough and meanwhile we have tried to give you a little overview of the device.

Priced at $99, which will come around Rs.6,000 to you and me, Amazon Fire TV is comfortably placed in a price range to give competition to Apple TV, Google Chromecast and Roku 3. The actual price in India will be a bit higher because of import duties, so add anything around 1k-2k in its price and it is still not too much.

Supported on the hardware front by a dedicated graphics card, 2GB RAM and Mimo dual band Wifi, makes it much faster that its competitors at least on the paper. It tackles some of the issues that we faced in its competitors but it is still not the perfect device that Amazon seems to be pushing out. Amazon in its press release has stated 3 fronts where they say Amazon Fire TV is better than its competitors- cumbersome search, performance issues and closed ecosystem. As far as performance is concerned, Amazon clearly emerges as a winner.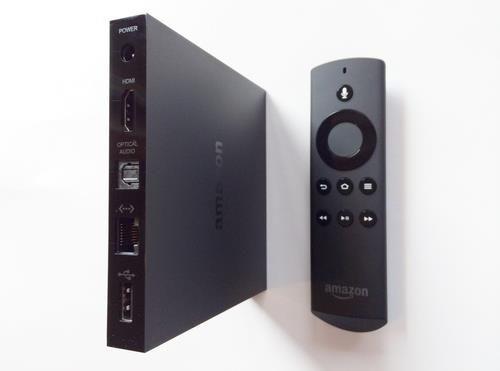 In terms of ecosystem, though it is an open system allowing services of content providers like Netflix and Hulu Plus but it is definitely more tilted towards Amazon's services. You don't have access to iTunes or Google Play and I doubt it will be added in future too, but yeah, other services are allowed on Amazon's ecosystem. The third party services have been sidelined in the "Apps" corner of the box whereas the prominent feed of TV, Movies and library is Amazon's own content. That is, the first party content is available on the Home screen of the device whereas for accessing the third party content you have to navigate a bit.

As for search, there is no typing here, rather the control is audio based, fitted on the remote through a microphone that uses cloud based service to do the audio processing and save you the effort of searching for your favorite content. However, the search is limited to Amazon content making your use of third party content completely manual.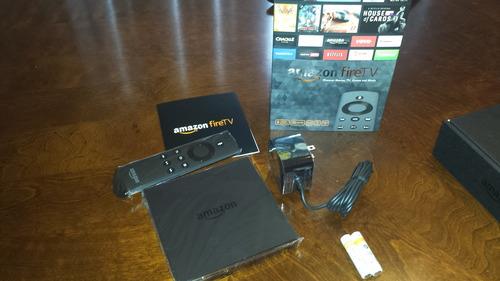 Coming to extras, Amazon Fire TV allows you to view your photos you stored on Amazon' cloud service or listen to your music you bought from Amazon.

Special focus has been give for gaming ecosystem. Running on the Android operating system, it offers a compelling platform for developers to bring their games on. You can play the games through the remote or better, you can buy the dedicated game controller which is already available in the U.S. market at a price of $39.99. The controller comes separately from the package, which means it is completely optional to buy. You can already play games like Minecraft and The Walking Dead but the games from Amazon Studio seem to be a lot better choice for now. They have showcased their Android games through a YouTube video you can see below.






Hardware in Amazon Fire TV

The size of the case is just as of an external hard drive. There is nothing much on the cases except for the lettering of the product in shiny metal polish. It's thickness is just 7 inches and the rear side of the box has all its ports- power, HDMI, optical audio, Ethernet and USB.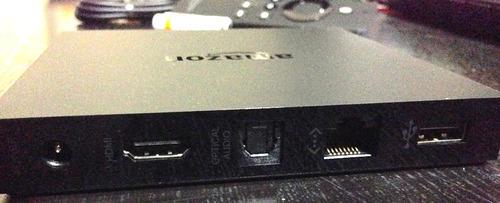 As mentioned before, it has a dedicate graphics card, 2GB RAM and Mimo Wifi. Amazon says that it is 3 times faster compared to its competitors. You can choose to do a wired connection with it over Ethernet or it otherwise you can make the wireless connection too over its dual band Mimo Wifi.

The remote is also minimalist working on bluetooth technology. It has seven black buttons (home, back, fast forward, menu, rewind and play/pause) and one directional selector.


Set up

There is nothing much to do in setting up the system. It is as simple as connecting the power cable, HDMI cable and the Ethernet cable if you are making an wired connection otherwise for wireless connection the box will guide you through a process. You need to connect with your Amazon account once you have powered up the system. Then there is the intro video which you have to watch, yeah, no skipping it. All in all, as there are no customization options, there is nothing that can go wrong here.


Services

Users in U.S. report having 40 channels to see right now. That is a far cry from over hundreds of channels offered by Chromecast and Apple TV but I am sure offerings are in the process and people will see much more channels coming soon.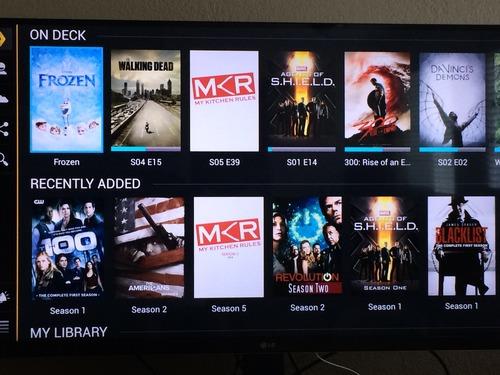 There is an amazing feature in Fire TV called ASAP which pre-caches content based on your preferences. This means that your favorite serials will start without lag as much of the content will be streamed even before you ask it to do that.

Amazon Music has still not rolled out but it is expected to come to the box in the start on the next month. Still, you can listen to iHeartRadio, Pandora and TuneIn through apps menu. When Amazon Music comes to the box you will have the default storage of 5GB and you can buy more if you want.

The Search feature has been unnecessarily limited. If you use the Search feature in Roku 3, it searches for your content NetFlix, Crackle as well Amazon. But if your use the Search feature of Amazon Fire TV to search for a movie, it will show you only the Amazon page to buy it even if it is available on other services as well.


Verdict

Amazon Fire TV is definitely a more snappier product that its competitors and running on Android platform it has huge scope for development in the gaming ecosystem. The dedicated gaming controller and the hardware are a big boost to that. However, the segregation of Amazon services and the third party apps, especially the limitation of the Search feature to its Amazon products only leave a lot to be desired. To make it a really free ecosystem it will require a complete overhaul of the UI. Until then, I will call it a good product but definitely not the best.

Read Google launches its own streaming device to compete with Apple TV for iOS and Android devices