Review of AirDroid - one of the best smartphone manager app for Android

Find the comprehensive review of AirDroid, an Android smartphone manager app that allows to remotely manage your Android mobile from your desktop. Find out what is good in AirDroid smartphone manager and reasons for considering it.


Airdroid Mobile Manager App: Features

In this era of smartphones, where the intelligent Android apps have proven to smooth the lifestyle whether it be entertainment or health tracking, here we are with an another wonderful app - AirDroid. But before discussing about this app, I want to ask you some questions. My first question - Do you spend a lot of time working on your PC or laptop? Have you ever felt annoyed leaving your PC so as to send some important messages? Have you ever thought of having a magic app that would allow you to access your Android phone remotely? Then, Airdroid is the solution to all your anxieties. It is the most loved Android mobile manager app that enables you to remotely access your smartphone from your favorite web browser. All you have to do is to wirelessly connect your PC with your phone over Wi-Fi connection, provided that both the devices are on the same network. Working around with this app does not need you to be tech savvy. Most of the network configuration processes are automatically handled behind the curtains. It works perfectly with every Wi-Fi network, even public hotspots. AirDroid lets you send or receive messages from the ease of your desktop. So, you no longer have to worry about misspells and compromise your typing speed. This Android manager app also lets you to swiftly move your photos, videos, ringtones and other files between your PC and smartphone. Moreover, these sharing of files will be through Wi-Fi, so no more messing around with those slow USB data cables. So, enjoy sharing pics and files without compromising on the data transfer speed. But the most awesome feature that amazed me was its camera feature. This Android phone manager app lets you remotely see through the lens of your phone's camera, enabling you to directly save images to your desktop rather than transferring it from your smartphone.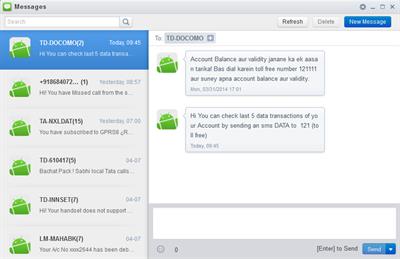 These cool features do not end up here, AirDroid even lets you to stream the screen of your Android phone in real time, thus imparting a realistic experience. But in order to access this feature, your Android phone should be rooted. Besides all this, you can also check and delete logs, organize your contacts and also share clipboard texts between your phone and computer. The other lovely feature of this app is that it also enables you to remotely view your collection of apps stored on your smartphone. So, giving you full control to uninstall these apps or rather install new apps without ever hanging or freezing your phone. Moreover, it has been seen that the installation and uninstallation of these apps becomes considerably faster than directly doing it on the phone. But what's the use of this app, if you somehow lost your smartphone or lets say if someone just stole it. With AirDroid you do not have to worry about this. This Android mobile manager app lets you locate and lock your device when its lost. And if somehow you failed to get it back, then you can also wipe all your data from your desktop and simply preserve your important files. You can even take the photo of the intruder who tried to unlock your device but failed to do so.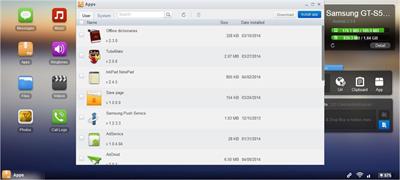 Pros
This handy remote access app is user friendly and hence easy to use.
This Android manager app is absolutely free of charges.
The Wi-Fi connection lets you to move the files swiftly.
This app lets you remotely see through the lens of your phone's camera.
This app lets you to remotely send and receive messages.
This app lets you to remotely install and uninstall your in-phone apps.
Cons
Your Android device needs to be connected through Wi-Fi creating an impractical situation when there is no nearby permanent Wi-Fi, forcing you to create hotspots, ultimately draining your Android phone's battery quicker and imposing internet service charges.
While accessing features of your smartphone through web browser, it creates separate windows for each task on your desktop, gradually creating a lot of windows, making the managing harder.
Sometimes, it does not load the content, leaving the user frustrated.
Messages are remotely sent with a slight delay.
Although it allows to manage contacts, but there is no option for voice calling.
My Verdict

Although there are some cons for this Android mobile manager app, yet there are certain cool features that are worth trying. AirDroid's remote camera feature and its ability to help you remotely stream display of your smartphone continues to fascinate me. It provides user friendly experience and makes app management swifter. Besides, there is no harm trying a free Android mobile managing app.

Check out details of AirDroid at the official website - http://www.airdroid.com/

Read Best gaming graphics card under 15,000 INR or $300