Freemake Video Converter review, features, pros and cons

Here we do a in-depth review of the free but fully equipped video convertor- Freemake video convertor. See the features of this software, what all it can and cannot do and why you should use this product.


Though hard to believe, it is true, that now converting videos to your desired format can be done free of cost. Just download this free video converter from http://www.freemake.com and keep converting your videos to any format you want and to as many numbers you need.


Supported Input formats

Freemake supports more than 200 input formats from which you can transform or convert any videos to any of these formats like AVI, MP4, MKV, FLV, TOD, WMV, MPG, 3GP, 3G2, QT, TS, MTS, SWF, AVCHD, MOV, DV, RM and so on. Import music (MP3, AAC, WMA, WAV).

For images, they support JPG, BMP, PNG, GIF formats which can be converted to into video without any cost and effort. What you only need to do is rip and burn the videos into your preferred format by clicking once on the correct option.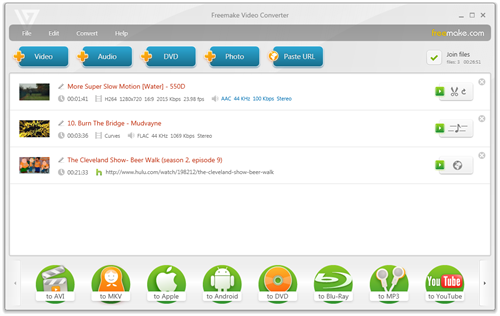 Supported Output Formats

With Freemake, you can get your videos to the Output formats like AVI, MP4, HTML5, MKV, FLV, 3GP, MP3 and much more.

Freemake allows you to convert a large number of videos to the most recent and popular video formats without any cost. You can simply Rip your DVD movie to AVI, MP4, MPEG, WMV, MKV, SWF, FLV, 3GP. You can also convert videos into Flash or HTML5 format and then embed them straight to your required web page.


Freemake Converts Online Videos to MP3

If you surf the internet, you might get quite a number of sites that claim to give you video conversion package free of cost. But many times we end up frustrated to find ourselves in a page that is asking a decent amount of money for some or other reasons. In that respect Freemake may be one of the rarest site that has benefited people by allowing ripping videos online through direct URL, copy and paste from YouTube, Facebook, Dailymotion, Vimeo, LiveLeak, and fifty more sites of your choice. Whether you want to Download YouTube videos to iTunes or convert a number of FLV files into to MP3 or any other format, Freemake makes it all a matter of click without making you touch your wallet.


Convert Free to iPod, iPhone, iPad, PSP, Android in Freemake

Freemake offers optimized video support for Sony, Apple, and Android devices. Now you can go ahead without any hassle into converting videos to your own devices like Nokia, BlackBerry, Xbox, Apple TV, Android mobiles, iPod Classic, Touch, Nano, iPod 5G, iPhone 1-5G, iPad 1-3G, Sony PSP, PS3, PS Vita, Samsung, tablets and so on.


Freemake Works with CUDA and DXVA

Freemake is one of the fastest Video Converter that has integrated CUDA and DXVA technologies that ensures high speed video conversion with lesser CPU usage. The job is taken up by the integrated software that automatically keeps detecting the optimal conversion parameters and switches on CUDA and DXVA that enhance a better quality of conversion. Once the work is over it will switch it off too.


Burn Blu-ray Video

Yes, Freemake does convert the movies to video Blu-ray format and burn high-quality BDs for you without any extra charges. Write Blu-ray discs from any input content like video, audio files, images, and from direct URLs. There are options of burning any number of Blu-ray files and you can save them in the desired Blu-ray video to HDD or as an ISO image or can store them in your favourite Blu-ray folder.


Unique Features of Freemake!

Freemake is really unique as it can take the load of burning DVDs through 40 hours! No, it doesn't limit your video conversion time in two hours.

It also can burn DVD videos up to 20 hours up to a Standard DVD or even a 40 hours to DVD-DL. With Freemake's free video converter, you can any number of DVD copies and save the final output DVD videos to your storage folder either as an ISO image or in DVD folders.


Freemake gives Free Video Conversion with Subtitle Support

Add embedded subtitles to your converted DVDs, MOVs or MKVs, and save them to any video format or device now for free. For external subtitles add SSA/SRT/ASS to the video files and create a new advanced edition of the videos to increase their popularity. With Freemake all these options are now at fingertips for free.


Advanced Preset Editor

Freemake has created a handful of custom presets compatible with all mobiles, consoles, and tablets. With the help of these presets you can create custom videos and audio codecs, adjust the resolution, frame rate, bitrate, and so on.


Create Presentations, Slideshows and Visualizations with Freemake

Office work can be done within minutes with Freemake. Now you can convert images and MP3 files into slideshows adding up background music. Editing your slideshow isn't going to be tedious any more. Adding special features, deleting objects, shuffling and rearranging images, or enabling panorama effect, Freemake has made all of them easy for you. You can even create music visualizations to your final video file output. What's more? Update your profile photos in social media sites and add photos to YouTube just like that.


Cut, Join, Rotate, Limit file size

If you are bothered about the file size and data volume of your video, Freemake sets you free from it. Now you can enjoy shrinking your video file size into your desired one by cutting parts from it. To make it a unique presentation, you can rotate, flip, join and break videos, add transitory portions in between, adjust file sizes to ratio aspect, include black bars, stretch it, zoom it, and rest you can leave it on the auto-adjust mode.

Today when everything puts up a brow-raising price, Freemake Video Converter takes off the burden from you and lets you concentrate only on your work without letting you hesitate for the cost factor.

In comparison to other paid products, Freemake performs all the tasks with equal precision without making you pay for it. Neither does it put any limitations nor any hidden costs. Once you download this freeware on your PC or laptop, you are sure to experience the benefit of technological support in a greater dimension. Start making your own video presentation with Freemake right now.

Read Aura Free Video Converter review and features