[App Update] Wechat 5.2 for Android : A review on its new features

Popular messaging app, Wechat has recently got a new update for android. Lots of new features has been added to make messaging experience a bit more convenient, reliable and fast. Read this article to know about the various working features of the app.


Have you updated your Wechat app for Android? If not, update it today and elevate your Wechat experience to a new level. The latest version will change the complete look of the app giving you a sleek user interface and of course some amazing features. Pride owner of the app Tencent Technology has upgraded the Wechat app to version 5.2 for Android platform and brings some unique features to its users. After all, without some unique features, it's getting tough to survive among so many social networking apps of present generation. Let's check out what this new update brings to us-


Redesigned Interface


The new Wechat app is completely redesigned and user will be able to get a fresh look. The app loading time is improved considerably. In fact, old Wechat users can surely feel the app loading speed. The menu bar is placed at the very top of the screen. The menu bar contains the universal search button, a "+" button which gives quick access to group chat, add contact, voice call, scan QR code and instant photo. The top right menu button offers easy navigation to profile, my posts, favourite messages, settings and feedback.


Add Friends with Friend Radar


It's a new feature and it's fun using Friend Radar feature. Wechat's Friend Radar feature scans our surrounding area for new people and help to get connected with them. Apart from 'shake' and 'people nearby' feature, now Wechat has Friend Radar to discover more Wechat users. Ton open Friend Radar, simply press the "+" button from the menu bar > Add contact and then select the Friend Radar.


Real-Time Location Sharing

Wechat make it easy to meet up with friends using Real-Time location sharing feature which is now integrated with Walkie-Talkie. Real-Time location shows exact locations of the two people in a map so that one can easily navigate his way to the other. To open this feature, simply tap the "+" option > Location > Real-Time location and view map with your friends location. Additionally, integrated Walkie-Talkie helps to keep the conversation live.


Universal Search Bar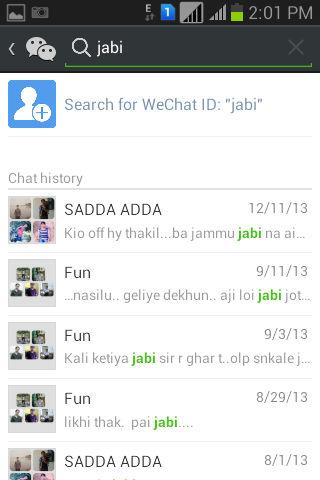 Have you forgot some name or date in a conversation? Or, are you in search of a special message within a chat? Now, it's no more a time consuming work. With the inclusion of universal search feature, you can quickly search anything throughout chats and contacts by just typing the keywords. Universal search option is placed on the top menu bar so that it can be accessed from anywhere within the app.



Better Image Browsing


Now photos can be viewed more conveniently. All photos in a group chat will be located in a single place. Just open any photo, then tap the icon on the bottom right corner, you will be able to view the complete album.


LinkedIn Account in Wechat

Your LinkedIn account can be linked to your Wechat profile to show your name card. I don't find any special in this feature, it will do nothing, just you will be able to know if your friend has joined the professional network or not.


Special Notification feature

With the inclusion of this feature, users will get notification whenever they are tagged in a group chat.


Enhanced Video and Audio

Voice call feature is made more reliable than the previous version. The quality of video and audio recording is also improved to some extent.
Download the Wechat app for Android from here- https://play.google.com/store/apps/details?id=com.tencent.mm and do let us know your experience with these new features.

Read WeChat vs Line Apps - a comparison between the two text messaging and calling applications