Top 5 wireless gaming keyboard on Amazon.in

Check out the best gaming keyboards on Amazon.in which promise to take your gaming experience to the next level. Know what makes them apt for gaming and what all they have to offer.


In my previous post I had listed some amazing gaming mouse that you can find on Amazon.in and now it's the turn of listing similarly amazing gaming keyboards to couple your mouse. Let's get on with the list and see why these mouse have made the top position in our list.


1. Wireless Keyboard K230 Ap

This compact keyboard is smaller in size than the standard ones but definitely not lesser in functionality. Its feather touch keys make it all easy for all commands without any report of dropping or delaying so far. It stays connected till 10 metres with its tiny and efficient Logitech Unifying receiver latched on with Logitech Advanced 2.4 GHz wireless connectivity. The receiver is a perfect fit for your laptop with which you have the option to add five compatible devices. Its 128-bit AES keyboard encryption keeps the information secure. You will get it with a battery life of 2-years, for better longevity enable the auto-sleep mode. Choose from the fun colours like pink, light grey and blue and enjoy its hassle-free performance.
Price: Rs.924.00

http://www.amazon.in/Logitech-K230-Wireless-Keyboard-Ap/dp/B007WABL7W


2. Amkette FKB324 Wi-Key Wireless Touch Keyboard

Check out the latest Wi-Key Touch-Wireless Keyboard with multi-touch pad and advanced remote control for the computer. It has multi-angle connectivity of10 meters. Connect your computer or laptop to your LCD/TV to enjoy games, movies, music, photos and videos or just getting connected with your friends on Facebook. What's more? Now experience all your computing activities on a bigger screen of life-size. Just plug and play.

http://www.amazon.in/Amkette-FKB324-Wi-Key-Wireless-Keyboard/dp/B007NZ7N5U/


3. Logitech K400 Wireless Touch Keyboard (Black)

Go around your activity area with a wireless range of 10 meters or just get lazy and operate from your couch with a 2.4GHz wireless technology without any dropouts, delays or interference. Don't bother to get a mouse either as the 9 centimetre (3.5-inch), built-in touchpad will do all the work with its intuitive vertical and horizontal scrolling. Surf the web effortlessly with the help of its Multi-touch navigating option. No need to take up a hectic setup, as you can just plug and play the entire device without any software installation. Be comfortable with its bold, bright white font and UV coating which doesn't strain your eyes. It has been top rated by the users for its hassle free battery life and durability, so get it to pamper yourself before it goes out of stock.
Price: RS.2599.00

http://www.amazon.in/Logitech-K400-Wireless-Touch-Keyboard/dp/B008QS7TRK/


4. Rapoo Wireless Multi-media Touchpad Keyboard E2700 (Black)

This 5.6mm ultra-slim Rapoo Wireless Multi-media Touchpad Keyboard E2700 (Black) comes with a brushed stainless scissor key structure with the stainless steel plate found till date. Its Multi-touch and media control doesn't need any external mouse. The touchpad keyboard and the hotkeys keeps everything in control while you are busy surfing or enjoying music. Its 2.4GHz wireless connection works till 10M of range. It works with Windows® XP, Vista, Win7 and Win8
Price: Rs.2899.00

http://www.amazon.in/Rapoo-Wireless-Multi-media-Touchpad-E2700/dp/B006P0J7XU/


5. iPazzPortTM ProMini Bluetooth Mini Wireless Keyboard (with Multi-Touchpad / Laser Pointer for Google Nexus 7 / Google Android TV / iPhone 4 4S 3GS 3G / Samsung Galaxy S S2 S3 / HTPC / PC / Iphone / Android 3.0 Tablet / Mac OS KP-810-10BTT)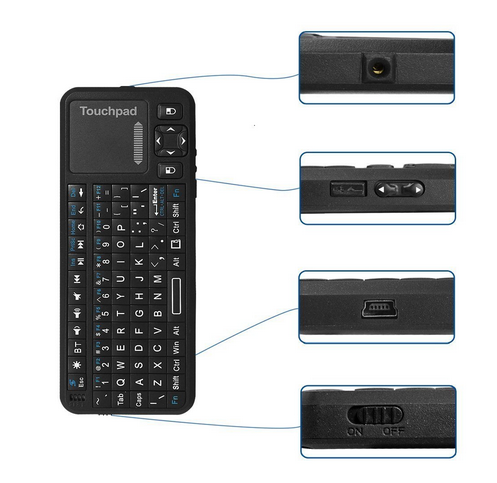 The iPazzPort Mini Wireless Keyboard comes as a compact and portable model. Its keyboard, touchpad and multimedia remote control everything at your finger tip making your laptop the ideal device for you. It works with a Google TV Mini Android PC iPhone Galaxy S S2 S3 tablet and HTPC system. Its tactile QWERTY keyboard has 12 Function Keys with keys like Volume, Mute and Play, Pause, Skip and Multimedia. All its 73 keys would work for you without any miss out.
Price: RS.3386.00

http://www.amazon.in/iPazzPortTM-Bluetooth-Wireless-Multi-Touchpad-KP-810-10BTT/dp/B005C6CVAE

Enjoy the latest technology in your system and get them today before you start playing your favourite games.

Read Logitech Wireless Solar Keyboards K750 and K760 Details