Nokia Lumia 525: Review, Features and Specifications

Are you looking for a review of Nokia Lumia 525? Here you can read detailed review of Nokia's new entry level Windows Smartphone, the Lumia 525, which offers a quality package, with decent battery life and performance.


Nokia has been particularly successful with their entry-level Windows smartphones, especially the Lumia 520. Undoubtedly, the Nokia Lumia 520 is Nokia's best selling handset in the recent past. Even then, the Lumia 520 was criticised by a lot of buyers and reviewers for coming with only 512MB of RAM. The low amount of RAM was a real problem since everyone was worried that CPU intensive games and apps wouldn't run well. Nokia finally responded to all those criticisms by unveiling the successor of this bestseller, the Nokia Lumia 525. Lumia 525, is an incremental update over the Lumia 520, which comes with additional 512MB RAM and leaves almost everything exactly as it was. However, this device is still weaker and smaller than many of the Android devices out there in its price range. Lets have a closer look at this smartphone.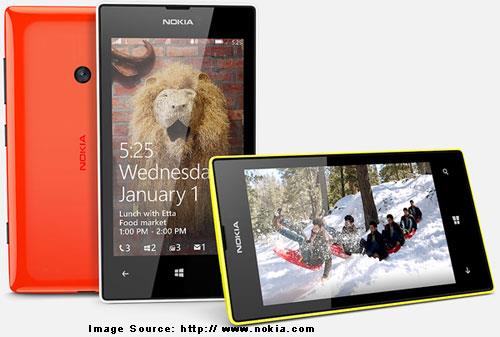 Build / Design

As mentioned before, the brand new Lumia 525 is an incremental update over its predecessor, the Lumia 520. In fact, it is almost impossible to tell the difference between the two due to the fact that the design of both handsets is very same right down to the size and weight. The only differentiating feature is the Lumia 520's back panel that sports a matte finish, in contrast to the Lumia 525's glossy back panel.

It measures 90×119.63×10.97 mm and weighs around 121 grams (with battery). The handsets back is curved nicely, making it easy enough to hold and use with single hand. Just like its predecessor, it also sports a 4-inch screen on the front. And down below the screen there is usual standard Windows phone Home, Back and Search buttons. Above the screen there is a ear piece and the pair of ambient light sensors and proximity sensors along with Nokia logo. Just like Lumia 520, this one also doesn't come with front facing camera. The camera, power and volume rocker buttons are placed on the right edge of the handset while the microUSB port and headphone jack is positioned at the bottom and top respectively. Coming to the back side of the handset, the 5-megapixel camera is positioned at the top-center while the loud speaker is placed towards the bottom. Underneath the back cover there is a microSD card slot (expandable up to 64GB) as well as the micro SIM slot for single SIM connectivity.


Display

Just like the Lumia 520, this one also sports a 4-inch IPS TFT LCD screen with a resolution of 800x480 pixel by giving the pixel density of 233ppi. Even though, the display got decent pixel density you'll notice images and text getting a tad pixilated. Thanks to IPS panel, the viewing angles are quite good. Also, the device's IPS LCD delivers quite good color quality and images seem to be vibrant in right surroundings. The device's display panel is very bright at maximum brightness level, which would help in highly lit surrounding. The auto brightness feature worked pretty well in adjusting the display brightness based on change in light levels. Just like all high-end Lumia handsets, this device also comes with a high sensitivity touch-screen mode, which enables you to use the device's display even with the gloves on. But, as more power need for digitizer, this setting may drain the battery faster. There's also a setting that enables you to wake the device by double-tapping on the display, and indeed this is an additional advantage if the overall display is taken into account.


Camera

Nokia Lumia 525 comes with a 5-megapixel auto-focus Camera, but sadly, there is no flash available in this device. Also, just like Lumia 520, this one also lacks optical image stabilization and front facing camera. The absence of front- facing camera will be certainly annoying for those who would like to capture selfies frequently, or make video calls. The photos captured in daylight appears to be a tad overexposed, that makes colors washed out. Surprisingly, the images captured at low-light seems to be brighter with no flash light to help out at that time. However, you'll find a lot of noise while looking at these shots at maximum zoom. May be it doesn't capture best shots, but it sure does have one of the best camera UI for a smartphone out there. Furthermore, it comes with the ability to control exposure and focus. Also you can set shutter speed up to 1 second, so you can even capture small light trail shots, which is a exceptional feature for a budget smartphone. Lumia 525's rear camera can capture videos at 720p resolution only. Videos capture at 30fps with a bit rate of 10Mbps and encoded in H.264. Talking about the quality of video, the device's camera manages to capture videos as good as the quality you'll get from still photos, however the lack of optical image stabilization makes handheld recordings quite shaky.


Software

Coming to the Lumia 525 software, the device runs on the latest Windows Phone OS GDR3 update along with Nokia's its own Lumia Black Firmware update, which offers latest features such as better multitasking and the ability to lock the screen rotation. It also offers double tap to wake up and Bluetooth LE support. There are also options to restrict unwanted SMS messages and Calls, which might come in very useful if you're frequently being spammed or harassed. In the device's settings there are a few inclusions that the company has made, including an easy storage checker. And, also you will get some small features such as custom notification sounds and a driving mode.

Nokia Lumia 525 features Windows 8 backed with Nokia's apps, services and customizations. These include apps like Here maps suite, Cinemagraph, Smart Shoot and Nokia Music, which do enhance the user experience. Out of the box, the device comes pre-loaded with apps such as the BigFlix, Your Movies, Nokia Xpress, Nokia Creative Studio, Zino, HERE Maps, Nokia Beamer, Nokia Camera, Nokia Storyteller, adidasmiCoach, Flipkart eBooks and Rail Rush game. Nokia is also providing Gameloft games such as Assassin's Creed, Modern Combat 4, Nova 3, Shark Dash and asphalt 8 as free download.


Performance / Battery

Apart from the additional 512MB of RAM, internally the Lumia 525 is very same to the Lumia 520. It's powered by a 1GHz dual-core Qualcomm Snapdragon S4 MSM8227 Soc, with decently powerful integrated Adreno 305 graphics. The MSM8227 is paired with 1 GB of RAM in this handset, which is one of the only improvements that has been made over its predecessor, the Lumia 520. The device comes with 8GB of internal storage (actually 7.23GB), where 2.39GB is occupied by the system files, leaving only 4.84GB free for the user. And, of course, there is an option to expand the storage memory up to 64GB via microSD card slot. Coming to the connectivity options, the device features 2G, 3G, Wi-Fi, Bluetooth and GPS with A-GPS/GLONASS. Sadly, like Lumia 520, this one too does not have NFC. Now there is support for FM radio, which was included in the Windows Phone with the GDR2 update alongside support for Bluetooth 4.0.

Thanks to the 1GB RAM, now the device is capable of running demanding games and apps. As Windows Phone isn't a resource hungry OS, you'll not see any lag while you navigating through menus or switching between apps. Playing casual games, such as Rail Rush and Temple Run 2, with this device is not a big deal, but it starts lagging when you throw Graphic intensive games at it. The loudspeaker on the device is adequately loud but easily gets muffled because of its placement. The call quality is also above average, and you can make and receive calls even in low signal areas.

The Lumia 525 has a relatively small removable 1430mAh lithium-ion battery, which is sufficient enough to keep the handset going throughout the day considering the fact that none of the internal hardware are especially power-hungry. Even though the Lumia 520 comes with the same battery, its battery life wasn't excellent, however the Lumia 525's battery life appears to be much better than 520. The company claims that it can deliver up to 336 h (2G/3G) of standby time and up to 17 h (2G) / up to 10 h 40 min (3G) of talk time. However, the low-power Snapdragon S4 SoC and the 4-inch display don't need a massive battery behind it to run the device throughout the day. But stressing out the processor, such as playing games, browsing internet may juice out the battery rapidly. Also, enabling high sensitive touch feature may juice out the battery even faster.


Overall review of Nokia Lumia 525

The Lumia 525 is a small and affordable Windows smartphone with surprisingly decent battery life. This device is just an incremental update to Nokia's best selling entry level smartphone in the recent past, the Lumia 520. Now, the company's best-selling entry level handset gets even better with new Lumia 525. With the addition of extra RAM open up the room for more heavy games as well as apps and improves the overall performance of the device to some extent. Nokia ships this handset with the latest Window Phone OS, enhancing the software experience and brings in a lot of useful apps as well as the free bundled games. At a price point of Rs. 10,399 this device offers a quality package, with decent battery life and performance. However it is tad expensive than its predecessor, which now available around Rs. 7,000 online. But Lumia 525 is highly recommended over the Lumia 520, especially if you want to run high end games and complex apps with ease. So the verdict is, if you are searching for an affordable smartphone with good performance and attractive build quality, then go for the Lumia 525.