Best Android apps for personal accounting and finance management in 2014

Looking out for best personal accounting Android apps 2014 or best personal finance Android apps 2014? Want to know which Android apps provide better personal accounting and finance management features? Kindly read further to know the features of personal accounting and finance Android apps.


With the emergence of technology, people have started doing various monetary transactions in varied ways. Now, we have a common man doing online bank transactions, making bill payments through credit cards, shopping online through netbanking, credit card or COD, online stock market trading, etc. This is in addition to the usual expenditures we make for our routine activities while we are out of our home. Also, we keep receiving money in different ways like dividend cheques for mutual fund investments or stock investments, IT refund cheques, any rental cheques for real estate investment, etc. In other words, there are countless ways through which money is earned and spent on a day-to-day basis by most of us. Due to so many different ways, it becomes really difficult to keep a regular track of our personal finances and budget. To make matters easy for us, there are several Android apps available on Google Play store that can help us in the management of our personal accounting and finance in a very efficient manner. In this article, we shall have a look at some of these popular finance Android apps.


Top Personal Finance & Accounting Android Applications


Expense & Home Accounting

Using Condra Home Accounting, this app helps to keep a track of your regular expenses and income, and thereby restrict your unnecessary expenses. You can even manage your household finances using this app. With this handy app, you can keep a record of any expenditure you do or income you make almost instantly. One can keep a virtual balance of all home-based accounting and manage some sort of control over expenses. It allows you to know how much money you have at hand and thus enables you to make sensible purchasing decisions. It basically provides you with two main options like "Expense" and "Income". Under each of this section, you can make additions providing details like respective dates, amount, description, category, etc. You can utilize the charts, categories and device synchronization facility to share data and save it on some remote server. It is also available in a pro version (paid app for around $0.79) along with additional features like exporting data to a secured server, CSV export, debts and no ads.



This application is provided by Dralsoft. For any suggestions or feedback about this app, one can send an email to dralsoft@gmail.com. It is available for free download in Google Play store under the Finance category at: Download Expense & Home Accounting app


Personal Accounting

This application enables one to save, update and modify all relevant account details. You can simply note details of all your daily transactions (of any type) using this app. It helps us to maintain an accurate account of daily monetary activities. Some of the key features included by this app are listed below:



In the Masters section, user is provided with different options like Bank, Party, A/C Head and Special Group. Under bank, one can form a bank master by adding an existing bank account details to record all future transactions using that bank account. Similarly, under A/C head, you can record your expenses and income with relevant details as well as change a cash account to understand the amount of cash in hand. Under party, one"s debtor and creditor accounts can be maintained. Under special group, one can manage different group names to categorize the different monetary transactions made by him / her.


In the Cash Book section, one can manage Cash Account, which is nothing but the cash in hand. You can note all types of cash transactions along with respective dates.


In the Bank book section, you can record transactions done through a bank account. So, any cheque transactions can also be tracked by provided relevant cheque details for future reference.


Under transactions, one can maintain relevant purchasing and sales transactions by entering the rate (price) of item and quantity. The amount is calculated automatically. This is useful when one is shopping in bulk. Under statement, you will be able to see your daily or monthly transaction report in an excel sheet. Using a "Outstanding" button feature, you will be able to know the final amount payable or receivable from your account.


You can even set reminders that will repeat for a fixed period of time. This is useful for setting reminders for credit card payments or mobile bill payments before due date.


From the report section, you can get an accurate account of your transaction reports within the time period specified between two dates. You can even send this report as an excel sheet in an email for future reference.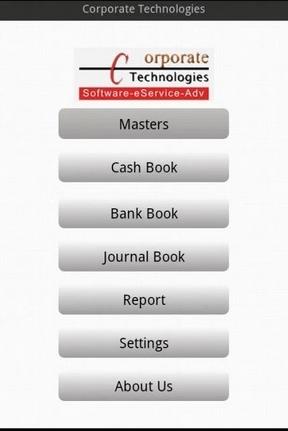 It even allows backup and restoration of database using settings. This application is provided by Corporate Technologies. It is available for free download in Google Play store under the Finance category at: Download Personal Accounting app


MoneyWise

This was labelled as "The best budget-tracking app for Android" by LifeHacker in 2012. Using this application, one can keep track of day-to-day expenses as well as cash flow. It is an extremely simple and user-friendly app through which you can filter and check your expenses in terms of category, date or account. One can classify the expenses by categories or tags in any manner, be it Private or work, cash or credit, project, expense accounts, etc. It allows maintenance of multiple accounts and multiple budgets along with weekly, bi-weekly or monthly budget periods. Since this powerful budgeting app supports majority of the world currencies, this app is quite popular across the globe in helping users maintain a check on their budget and take appropriate economic decisions.

It even enables us to view graphs for our expenses (in terms of category or time) so that we know if we are above / below our monthly or weekly budget target. It allows data backup on SD card and export of backup data as an email or directly to Dropbox. One can even export data as CSV (for Excel import) or HTML (for printing). It even provides the privacy feature by giving password protection. In other words, this is a wonderful app that can act as your money tracker or expense tracker or budget manager.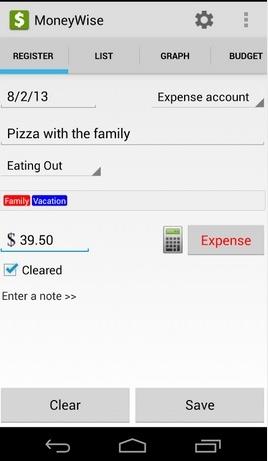 This application does not require internet access and is provided by Handy North. It is available for free download in Google Play store under the Finance category at: Download MoneyWise app


My Budget Book

This paid Android app is one of the most efficient money management tool that helps to keep track of your earnings and expenses. Some of the key features of My Budget Book are listed below:



It does not require any internet access or registration and is easy to use. It supports more than 100 currencies and 10 languages.


You can get a graphical view or tabular view of data that can be filtered in terms of earnings and expenses. This helps you to plan your expenditures for future months.


It helps you to determine if you can afford any major purchases at any point of time by allowing you check your current account balance along with estimated money left after paying all the scheduled bills for a month.


You can sort your various monetary transactions in terms of date, category, amount or title.


It provides a pretty good search functionality using which one can check out particular expenses in specific categories or time periods.


It empowers users with individual transfer and standing orders feature that will enable them to understand their future expenses and know how much money they have on hand.


It supports creation of templates for easy input of transaction data along with addition of categories and sub-categories for better consolidated view of expenses.


It provides backup facility along with ability to export in HTML or CSV format.


Even this app provides password protection for your data.


It provides a new budget mode through which you can set defined limits for certain periods or criteria. Some examples include monthly limit for fuel expenses and food expenses, limit for credit cards, etc.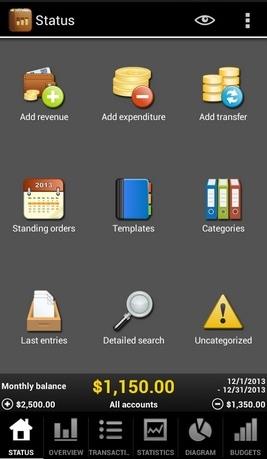 This Android application is provided by OneTwoApps. For any suggestions or feedback with regards to this app, please send an email to onetwoapps@googlemail.com. The price of My Budget Book app is Rs.212. It is available for paid download in Google Play store under the Finance category at: Download My Budget Book app


There are many more such account management apps like Personal Finance, Expense Manager, Personal Finance Manager Lite, etc. Here, I have just tried to list details about some of the best personal finance and accounting apps. I have found the above Android apps to be extremely useful and they have indeed made my life very easy. These apps help us to manage money effectively by spending very less time. Please share information about any other Android apps that may have proved useful for you in managing your daily expenses and budget plans.

Read The best Android Apps for personal accounting and finance management