Samsung Galaxy Tab Pro 8.4; A Detailed Review of it's Features and Specifications

Are you looking for an Android Tablet PC? Here I am going to introduce you to the latest Android KitKat Tablet PC from Samsung, which is released on February 2014. Read more to find out a detailed description and review of Samsung Galaxy Tab Pro 8.4.


Tablet PC market is expanding day by day. Most of the companies are introducing their new models each month. Today you can buy tablets ranging from Rs. 2500 to several thousands. Tablet PC's provides greater gaming experience because of its huge display comparing with smartphones and that's why these devices sold like hot cakes in the market. By understanding the huge possibilities in the Tablet PC world, Samsung, a leading smartphone and Tablet PC manufacturer in the world introduced their new product with top performing hardware, best in class camera as well as display. Yes, I am talking about the Samsung's latest Android mid-sized Tablet PC Samsung Galaxy Tab Pro 8.4. Samsung introduced a total new look on this device on both its hardware as well as external features. They made revolutionary changes in the home screen as well as notification area of this device. It's slim in shape, powerful on hardware, beautiful on design and it's really an Android benchmark that the others should follow. With all these above mentioned features, this is also an expensive device for a mid-sized tablet. Samsung Galaxy Tab Pro is available in three different display sizes - 8.4, 10.1 and 12.2 inches. All these devices serve almost same specifications except screen and battery.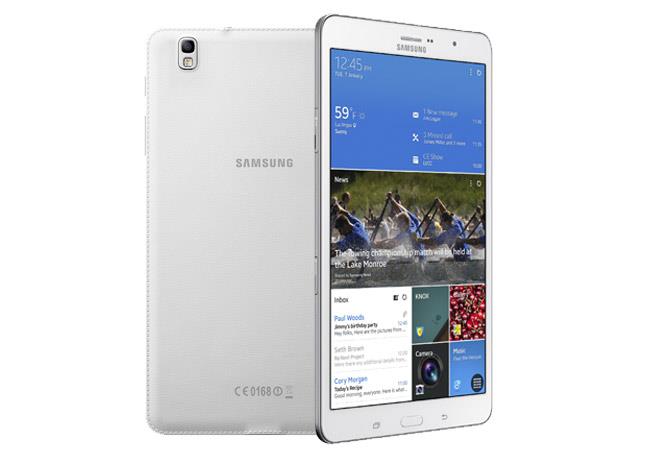 Design, Controls and Handling

Galaxy Tab Pro 8.4 is the first tablet from Samsung which can be classified under mid-sized. This 8.4" display tablet occupies a dimension of 219 x 128.5 x 7.2 mm. One of the main rivals for this device is the Apple iPad mini 2, which measures 19 mm shorter, and 6 mm wider. But for weight, both these tablets measures a same weight of 331 g exactly. Samsung introduced some decent changes in Galaxy Tab Pro 8.4 controls. The old capacitive Menu key is replaced by standard Task Switch control of Android. Company successfully introduced a new multi tasking capability with the help of completely refurnished task manager and switcher. A 2 MP front facing camera and ambient-light sensor are placed above the screen. At the bottom, an Android control deck is also installed.

When we talk about the controls of Samsung Galaxy Tab Pro 8.4, a 3.5 mm audio jack is placed on the top of this device, power/local key, microphone, and IR blasters, microSD slot are held on the right side. At the bottom a microUSB 2.0 port is provided. You can use it as a TV-out put as well as this MHL-enabled USB port supports USB On-The-Go. At the rear side an 8MP camera and LED flash are installed. The metal frame around the camera lens and LED flash gives an attractive look for the back portion.

Because of its thin and light nature along with faux-leather plastic back it gives more grip as well as more handling efficiency for Galaxy Tab Pro 8.4. These features make it possible to hold in a single hand and operate with the other. The build quality and solid construction serves better handling comfort for the Galaxy Tab Pro 8.4 users.


Display

The name Samsung Galaxy Tab Pro 8.4 indicates the display size of this tablet PC. The 8.4" Super Clear LCD screen of Galaxy Tab Pro 8.4 is one of the best displays available today. The resolution of 1600x2560 pixels in Galaxy Tab Pro 8.4 is higher than the iPad mini 2's and with a best in class pixel density of 356ppi. This display provides excellent image quality, viewing angles as well as better outdoor visibility. If we compare Galaxy Tab Pro 8.4 with iPad mini 2 Galaxy got better specs than iPad in its display features.


Hardware and User Interface

Galaxy Tab Pro 8.4 runs on the latest version of Android 4.4.2 KitKat. It is powered by a Qualcomm Snapdragon 800 chip set, Quad-core 2.3 GHz Krait 400 processor and Adreno 330 GPU. It also got a 16/32GB internal storage and an expandable storage support up to 64GB using microSD card. Samsung introduced new user interface into Galaxy Tab Pro 8.4 which delivers a fully redesigned home screen, notification area, and impressive multi window multi tasking.


Camera

Samsung Galaxy Tab Pro 8.4 has an 8 MP rear camera and a 2 MP front-facing camera. Both these camera can shoot 1080p videos. You can easily handle video and still modes with a single viewfinder and Galaxy Tab Pro 8.4 got a new series camera UI. You can easily make your camera much aggressive by downloading more effects from Samsung apps. Camera features like autofocus, geo-tagging, face and smile detection are also impressive.


Multi Window multi-tasking

Galaxy Tab Pro 8.4 got an impressive feature - the multi window multi-tasking. It allows you to enable two apps on the same screen. The apps will share the screen and you can select the apps which you want to use. You can also resize the screen delivered to each app by just dragging the virtual separator. You can access the multi window in your Samsung Galaxy Tab Pro 8.4 device by enabling it from the settings. After enabling it you can open the menu anytime by just swiping on the right edge of the display. Now you can find and access all the apps which are supported by Multi Window UI. Using this new generation feature, you can deal with files, videos, attachments and many more at the same time without closing any apps or files. You can now access Google Now in Samsung Galaxy Tab Pro 8.4. It integrates with your Google account and it will deliver relevant information to you as per your taste. It refines your internet search, email etc to serve better for you. Google Now helps you to analyze the traffic from your home to office, weather reports of your city, and many more.


Connectivity

Samsung Galaxy Tab Pro is available in two versions - Wi-Fi only and LTE. In LTE model, we got a quad-band GSM and 3G with HSPDA up to 42Mbps. Both the versions got Wi-Fi a/b/g/n/ac support, Wi-Fi Direct, DLNA support, GPS, and Bluetooth 4.0. You can connect USB keyboards, mouse, as well as USB storage with this device. Using the regular HDMI cable, you can connect it with HDTV and with the help of IR blaster it's possible to control TV's or any other devices which are using Samsung WatchON app with this tablet. However it lacks NFC and FM. While talking about connectivity, web browser is an important factor. In Galaxy Tab Pro it comes with stock Android browser as well as Google Chrome. You can use both the browsers at the same time because both these apps support Multi-window.


Battery

Tablet PCs have much bigger battery compared to smartphones because it has a wide display and it will drain the battery charge quickly. That's why Samsung Galaxy Tab Pro 8.4 is powered by a massive 4800 mAh Li-Ion battery. Samsung is offering a 127 hours of music playback and 11 hours of multimedia usage. You can also expect 7 hours 30 minutes video playback as well as 45 minutes of web browsing.


Conclusion

This is really a good device from Samsung in mid-sized Tablet PC market. Samsung Galaxy Tab Pro 8.4 has superior specs such as first class display, high quality hardware, best in class camera as well as a tremendous powerhouse battery. Its multi-Window is an impressive feature of this slate.