Top 10 Camcorders to buy in 2014 below 20,000 INR

Making a search for a nice camera to catch your precious moments for life or would like to make a YouTube video with a budget video camera? Read our article for our list of the top 10 camcorders to buy this new year.


Now keep recording memorable moments through the latest high definition digital camcorders available within your budget. Though your mobiles are capable of recording videos with the tap of a finger, a portable device primarily dedicated only for capturing moving objects and storing them at the same time no doubt will give more precise output.

Here is a list of top 10 camcorders that is now rocking the digital market with their flawless and magical performances. Grab them now and steal the moments of your life.


1. Sony Camcorder DCR-SX22E (Black)

Sony has launched this latest model of camcorder with a light and compact design with cool features within your budget. It is a Standard Definition Memory Stick Camcorder with an advanced 60x Optical Zoom which can be extended up to 70x. Its SteadyShot will give you a stable shooting experience automatically. The Intelligent AUTO option will make all your shooting sequences easy and simple, as it will automatically adjust the way you want your moments to be captured. You get a Wide Clear Photo LCD, along with PMB Portable software.

Price: 14,990.00 INR


2. Panasonic SDR-S71 Camcorder

As one of the first row contributors in the electronic market, Panasonic brings you a praiseworthy camcorder model with advanced features and performance. Packed up in a slim and sleek design, Panasonic SDR-S71 Camcorder gets you an Enhanced Optical Zoom with iA , YouTube and Facebook Uploader function. It has got 16 GB memory storage, a 2.7" LCD Display of 0.47 Megapixels, a 70x Optical Zoom, the Digital Zoom can be extended from 100x to 3500x, and a CCD Image Sensor.

Price: 11,630.00 INR


3. Panasonic HX-WA 10 HD Waterproof Dual Camcorder

The Panasonic HX-WA 10 HD Waterproof Dual Camcorder has a WA10's 3" widescreen LCD that not only rotates 285°, but also provides 7 levels of brightness that helps you to compose your shots from every angle and yet keeps your images in view. The 5x optical zoom can expand up to 12x in 30p video mode, so that you can get a closer look to your object without any image degradation. Features like Nine-point Auto Focus, Face Detection and Electronic image Stabilizer keep your objects in the correct focus and maintain your images steady.

Price: 17,990.00 INR


4. Wespro Camcorder DV618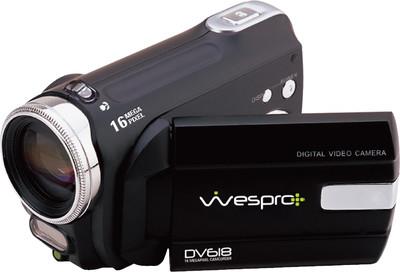 Features include 16MP- Interpolated with a Display of 1.8" TFT LCD Screen. Its internal memory is 32MB and External Memory can be extended up to 16 GB. It has got 4x Digital Zoom, a built in LED Light, a TV Output. Other specifications cover YouTube Upload, 5 MP CMOS Image Sensor. For a price tag so low, Wespro Camcorder DV618 is a pack of complete device you must be waiting for.

Price: 3,149.00 INR


5. ICAM 16MP Digital Camcorder

Bring home the ICAM 16 which is a 16MP camcorder with 8x digital zoom. It has got a large 6.9cm (2.7") TFT LCD display which you can conveniently move to arrest the screen for the shot you were looking for. Later watch your special and memorable moments by simply connecting the ICAM 16 with your computer or TV. ICAM 16 consists of bright LEDs that go perfect with night recordings. It's has incorporated 180 degree rolling display that keeps your shooting spree uninterrupted. The camcorder stores upto 16 GB of external memory card and have all the required features like webcam, USB, electronic shutter, etc.

Price: 4,890.00 INR


6. Panasonic HX-DC2 HD Camcorder with 5x Optical Zoom (Slate Grey)

With a Memory storage Capacity of 32 GB data, Panasonic HX-DC2 HD Camcorder has attractive features like 14 Megapixels display with 5x Optical Zoom, a 120x 3 inch Wide LCD Digital Screen and, a 15X Intelligent Zoom. The shape and form of this camcorder gives you a hazard free shooting experience with its stable configurations because of its lightweight handy design. Sudden shooting opportunities will not go missing when you have one Panasonic HX-DC2 HD Camcorder at hand.

Price: 13,290.00 INR


7. Panasonic HC-V10 HD 70x Optical zoom SD Camcorder (Black)

If you are thinking about taking videography as a profession, the first device which you can try your hands up on is the HC-V10. It has in its wings a plethora of shooting controls that are friendly with a novice hand. The Intelligent Auto does the guesswork in a shooting spot with whatever settings you could provide for it. The iA option automatically sets the camera for the order of sequence now you relax and focus on the right moment without worrying about camera controls. Other features include Optical 63x Zoom / Enhanced Optical 70x Zoom, HD Recording, Intelligent Scene Selector, Face Detection, Power O.I.S. (Optical Image Stabilizer) with Active Mode and the Pre-Rec is a great help at learning videography and recording to start with.

Price: 14,500.00 INR


8. Sony DCR-SX45E Camcorder with 60x Optical Zoom (Red)

A great gadget doesn't need great size, rather it looks for a smaller gamut going big on features. Same is with the design of the ultra-compact DCR-SX45E Camcorder. The long list of features starts with a 3.0 (7.6cm) touch panel LCD, a Carl Zeiss Vario-Tessar lens along with a powerful 60x optical zoom with which you can steal the moments capturing them exactly when time is running short and you are not right at the spot.

Price: 14,990.00 INR


9. JVC GZ-E205 1.5MP Memory Camcorder with 40x Optical Zoom (Silver)

Go creative with the latest JVC GZ-E205 1.5MP Memory Camcorder with SDXC card slot featuring a back illuminated CMOS sensor ideal for a superior low-light shooting performance. Its 3.0-inch "frameless" touch panel LCD captures moments with simplicity and intuition. It has got a powerful optical 40x zoom with an advanced image stabilizer assuring steady images. The intelligent AUTO captures the scenes with exact replication.

Price: 16,990.00 INR


10. JVC GZ-E10 1.5MP Memory Camcorder with 40x Optical Zoom (Black)

Get a JVC GZ-E10 1.5MP Memory Camcorder to capture bright and clear full HD images. With its compact memory and back-illuminated CMOS sensor, you get clear slots of visuals in low light or even in darkness. Its powerful optical 40x zoom brings the action to your proximity, at the same time the advanced Image Stabiliser and intelligent AUTO takes care of the apparent on foot challenges and keeps the image perfectly stable. The Camcorder is loaded with a single SDXC card slot with excellent shooting and recording performance.

Price: 13,990.00 INR

Grab any one of your choice in the coming NEW YEAR and keep the moments stored as it passes by.

Read Best Waterproof HD Camcorders in India