Hands-On Review of MiniTool Power Data Recovery - Recover your deleted files

MiniTool Power Data Recovery is capable of restoring data from repartioned disks, flash drives, your iPod, damaged CDs and DVDs. With enough modules that specialize for different purposes and enough license types to choose from, MiniTool Power Data Recovery plays well with its competitors. Scroll down to have your eyes on our exclusive hands-on review of the product.


Ages ago, had you lost a file because of a system crash or because you pressed Shift+Delete after selecting a collection of files, all you could do was regret. And today, it seems technology has opened all the doors for us. As the days pass by, data recovery technologies only bring new surprises for us. Introducing to you the all new Power Data Recovery by Minitool on which we were fortunate enough to get our hands on.



Have a look at Power Data Recovery's official website - http://www.powerdatarecovery.com and you see a fully-fledged website that details every aspect of the product that a user can bring to use. Guides, FAQs and what not! We're sharing our experience with the product exclusively.


Features

At first sight it appeared to us that Power Data Recovery does have a free edition but it took us only a jiffy to understand that like many other rivals of the very product, even Power Data Recovery allows you to recover only 1 GB of data for free. It's available for Mac and for Windows. In case you've lost an important file because your hard drive crashed / was found corrupt, you can always look forward to the new generation data recovery software like Power Data Recovery. However, we do recommend you to try out the free edition of these applications, give it a test and if it works, spend the bucks on it. It's this fear which people find a hard nut to crack – fear or investing the bucks into nothing.



The very first glance at the software's face, you find five options to let you get your precious back – five methods or let's say, modules that claim to manage the job well. Apart from that, you see a few useful links and a button for tech support.

Undelete Recovery - This is the first method mentioned in the website and visible on the software's face. We used this method to recover an audio file we deleted instantly on our test partition. Since we're having our hands on a number of data recovery utilities these days, we thought it'd be wise to have a separate test partition. So we copied the file from a different folder into the test partition, deleted it using Shift+Delete (permanent delete) and refreshed. We switched over to Minitool Power Data Recovery now and were looking forward to recover our deleted sample audio file. And dollars! It worked. The screenshots should be able to explain to you what and how we did it.

Using this module you can recover files emptied from the Recycle Bin in Windows OS and the ones you deleted using Shift+Delete (similar to our case). It supports both FAT and NTFS systems and also works fine on flashes, mem-sticks and flash cards.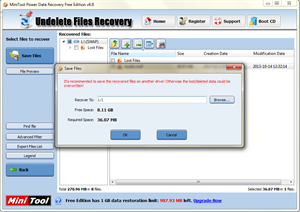 Damaged Partition Recovery - If you're a moderate user (and we assume 'not' a hardcore developer) you'd know what formatting a partition means. It just wipes out every chunk of data on that partition, isn't it? Power Data Recovery's damaged partition recovery, which it boasts to be its most powerful weapon to deploy can help you recover lost data from damaged hard drives. It works on formatted ones too. And in case you couldn't recover your files from the Undelete recovery module, this module may (or may not) prove to be your aid.

In case you want to know what and how to do to recover files from damaged hard drives using this module, logon to Power Data Recovery's official website and you'll find a easy-to-understand guide on it.



Lost Partition Recovery - Now in case you have lost data because your partition was deleted or lost, you can use this module. Even though the makers designate the damaged partition recovery to be most powerful tool, in some cases if it doesn't work, you can test your luck with the lost partition recovery module. There are two scan engines it uses to recover data from corrupted MBR, repartitioned disk or crashed HDD – quick scan and full scan.

In most cases a quick scan must be able to detect lost partitions, but if it fails, the MiniTool Power Data Recovery's full scan engine in all probability should detect the partition. Once detected, you can do the rest.

Digital Media Recovery - Now this recovery module is nothing but a module that specializes in recovering only digital media. There's a whole set of formats (of which there's a list on Power Data Recovery's official website) for media files and in case you've lost your media, this should be your first choice. This is because it only focuses on that list. It ignores the rest of the files it discovers. It can recover your media from flash drives, MP3 players, digital cameras, video cameras, mem chips and even your iPod. And you don't have to hesitate just because you already formatted the drive you want to recover from. Doesn't matter, really! If you're lucky enough, you'll be able to recover even after you formatted your memory card.

If you want to check whether it's actually working, whether it's able to recover the file just as it was before the loss happened, you can click on 'File Preview'.

CD/DVD Recovery - This module is there to help you recover data from CDs and DVD disks. You see a lot of scratches on your ages old CD that had your pictures from that summer camp you did with your bunch years ago? Don't be hopeless if your DVD drive fails to read stuff well. The CD/DVD recovery module is always there to help you out with old CDs and DVDs. Though it cannot guarantee, but it claims to be competent enough to recover data even from rewritable disks. As a matter of fact, after USB flash drives came into use, nobody wanted to have tens of rewritable disks. But still, there can always be accidents you wished never happened.



The one thing we did like quite a bit about Power Data Recovery apart from the very product was the detailed guides and FAQs on their website. In any situation you find a trouble, all you have to do is to look up to their website and you should be lucky enough to find help. If it still doesn't work, you can have a chat with their executives and get help instantly. So much for a new product, wow!

Power Data Recovery comes with various licenses. There's a free license which lets you recover a gigabyte of data for free post which you're required to buy the product. Then there's personal license, commercial license, enterprise and technician license. Compare and choose the one which suites you for the perfect price.

Review
Frankly speaking, we're quite impressed by the product but one think we couldn't really appreciate was the interface. We hope you'll agree with us when we say MiniTool could make the stuff a little more beautiful. Otherwise everything else is just as it should be. You've got everything you need in a data-recovery software. Yeah, it doesn't work on Android devices or stuff, is a con we'd say but it comes for mac. Overall, we're quite impressed with the way it works, everything else is not significant! Though it's a little costlier as compared to its emerging rivals, but it seems it quite worthy a product to invest in. And not just the product, the support is what you buy for those $69 (personal license). They'd help you over the email and the phone. Cheesy?

Read more at the official website: http://www.powerdatarecovery.com/


Suggested Read: Review of MiniTool Power Data Recovery Boot Disk