Top 15 reasons why your website observed sudden traffic drop

Have you ever wondered about the possible reasons for your site's net traffic loss? Then read the resource below to know about 15 such reasons you should keep in mind while working with your blog. Your website may have been penalized for incorrect SEO techniques which resulted in sudden traffic drop and net drop in the rankings from search engines due to various reasons.


Bloggers and content writers who work day in - day out building their website / blogs may suddenly lose their identity on search engine graphics. This is where traffic hampers to a big extend which thereby results in net revenue loss for publishers. Usually many factors are responsible for a sudden leapfrog in your website's traffic analysis. Few factors correlate on how you work and develop your site and others replicate how search engines catch your techniques to good effect. Generally publishers aren't aware of the recent changes and continuous update of the search algorithm from Google and other search engines which includes Yahoo, Bing most popularly. Therefore you need to climb the steps of ladder carefully once you are penalized for your earlier mistakes. Bloggers and content writers usually keep an eye on latest happenings on the SEO world, but sometimes it rather infuses the belief of overdoing such techniques.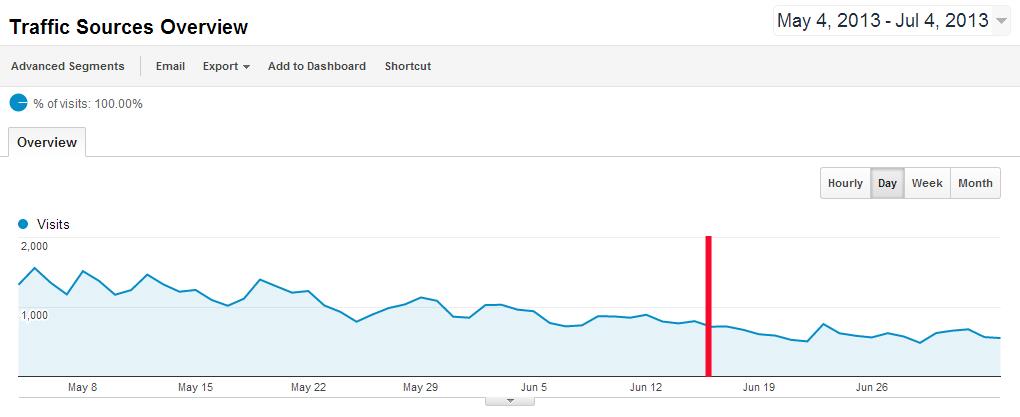 Reasons covering your site's sudden loss of traffic and poor ranking in search engines

You must have already heard about Penguin and Panda updates that keep crashing out low quality websites from search engine rankings. Generally these are search algorithm process conducted by Google from time to time uninformed. The process may be conducted over a week, or in a month, or probably in next six months or even everyday depending on how Google looks at different perspectives of websites and blogs keeping in mind to rank them according to their quality and content. Today we will discuss about those reasons other than Panda and Penguin that may be responsible for ruining your site's traffic stats.

Below listed are the reasons that you should bear in mind while working with your blog / website to stay updated on SEO roundup.


Duplicate website with a design similar to your site

Sometimes it is observed that site which is similar to our looks and developments rank much higher than us, though being a duplicate one. Google might look at your site as a carbon copy to the other and in such case penalizes you from search engine rankings. The original website of yours even starts losing search engine ranking seemingly for all the resources just because of a similar design look. This problem persists between the website developer and your actual website which was designed by that developer. Sometimes files, links and resources look similar and search engines particularly Google caches information held by the original developer.

During such situations, your developer should link your website as a reference from his source to make sure Google recognizes the original which was re-created and developed by a particular designer. You should crawl up the rankings in Google and your resources will get the desired position in search engine results. In some cases, issues are reported at Webmaster tools, you should immediately solve those to claim your traffic for the resources.


Avoid Copyright Infringement Laws that take you down the ranks

Inspite of being a healthy contributor, you may get suspension or be in the process of slow removal of your website from Google search directory. Before starting to work on your website, your site's domain name should not possess any trademark owner's website name. In such cases, the actual website has all the rights to file copyright violation notice in your name to Google. But even before that, Google automatically realises that you are cheating and creating contents in the name of original website domain.

For example, you created a website called www.shopamazonfree.com which contains Amazon as its trademark company. Here only Amazon has the licence of taking its brand name to be used anywhere with shopping. You absolutely don't have the rights to take the name of Amazon within your domain name. Google will remove you automatically when respective organization takes copyright action against you.

Another way you could get out of the ranks is by copying contents from websites and reposting them in yours. The actual content holder may file a DMCA complaint against your website name which results in site reputation being lowered drastically from Google's point of view. The respective publisher may get a ban if he/she holds an Adsense account provided number of DMCA complaint goes beyond a certain value. So keep in mind, not to indulge in any copyright act before being realising the big threat!


Development of a new website

Google usually gives preference to new websites giving quality information regarding to any subject of their niche. New websites or blogs may suddenly rank on top pages for a particular keyword search while older websites may still rank lower than this. The algorithm is designed in such a way that new bloggers will get a boost with their quality resources containing well developed back links in their blog. This will increase the traffic to your website up to certain extend beyond your imagination. But this may last only for few days, since new websites may again be pushed back in the results declining their traffic.

Publishers shouldn't take their heart away thinking that Google penalized them or not considering their content. Once you start posting on your website daily with rich contents, you will be cached up by Google suddenly on top page searches. This idea of developing a new website paves way for top competition between similar niche websites fighting for top search results.


Excess Link building and quality of websites linking to you

It was considered to be one of the top SEO principles before 2012. Ever since Google decided to remove SEO techniques like link building, back linking to other sites with effect from February 2012, a particular website will fall in the zone of spamming thereby reducing its overall ranking in Google search algorithm. Excess link building from other sources is also considered to be a raw technique to drive other's traffic. You may think it's a matter of time to get popular these days, but spamming link building may considerably affect your search engine reputation. Google may believe your website is more concentrating on building links rather than producing any quality resources. So if you practised it earlier, it may be one of the reasons why your traffic went down dearly with your rankings.

It also seems relevant that websites that link to us may be infected with spamming as detected with Penguin update. There are various reasons why your traffic may suddenly go low even if you haven't practised link building for more than 6 months of time. Links which were created earlier from downtrodden websites may have gone down with Google's reputation or have been considered as total spamming. So indirectly your linked website also gets infected with such algorithm. So be careful to link your site anywhere from now!


Problem relating to Hosting company

The hosting company which is involved in your website's net development and structure could be a big reason for your traffic loss. Sometimes hosting partners face some server problems for a month of time. During this period, your website's loading time, time for opening website pages and links may get affected with low running speed of hosting organization. If this issue is not resolved quickly, you may definitely lose the rankings from Google as they will consider you irrelevant for particular keyword search. Thus traffic significantly decreases to zero value.

If you ever face such problems in future, contact your hosting company and provide them with the details of malfunctioning of your website pages. It should be solved soon.


Getting defeated by your competitive websites under the same niche

Publishers feel that if they rank among the top three search results, they won't be removed unless they don't update their resources regularly. But it isn't the case to be! Some really healthy and spirited competition is going around all the time to capture the top spots of Google search engine ranking. You may have ranked at the top earlier, but you can slide down the results if your competitor's post seems to be more attractive and informative. Google searches for such posts and index them higher according to the richness in contents having better keywords with quality contents and back links. We are stressing more and more on quality because ultimately quality wins over quantity in all cases. Don't just keep writing for the sake of long posts to get indexed higher, but provide sufficient and precise info which search engines like the most. A new website with a month old can drive you out from your luxury traffic to win the ultimate race for a better article.

This is just the beginning for you to understand that even newbies are taking this challenge against all popular websites to outrank them. Never get frustrated! Yes you are sure to lose your traffic in any case, but take this as a healthy competition and try outranking them with even much eye catching contents. This is where your content writing gets smoother and silkier for your readers.


Site's Malware affecting your audience from viewing your site

Yes sometimes Malware prevent visitors to access your website. When search engines conducts a regular robot.txt survey by sending their robots to crawl your website's health, malicious contents may be reported which reduces your site's health dramatically. These occur due to virus attacks, attack of spam websites, malicious virus hitting your homepage and all. The entire site's traffic falls by big numbers just because your website will come with a description – This site may harm your computer. Sometimes even if this description doesn't appear in search results, anti virus programs of visitors may block them from viewing any pages of the website. It is one of the worst cases where you need to diagnose your site immediately to check and remove all unhealed infections.

Use a proper web checker tool or view your Google Webmaster tools to see if you can eradicate the problem with their suggestions. You will receive notifications and updates to your Webmaster tools once your site is detected to be virus prone one.


Check for any Phishy contents lying beneath your website

If you want to take a look at your site's diagnometric results in Google, you can find out if there is any phishing content lying within your directory. The basic reason behind checking your website is to take a look whether those numbers are irrelevant search results which are beyond your calculated numbers.

For this you need to save the settings of your 'Safe Search Filter' to No Filtering category. Now type your website in Google search result as follows "site:example.com" without any quotes and spaces between them. You will get a rough approximate number of search results for your website.

Now change the Search filter settings to Moderate and searching it again by the above way. You get the number of results reduced from your earlier search. The difference in the value of the search results gives an approximate idea on the volumes of unknown phishing results that may have crawled into your website. The more the difference, the less likely you can impress Google with your contents ultimately not driving enough traffic for your posts.


Your robot.txt file may block search engines from crawling

Yes exactly, if you have enabled robot.txt but forgot to allow search engines to catch up your site, you may not be visible anywhere on the web. The robot.txt file serves to keep certain pages and files secret to your server and web pages in case you don't want to show them publicly with search results. Everything Google moderates into your site through crawlers is possible only when robot.txt files are disabled in your web pages. The site's meta tags may not appear if robot.txt isn't permitting any of them.

You can enable / disable them with the following technique by disallowing / allowing them in your site's directory pages. If you want to keep certain pages of your site personal, enable the robots to restrict search engine access to the contents. Optionally open down any such option, since your posts may not get a quick approval into search engine rankings.


Jumped to a new URL? Redirect them for better accessibility

If you earlier owned a blog with a different domain name and want to expand your business column by taking up a new website, you obviously would like to export all your earlier published contents to the new URL. This means Google will have to take up your website as a new identity name which requires time to establish. In such a case, all your initially driven traffic will be lost for some days, but maintaining consistency and redirecting your old URLs will keep your old users updated with you.

Google takes time to change the website name all together for complete linking of your old resources and articles in search results. Therefore initially your most popular articles will evenly go down the ranks for a repair. After Google recognizes you have successfully changed your URL and have redirected your old pages to new ones, the issue will be resolved. If you haven't changed your domain name but changed its peripherals only, it too will require the redirect access. Here's a way you can imply your settings if your URL is changed to a new one:

Suppose you earlier had a webpage as: www.abcdef.com/category1.html
and you want to change it to: www.abcdef.com/category1.aspx

Then use the redirect method for the page as:

"redirect 301 /category1.html http://www.abcdef.com/product1.aspx"

This will redirect you old pages to new one and lets Google know that you are in the phase of transformation.


Inefficiency of tracking tools leading to misjudgements

Sometimes when your Google analytics code doesn't work properly, you tend to receive incorrect traffic results. It is not by default, and happens only when you change the site design layout, change the template or modify them. During such processes, Google analytics code might just be coded incorrectly for inaccurate results. See that your code is properly implemented into your CSS or at the footer of your website. If you feel that your website is perfect with your analytics tool, try reinstalling it once to check if correct statistics are provided through Webmaster tools from Google.


Overuse of SEO techniques shifts the general focus of a website

There are instances where people mind more for SEO principles rather than contributing. It is obvious that SEO needs equal importance in powering your articles on search engine pages. But recently back in 2012, Google reminded all their SEO gurus that overuse of these principles may put their site on trouble. In general, keep your optimization techniques as simple as you can to make sure Google doesn't penalize you for anything harsh. It's never wrong to write keyword rich contents with proper description post, but what if keywords tend to be richer than the quality of the contents within the post?

Unmindfully towards the end of 2012, many bloggers and publishers have suddenly stopped wondering too much on SEO and SERP functions. The only simple work that a publisher can afford to do is writing good precise quality resources with limited number of back links to their posts. All other things like promotions, submissions in directories have gone out of the SEO market for a long time. Try spending more time writing detailed contents useful for your readers instead of researching too much with SEO!


Danger of penalization from Google Panda and Penguin attack

With recent algorithms changing all the time, Panda is one update that checks your site's quality and useful number of resources. Panda can cause a heavy drop in traffic which is basically removing certain contents of your website out from Google's search ranks. You may not know about this, but your traffic stats will reveal you the details where you were wrong. The simple way to deal with this is to avoid writing duplicate, keyword spamming and useless contents on your site. Never put too much ads and distractions on your contents that demands people to click on those instead of reading your content whole heatedly.

Providing detailed articles with well supported graphics to give you the top priority with no Panda attack! If you have survived with Panda, then there's another in the hub- The Penguin updates. The Penguin basically checks your ability of back links to your own website. It differentiates low ranked websites from higher ones because of their quality and commitment in writing articles. You need to reproduce quality backlinks to get the best benefit of keeping a visitor within your own website. While Panda access your site's resources and information to be very precise and accurate, Penguin keeps an eye on how you develop linking your site and its pages within your own website linked to each other. If you aren't considering the update, it may cause you to put your site in low quality category even after publishing quality contents.


Keep your articles/resources updated before you loose your position

Generally not updating your articles may lose the position quickly from search engine results. Google particularly looks for fresh contents all the time in their directories and the top resources with better updates and information wins the highest rank. If you are stagnant with a particular resource over a period of time, Google will take no time in removing you from the leader's position. There are millions of websites and blogs who keep informing Google about their current posts but still don't deserve top rankings. If you are a popular website's administrator, then you may never want to leave the ultimate position. So keep updating your resources on a regular basis to let Google know that you are bound to come back with something even strong.

Updated websites have the edge over stable ones as they give insights to cover stories, expectations and basic round up. Try linking your new resources to old ones, which will help search engines to understand that you are bringing your contents live with better updated information.


Keep your website structure simple and faster for quicker access

Google keeps this in mind too! If a website loads for a typical period of time, the ranking will suddenly decrease leading to traffic loss. Never put needless links and ads over the limit as this causes extreme time to load web pages on public PC. Google recognizes this when it makes a crawl through your fresh contents. Unnecessary apps, too many affiliate ad marketing programme to generate higher revenue, higher number of pages in your blog keeps you refraining from the top search results. Use limited number of affiliate marketing banners or keep your page contents rich to impress Google with your simple techniques.