F-Droid - a new marketplace for open source Android apps

In this article get to know about F-Droid, a new place where you can download open source applications for your Android device. What is F-Droid, how it works, its uses and features have been explained in the article. Continue reading!


What is F-Droid?

We are in love with ->Android based smart phones and tablet PC; our favorite activity recently is to 'download' applications and make our android based devices 'smarter'. Most of the times we are downloading applications from Google play store, Amazon Appstore or Getjar but thanks to a highly competitive market we now have another alternative which is free and full of interesting, useful applications called 'F-Droid'. It is an open source and naturally if something is free it becomes more attractive for internet users world wide.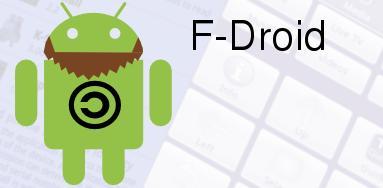 Take a tour of F-Droid: features and uses

Generally we assume that a free source is likely to carry malicious content and viruses or malware but this is not true for F-Droid. All these weaknesses are nonexistent in F-Droid and you can download your favorite applications from it without any fear. You can argue that other App stores have the same feature too but there is a significant difference that sets F-Droid apart from its other competitors.

If you are a developer and wish to upload your application at F-Droid; there is a system of check and balance which requires the developer to upload the complete source code of their application to the website. This source code is then completely checked for malware or any other issue that may hamper the performance of your android based device. The picture is crystal clear; applications available at F-Droid are scrutinized twice, first by the developer and then again by the site. So ultimately the user can rest in peace and enjoy the applications that are not only free but completely secure as well.

F-Droid is not limited in its offerings for users; there are numerous applications choose ranging from games to multimedia and even navigation applications. The choices are virtually unlimited and there are no hassles involved. Updates for previously downloaded applications are available at F-Droid and 'new applications' are featured so that users can browse through them and download whatever they like free of charge. The installation procedure is relatively simple and very user friendly; the selected application very much does everything itself.

It is often thought that if something is free it may lack intrinsic value and utility; same is certainly not true for F-Droid. If you are looking for some application that can grant you total control over your data and manage your resources in an efficient manner than you can choose to download AFWall+ an excellent utility for data management and privacy related issues.

Voice over internet protocol or VOIP applications are popular among people who use android based devices; for them F-Droid offers CSipSimple, another excellent application for all VOIP related functions. In my humble opinion it is one of the most user friendly VOIP applications currently available on the internet and F-Droid gives it to you absolutely free. For enthusiastic gamers; F-Droid offers Sudoku free and which has an excellent library full of enticing games for all tastes. There are other applications like 'Red Reader Beta' available too; so to cut it short your choices are certainly not limited with F-Droid.

F-Droid is an excellent App store alternative and its security, convenience plus utility has no close competitors. The fact that F-Droid applications are free and also devoid of ads makes it more attractive for all.

Read Apache OpenOffice 4.1.1: An alternative to MS Office?