Top 5 highly recommended free DVD ripper softwares for Windows & Mac OS X

Are you looking for free DVD ripper tools and softwares for Windows & Mac OS X? This article includes top 5 highly recommended free DVD ripper softwares for Windows, Mac OS X, Linux operating systems.


What is DVD ripper software?

DVD ripper is a tool or software program which helps to copy the content of a DVD to the hard drive of a system. The main purpose of DVD ripper software is to transfer the video contents of a DVD into different formats or back up the original DVD contents. Most of the DVD ripper softwares are used to convert the video to highly compressed video files in MP4 format, whereas some of the DVD rippers are used by Television channels and film industry for converting DVD to higher quality compressed video. Some of the DVD rippers have additional features like Blu-ray support etc.
There are so many DVD ripper softwares available in the market. Few examples are Thoggen, K9Copy, FormatFactory, DVDFab, Any DVD, MacX DVD Ripper Pro, CloneDVD, DVD Shrink, DVD Decrypter, DVD43, DVD X Copy, MacTheRipper, RipIt and much more with same or different features. Here, we will discuss the top 5 highly recommended DVD ripper softwares.


1. MakeMKV DVD & Blu-ray ripper:


MakeMKV is one of the best DVD ripper softwares which helps to rip DVDs and Blu-ray discs very easily and quickly with a single click to high quality MKV files. The important features of this MakeMKV are its super fast, easy, cross platform and it preserves all the information of source discs. The cross platform means this app is available in various versions including Windows, Linux and Mac OS X. It is available for free. Please note that this software is in beta phase for a long time.


2. Handbrake DVD ripper:


The handbrake is one of the favorite DVD rippers for Windows and Mac OS X operating systems. The main reason for its popularity are its very simple, easy to use, easy to install, and offers fine-tuning options to get the best possible file as an output. The most interesting part is if you lose courage or daunted while using it, you need not use it as the app will compensate for you. It is one of the powerful video encoders with great features. In general, Mac OS X users like Handbrake ripper most. It also comes free and it is an open source.


3. DVDShrink ripper software:


DVDShrink is one of the oldest ripper software and it is compatible only with Windows operating system. DVDShrink was not updated and no latest upgraded version came after 2005 as it halted development of this app. But still it is one of the favorite decrypting, ripping, and compressing tool as of now, people still can use it in conjunction with another app, but for many of us it's still like go-to app to handle a job. It is free, and easy to use it.


4. DVDFab HD ripper Software:


We have seen that app with cross-platform support is gaining more popularity now-a-days. DVDFab HD is one of them. It supports both Windows and Mac OS X. This software is shareware in nature, that means most of the features are free, but for some additional features, we have to pay based on our requirements. It is a simplified version of DVDFab, DVD Copy and DVDFab Blu-ray copy. After the trial period or if the license of DVDFab has been expired, you can use this to decrypt even for free under no-internet-connection environment. You must have a copy or back up of ImgBurn or Nero Burning Room installed for DVD/Blu-ray. It is also easy to use and most convenient.


5. AnyDVD & AnyDVD HD ripper software: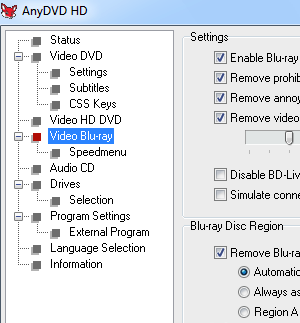 AnyDVD and AnyDVD HD are two useful DVD & Blu-ray ripper softwares. AnyDVD which is used to rip only DVDs whereas AnyDVD HD is used to rip HD DVDs and Blu-ray discs. Both AnyDVD and AnyDVD HD support only Windows operating system. This Software can handle unwanted DRM, remove region restrictions, disables forced subtitles or delays and even plays nice with DVD authoring tools if you're backing up your movies. SlySoft is the developer of this tool. It also comes free but some features are charged at premium rates.

Read MacX DVD Ripper Pro Review