Review of EaseUS MobiSaver, free iPhone Files Recovery Software

Did you accidentally delete any files or contacts from your iPad? Or, did you lose all data on the iPhone when you did a jailbreak? Here is an iPhone recovery software for the rescue.


We bought an iPhone from USA to India, which was a locked AT&T phone. Even though we paid off all the contract breaking fees, AT&T did not unlock it for us. So, for about 6 months, we used Gevey Ultra SIM to use the iPhone here. But on one not-so-good day, we accidentally clicked the "Yes" button to a prompt to upgrade iOS and that was the end of the story. The phone remained a showpiece for next several months, until AT&T announced they will unlock iPhones, if the contract termination fee is paid off.

Even though we were lucky to get the iPhone unlocked later with the help of AT&T, the phone had lost all data. We lost all contacts, pictures and other contacts stored in the device. I wish I had heard about EaseUS MobiSaver earlier, which is world's first free iOS file and data recovery solution, according to the company. let me share my review of this data recovery software.


EaseUS MobiSaver - features

Here are some of the interesting features offered by EaseUS MobiSaver:


You can directly recover files and data from iOS device. One click recovery is supported on iPhone 3GS, 4, 4S and 5.


Supports New iPad and iPod


Recover data from iTunes backup.


You can recover various data including contacts, messages, notes, photos, videos, call history and so on.


The software is very easy to use and no specific skills are required to operate.





How to download, install and use iOS recovery software

You can download EaseUS MobiSaver from http://www.iphonesrecovery.com. The installer is less than 12Mb size and you can install it on your Windows PC or the iOS device. I used the Windows version.



Here is the startup screen of EaseUs MobiSaver

To start recovering deleted or lost files from your device, choose the type of data you want to recover and click "Start" button on the start screen of the application. In the next screen, connect the device to your computer and wait until it is recognized. When the device is recognized, you will see a screen like this: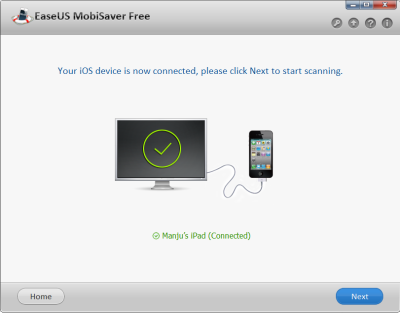 In the next step, you will see the recovery options and can select a recovery point. Once you select a recovery point and proceed, the tool will show you all available data from that recovery point. You can choose any contacts/files that you want to recover and click on the button "Recover".




You will be prompted for a serial key, if you haven't activated the software already. You can obtain a serial key for personal and home use from here.

If you are running the Windows version of EaseUs MobiSaver, the recovered files will be saved as text files on your computer.


Review of EaseUs MobiSaver

I tried various options of the Easeus MobiSaver and found nothing to complain. In fact, I was impressed with the ease of use and simple recovery process. There was no confusion and the recovery process was easy and convenient. In short, EaseUs MobiSaver is a reliable, easy to use and absolutely free iOS data recovery tool for home users. There is a general misconception that free software comes with spyware and malware but we found this is a very clean installer and adds no intrusive stuff to your computer. There was no malware detected and more importantly, it did not add any shortcuts on your browser. Many free software will change your browser settings and add their homepage as your browser homepage but trust me, EaseUs MobiSaver doesn't mess up with any of those, even though it is an absolutely free software.

If you still think free software is not your cup of tea, they have a professional edition as well. The professional edition comes with business use license and customer support. Read more about the differences between free edition and professional edition here: http://www.easeus.com/mobisaver-mobile.htm

Read Review of EaseUS Mobisaver Pro - data recovery software for your iOS devices