Byond B60 smartphone for Rs 5,499 - Review, features and specifications

Are you waiting to buy a low cost B60 smartphone with very good features manufactured by ByondTech? Your wait is going to be over very soon. ByondTech has launched its new B60 smartphone on June 22, 2013 at a price of Rs 5,499. The smartphone will soon be available at many online and offline stores. Read this article to be fully aware of the features and specifications of Byond B60 low cost smartphone.


Introduction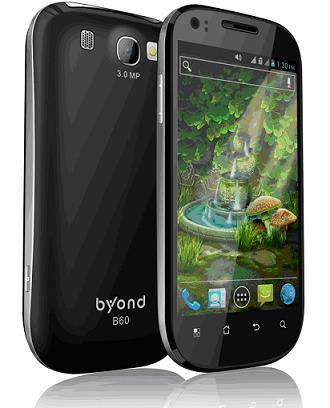 Byondtech Electronics Private Limited was an unknown entity among the Indian smartphone makers untill recently. The company has made its mark and has become one of the important players in the Indian mobile industry in a very short span of time. It now manufactures phablets with large displays in P Series. The company's three phablets, P1 with 5.3", P2 with 5.72" and P3 with 6" display sizes are already there in the phone market. The company manufactures tablets under Mi series. It has so far put 3 tablets on sale in the market, namely Mi1, Mi2 and Mi3.

ByondTech manufactures smartphones in B series. There are about 11 B series smartphones manufactured by the company so far. Among these, the new entrants are B60 and B67 smartphones. The vision of the company is to manufacture low cost devices at affordable prices. The company has so far spread its business with over 10 different countries of the world and is gradually spreading its wings. We shall presently deal with features, specifications, review, price and availability in India of Byond B60 smartphone manufactured by ByondTech Electronics Private Limited.


Networks supported, SIM and Release date

Byond B60 supports 2G GSM 900 / 1800 MHz and 3G WCDMA 2100 MHz networks. It is a dual SIM (WCDMA/GSM + GSM) smartphone. The phone has been announced and released in June 2013.


Body dimensions and weight

The dimensions of Byond B60 smartphone are 124.6 x 64.0 x 10.7 mm. The smartphone weighs 116 g. These are the ideal dimensions and weight for the design of a low cost smartphone of 4 inches display.


Display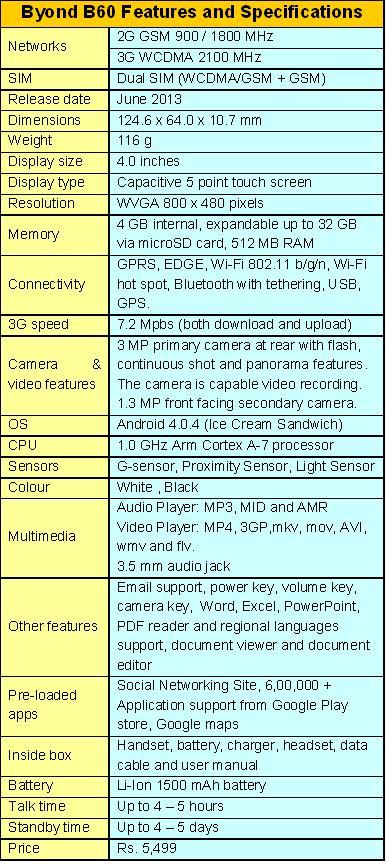 The display size of this smartphone is 4.0 inches (101 mm). The display type is capacitive 5 point touch screen. The screen WVGA screen resolution of 800 x 480 pixels is an excellent resolution for a smartphone priced around Rs 5,000. This high resolution touch screen suits the Android OS. This makes the smartphone to render rich, dynamic, intuitive and clear interfaces for a multitouch performance with ease.


Memory

The B60 device of ByondTech has an internal storage of 4 GB. This is expandable up to 32 GB via a microSD card. 512 MB RAM is provided in this smartphone is a very superior RAM for the low cost smartphones in this category. This makes multi-tasking quite functional and easy to perform. A powerful storage of 4 GB for a low cost phone like B60 provides the users a hassle free storing of their important files, favorite movies and songs.


Connectivity and 3G speed

Byond B60 supports the 3G connectivity. It has connectivity features like GPRS, EDGE, Wi-Fi 802.11 b/g/n, Wi-Fi hot spot, Bluetooth with tethering, USB, and GPS. This makes your B60 device to connect to mobile network wherever you go. The GPS enabled device enables you to make use of Google maps to navigate through your city or to any unknown place you are visiting. The device provides you an excellent 3G connectivity at 7.2 Mpbs both for your downloads and uploads.


Camera and video features

The smartphone has 3 MP primary camera at the rear with flash, continuous shot and panorama features. It has the capability of video recording. There is provision to control contrast and exposure. You can also apply various available filters. There is a handy 1.3 MP front facing secondary camera too for video calling.


OS, CPU, sensors and colours

B60 smartphone of Byond runs on Google's Android 4.0.4 (Ice Cream Sandwich) OS. It is powered by an advanced single core 1.0 GHz Arm Cortex A-7 processor. This highly performing and cost effective processor appears to be a natural choice for low cost ByondTech's feature rich smartphones. This smartphone is available in white and black colors.


Multimedia

Byond B60 is provided with a music player. This player supports file formats like MID, AMR and MP3. There is quite a good variety of equalizer settings and sound enhancements for the player. There is a 3.5 mm audio jack provided in this phone. The video player in this smartphone supports file formats like MP4, 3GP,mkv, mov, AVI, wmv and flv.


Some other features

Some of the other features supported by this smartphone are email support, power key, volume key, Word, Excel, PowerPoint, PDF reader and regional languages support, document viewer and document editor. The business community can make use of features like email, document viewer and document editor. B60 is also having a camera key.


Pre-loaded applications

B60 smartphone of Byond is packed with over 6,00,000+ applications from the Android Market at Google Play store.


Battery, talk time and standby time

The B60 smartphone is equipped with a powerful Li-Ion 1500 mAh battery. It gives a talk time of up to 4 – 5 hours and supports standby time up to 4 – 5 days.


Price, availability, box content and warranty

Byond B60 has been officially priced by the company at Rs 5,499. The smartphone will be very soon available at several online and offline stores in India. The package includes handset, battery, charger, headset, data cable and user manual. There is a 1 year manufacturer's warranty for phone and 6 months warranty for other box contents.


Conclusion and review

With the price pegged at Rs 5,499, B60 smartphone of ByondTech Electronics Private Limited will become a popular smartphone in the low cost segment of smartphones due to the excellent features provided in this smartphone. The features that are likely to attract the buyers towards this smartphone are its low price, its provision of dual SIM, the 4 inch WVGA display with a very good resolution, its 4 GB internal memory and its advanced 1.0 GHz Cortex A-7 processor. The phone will become quite popular with young school and college going students, who need a low cost smartphone with very good features and specifications.

Read Top 5 free action Android games of 2015