Review of FLY F8S tablet

Are you looking for the review of Fly F8S tablet? Fly F8S is the first tablet from Fly mobile company. The tablet features the latest Android OS and an 8 inch touchscreen. Read this article to know about the features and specifications of Fly F8S tablet.


Introduction

Fly (Vision) F8s is a 3G Android tablet that has got impressive looks on 8 inch Ultra bright XGA IPS display. The tablet runs on Android v4.1 Jelly Bean Operating System. The camera features include both primary and secondary cams which have ordinary features. There is a 3.2MP rear camera and 2MP front camera enabling video calling. The tablet is powered with 1.2GHz dual core processor. It has 1GB RAM and 4GB of internal memory storage, which is expandable up to 32GB. This tablet supports 3G, Bluetooth, Wi-Fi and has got other connectivity options too. It is equipped with a very good battery of 4000mAh.Fly Vision F8s is now available in both black and white colors at a Company market price of INR 13,900 and is also available in online stores at a starting price of INR 11,000.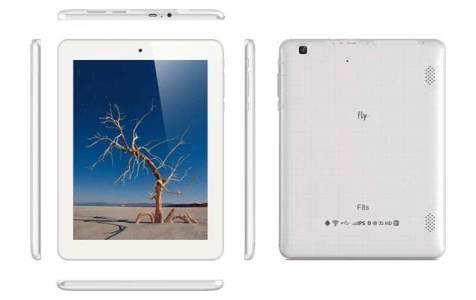 Design and Build

Fly F8S has got its giant look and the device exactly has a display body of Apple iPad mini with some minor differences in position of buttons and connectors. It is of the size 198 x 155 x 9.6 mm and because of its wider body; you may feel difficulty in single hand use. The Fly F8S comes with a large 8 inch IPS display, which covers around 90 percentage of the front panel and so you will be feeling to watch anything without any eye stress. A slightly thick bezel runs along the sides of the screen and a 2 mega pixel camera rests on it. With just 8 inch touchscreen and a camera and no other unnecessary items the front panel looks very neat. Fly F8S is made up of good quality plastic and the device is less in weight and so you can take them anywhere without difficulty. The Fly F8S tablet weighs only 385 grams, which is relatively very light compared to other 8-inch tablets recently on sale.

On the tablet, you have a separate physical back button at the side panel of the tablet that is used to go back from different menus. This is an innovative idea from Fly mobiles compared to other tablets with has capacitive back buttons. Adjacent to the back button, you have the volume rocker button and power button. The tablet is designed with curved edges and zigzag matte design on the back panel. The zigzag design gives you a better grip on the device and the device is white in color, which makes it more vulnerable to dust and dirt. The back panel features dual speakers, SIM and micro SD card slots, a micro USB port and a 3.5mm audio jack. Overall Fly has done their best effort on build and design quality for their first tablet.



Connectivity and Software

Fly F8S runs on the latest Android Operating System Android 4.1 Jelly Bean allowing you to enjoy various apps and games in a quality you wish for. The tablet also has access to Google Play, so you can download and install apps and games as much as you want. Fly F8S is a single WCDMA SIM tablet and the interesting part is that it supports both 2G and 3G connectivity in the SIM. Additionally, it also supports Wi-Fi and Bluetooth connectivity along with the 3G facility. Apart from these, it also supports 2G, GPRS, EDGE, GPS and FM Radio. Fly Company has definitely helped you to keep connected through these options. The tablet comes with apps like Bluetooth proximity monitor and Bluetooth wireless input device and the use states that you can attach a Bluetooth powered keyboard or mouse to your tablet. Fly F8S has got variety in its set of pre-loaded apps like Opera browser, Facebook, Google maps, Google Place, Playstore, Google talk, voice search, flash player etc., which makes this tablet an user-friendly gadget.


Hardware

Fly F8S has got a powerful build quality and good software facility. But to get these software works to its maximum limit, you need to have a good hardware support. Fly Company has done its best to give a nice hardware support for this tablet. Fly F8S is powered with a 1.2 GHz Dual core processor and 1 GB RAM with built-in memory storage of 2.5GB. The screen of the tablet is an 8-inch IPS LCD display that has resolution of 720p. These facilities are more enough for such a tablet and the company claims that it can handle both HD movies and games very smoothly and will give you a nice experience while trying out new apps or while playing games. The tablet has both primary and secondary camera in which the rear camera is of 3.2 megapixels and 2 megapixels front camera. Both these cameras are of ordinary type and the images and videos taken by these cameras are of average quality. Like other budget tablets, Fly F8S comes with 4 GB internal memory and supports 32 GB micro SD cards for memory expansion.


Display

To tell about the display of the F8S tablet, it has a large 8-inch IPS capacitive touch display with 16 M colors. The advantage in providing IPS panel is that they helps in crystal clear view from different angles and so you feel relaxed to watch anything at any angle. The screen comes with a resolution of 1024 X 768 Pixels and gives a nice experience while watching videos. In addition, the tablet also supports 10-point multi-touch input.


Camera and Multimedia

As mentioned earlier, Fly F8S has got both rear and front camera. The tablet features a 3.2 megapixels Rear camera and a 2 megapixels Front camera. Quality of these cameras is of average type, but still enough for such a budget tablet. Not to worry, the front camera resolutions are sufficient for video calls and Skype calls. The camera supports number of settings like scene modes, white balance, color effects, anti-flicker, panorama mode and much more. Video recording facility is also available. With the help of very advanced and powerful software and hardware support, the tablet plays HD movies and games very well and the good sound quality it has is uncompromising in both headphones and loud speakers.


Battery Life

To the new tablet, Fly has provided them with a battery capacity of 4000mAh. But, don't get too excited by seeing that powerful battery capacity as there exist some technical problems with the battery and it can only deliver backup for 5 to 6 hours only. If Fly can find a probable solution for this problem, no doubt the Fly F8S will be a huge success in the medium budget range tablet section.


Price and Availability

Fly Vision F8s is the first tablet released by Fly Mobile Company. So they had done everything possible for the sales and promotion for their first tablet at an advantageous manner that pleases the customers in buying them. The tablet is now available in both black and white colors at a market price of Rs 13,900 and is available in online stores at a starting price of Rs 11,000. By purchasing through gadget markets, you can test them or even know them to feel its performance rather buying it online.


Technical specifications of Fly F8S

Dimension: 198 x 155 x 9.6 mm
Weight: 385gm
Display: 8 inch IPS LCD display
Operating System: Android 4.1 Jelly Bean
Processor: 1.2 GHz dual core processor
Memory: 4 GB internal, Supports 32 GB micro SD card
RAM: 1 GB
Camera: 3.2 Megapixels rear camera and 2 megapixels front camera
Connectivity: 3G, Wi-Fi, Bluetooth
Battery:4000mAh
Price:Rs. 13,900


Pros and Cons of Fly F8S

Pros:
1. Good Display
2. Good build
3. 3G connectivity
4. Good software and hardware
Cons:
1. Average camera quality
2. Difficult for single hand use
3. High Capacity battery, but low backup time.


Conclusion and review

The looks, features and the easiness in using of Fly Vision F8S are found the best. However the performance will go down as it doesn't have that much memory capacity. However you will not have to worry about the connectivity options and battery capacity provided by this impressive looking tablet. The Fly F8S provides productivity as well as entertainment more than any other tablets at its India market tag at INR 13,900 and hence is a valued money device.


Video review of Fly F8S



Read Review of Fly IQ444 smartphone in India